Refractory Ramming Mass
The difference between refractory ramming mass materials and other unshaped refractory materials is that there is more powder and less binder in compostion. Soft clay is usually added to the ramming material to increase viscoplasticity and sintering properties.
1.5-90

Al2O3% (≥)

11-96

MgO% (≥)

1.9-3.05

Bulk Density (g/cm³)

1400-1800

Max Working Temperature (℃)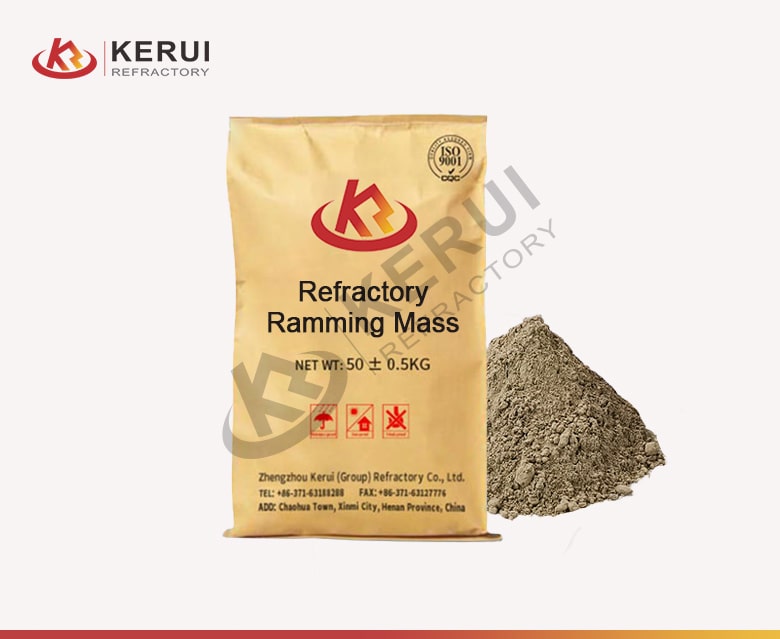 Introduction of Kerui Refractory Ramming Mass
As we know from the name, refractory ramming mass refers to the monolithic refractory product that uses ramming method in construction. This product has similar compositions with other products, but it saves more energy. Refractory ramming materials are formulated from a high proportion of granular and powdery materials and a low proportion of binders and other components. Some ramming monolithic refractories are even composed entirely of granular and powdery materials, which are bulk materials that need to be constructed by strong ramming.
Because the ramming materials are mainly used in direct contact with the melt, the granular and powdery materials must have high volume stability, density and corrosion resistance. Those used in induction electric furnaces should also have insulation properties. Because of its unique construction method, we can also call this product as ramming compound.
4 Types of Kerui Refractory Ramming Mass for Sale
| | | | | |
| --- | --- | --- | --- | --- |
| Item | Alumina Ramming Mass | AZS Ramming Mass | Magnesia Ramming Mass | Silica Ramming Mass |
| Composition | Al2O3 | Al2O3 | MgO | SiO2 |
| Composition Proportion | 65-88% | 45%-50% | 96% or more | 90% |
| Refractoriness | 1800℃ | 1650℃ | 1800℃ | 1750℃ |
| Delivery | 2-3 Days | 2-3 Days | 2-3 Days | 2-3 Days |
| Applications | Ideal for use in industries such as steel-making, where high-alumina content is crucial for withstanding extreme heat conditions in furnaces and ladles. | Suitable for use in glass, non-ferrous metal industries and other aggressive chemical environments with rapid temperature changes. | Widely used in steel-making and other high-temperature applications, where resistance to basic slag and extreme heat conditions is essential. | Excellent application in industries such as glass and foundries with rapid temperature changes and aggressive chemical environments. |
| Pictures | | | | |
Delivery Terms of Kerui Ramming Mass for Sale
Package of Refractory Ramming Mass
25/50/1000kg bag;
Pallet with plastic film;
Other customized requirements.
Delivery of Refractory Ramming Mass
Sample: within 24 hours;
Standard type: within 7 working days;
Customized type: within 20 working days.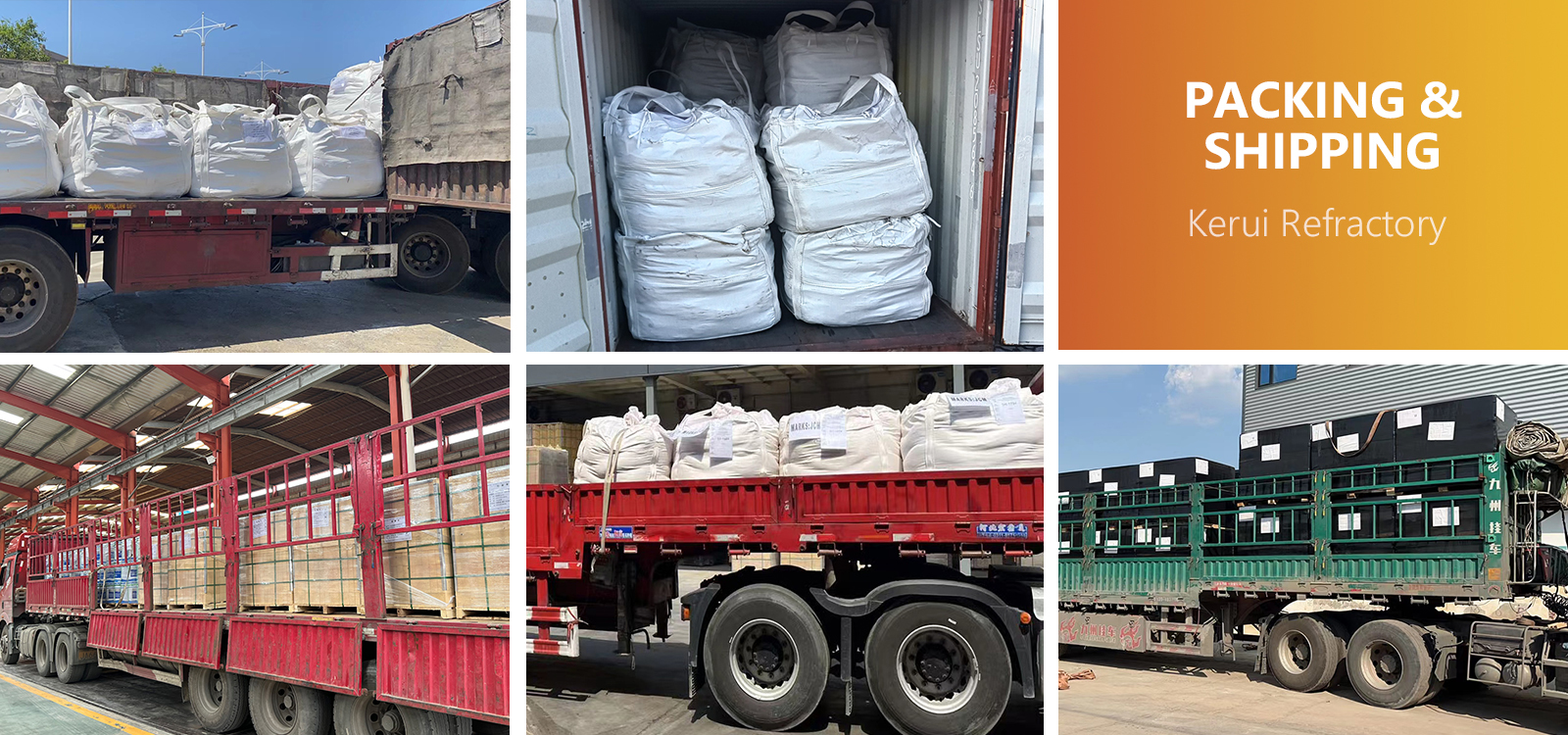 Properties of Kerui Refractory Ramming Mass for Sale
Plasticity
Kerui produces the high quality and premix refractory ramming mass with a superior level of plasticity. Because we incorporate high-quality refractory clay into the mix of high temperature mortar, which provides excellent plasticity. This characteristic facilitates easy and efficient installation so that this material can be molded and compacted with precision during construction.
Chemical Stability
It's worth noting that the formulation of Kerui refractory ramming mass can withstand chemical erosion effectively. After construction, the material demonstrates remarkable chemical stability, ensuring durability and longevity even in environments prone to chemical attacks. This property is particularly crucial in applications where resistance to corrosive substances is paramount.
Wear Resistance
During the ramming process and following constrcution process, the wear resistance of Kerui ramming material exhibits outstanding durability against abrasive forces. This property contributes to the longevity and sustained performance of refractory linings, especially in high-impact environments. Customers can use this product to face strong mechanical strength.
Thermal Shock Resistance
In applications such as various kiln openings, where thermal shock is a prevalent concern, Kerui ramming mass is an ideal choice. Its inherent thermal shock resistance ensures reliable performance in the face of rapid temperature fluctuations. The good sealing properties make it a good choice for environments with rapid temperature change.
Anti-stripping
Kerui ramming mass can firmly adhere to the refractory kilns and firebrick liners. Its robust anti-stripping properties ensure that the material remains securely fixed, which resists peeling or detachment during the intense heat and mechanical stresses associated with high-temperature operations. This contributes to the overall integrity of the refractory lining.
Density
With a high density, Kerui Refractory Ramming Mass exhibits elevated refractoriness, making it suitable for applications with temperatures ranging between 1450 to 1700℃. The dense structure enhances its ability to withstand extreme heat conditions, which makes it a reliable choice for industries requiring stable and enduring refractory solutions.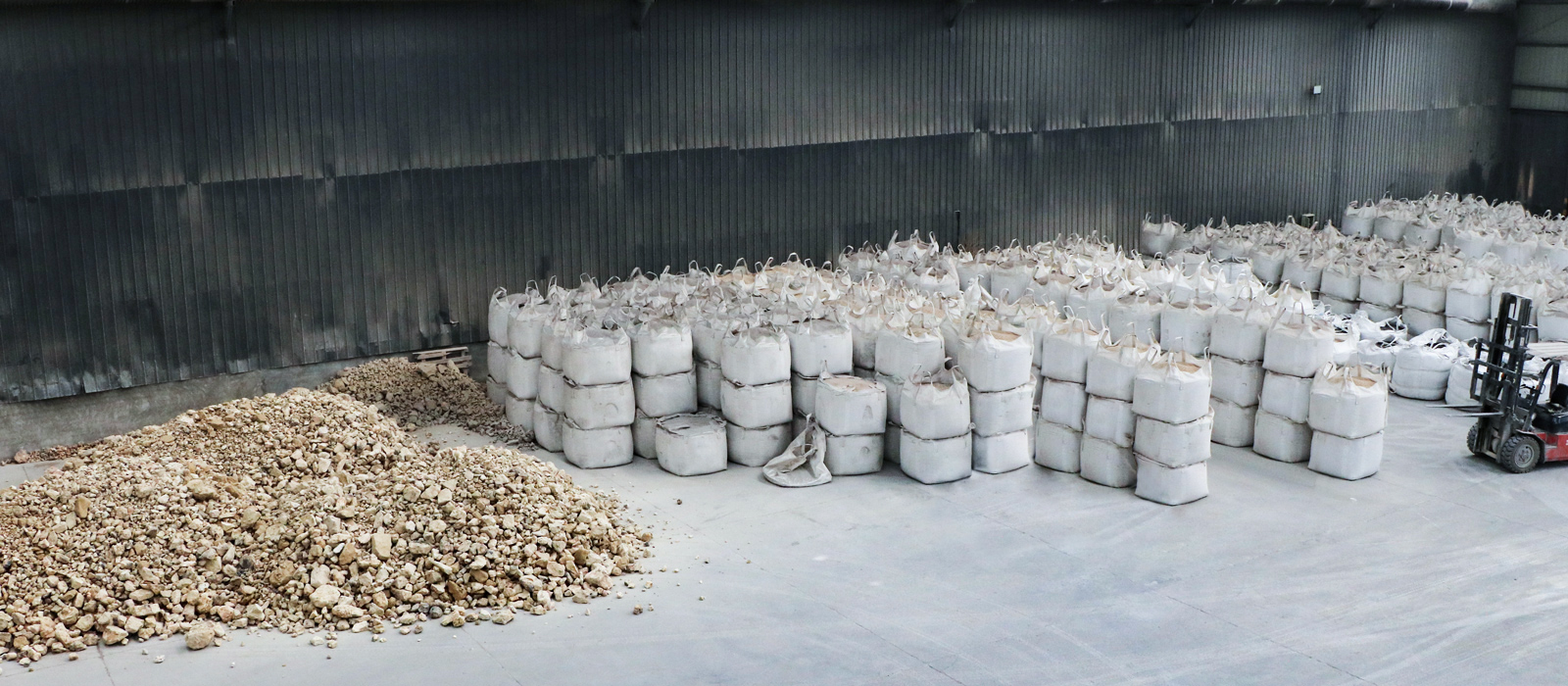 Application of Refractory Ramming Mass
Linings of High Temperature Equipment
As a lining for high-temperature equipment, the excellent performance of Kerui refractory ramming materials makes it suitable for linings of various shapes. Common applications include the lining of blast furnaces, slag trenches, cupola furnaces, ladles, electric arc furnaces, room temperature furnaces, induction furnaces, converters, tapholes, rotary kilns and other kilns.
Sealing Material of High Temperature Equipment
One of the excellent properties of rammable refractory is the flexibility. Besides, it has a good sealing effect in the application of all kinds of doors or export of high-temperature equipment. In the lining of furnaces, kilns, and reactors with refractory blocks, ramming mass can be utilized to seal gaps between refractory bricks or other lining materials. This helps in creating a continuous and effective barrier against heat loss.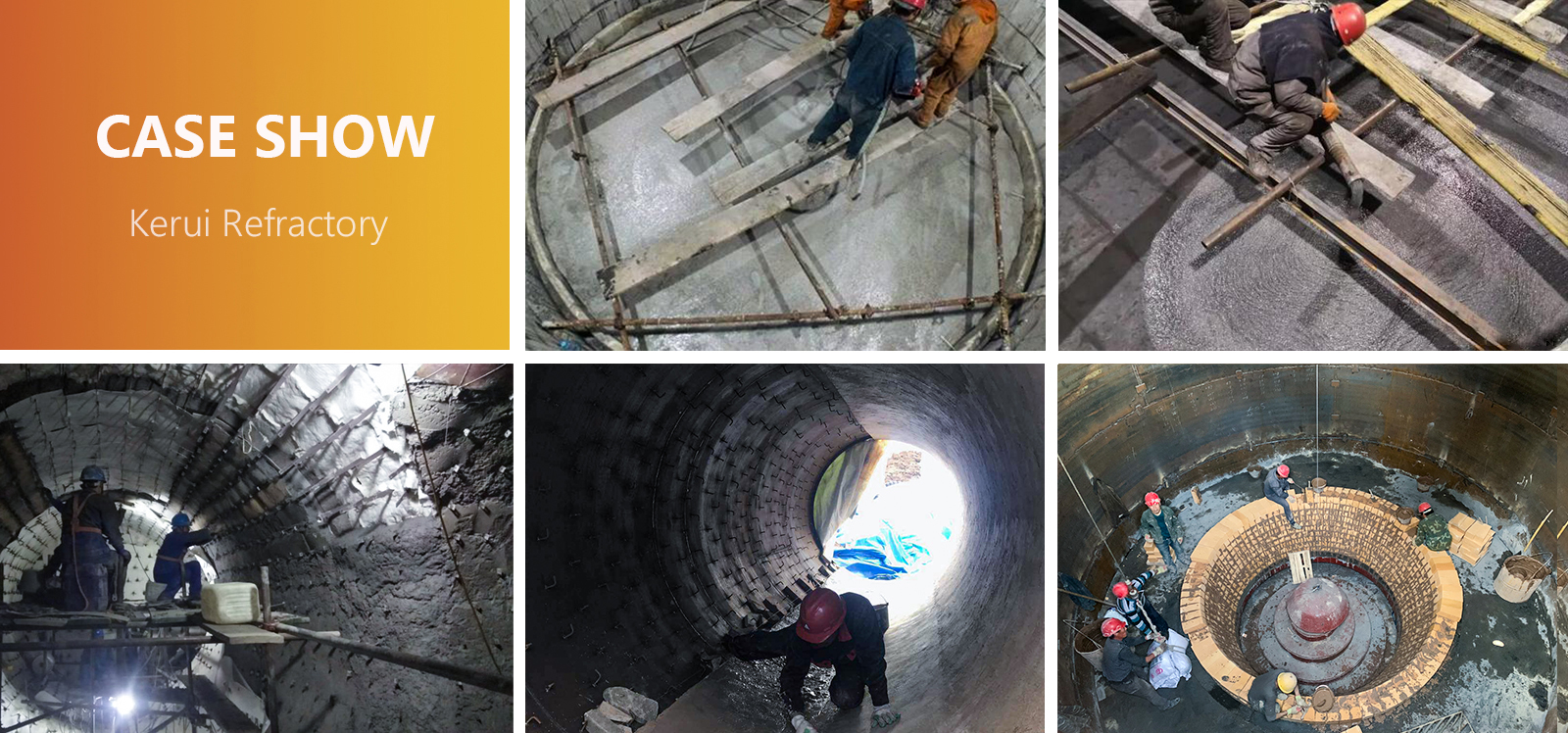 Kerui Refractory Ramming Mass Price
Kerui offers a competitive refractory ramming mass price on the market! As an original refractory material manufacturer in China, Kerui requires no middleman costs. We can provide customers with even cost prices while ensuring quality!
Moreover, with the reasonable price, customers can also get superior quality. There is a strict quality control system in Kerui, which ensures the perfect of final product. Now contact Kerui and get a free quote! Our business manager is waiting for you!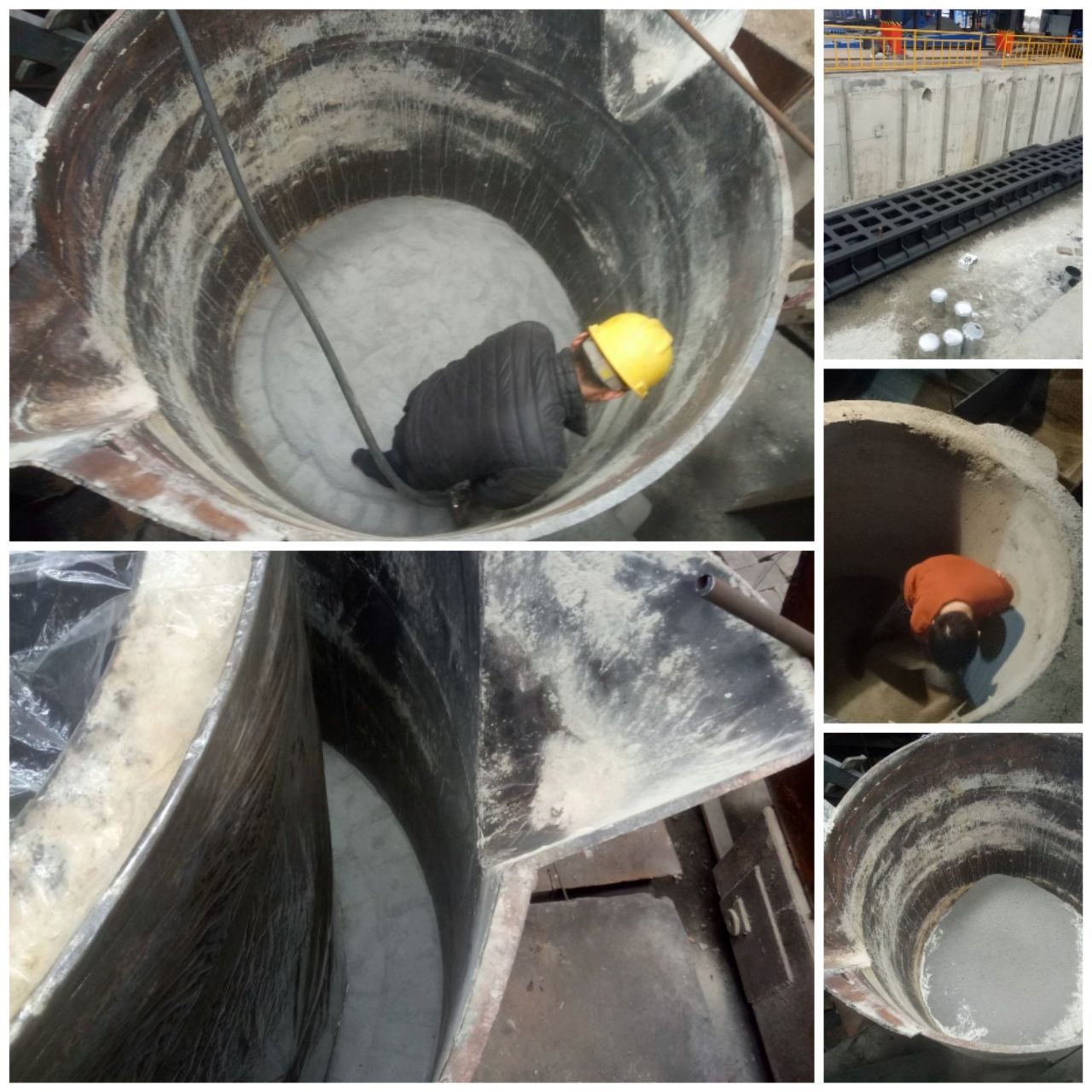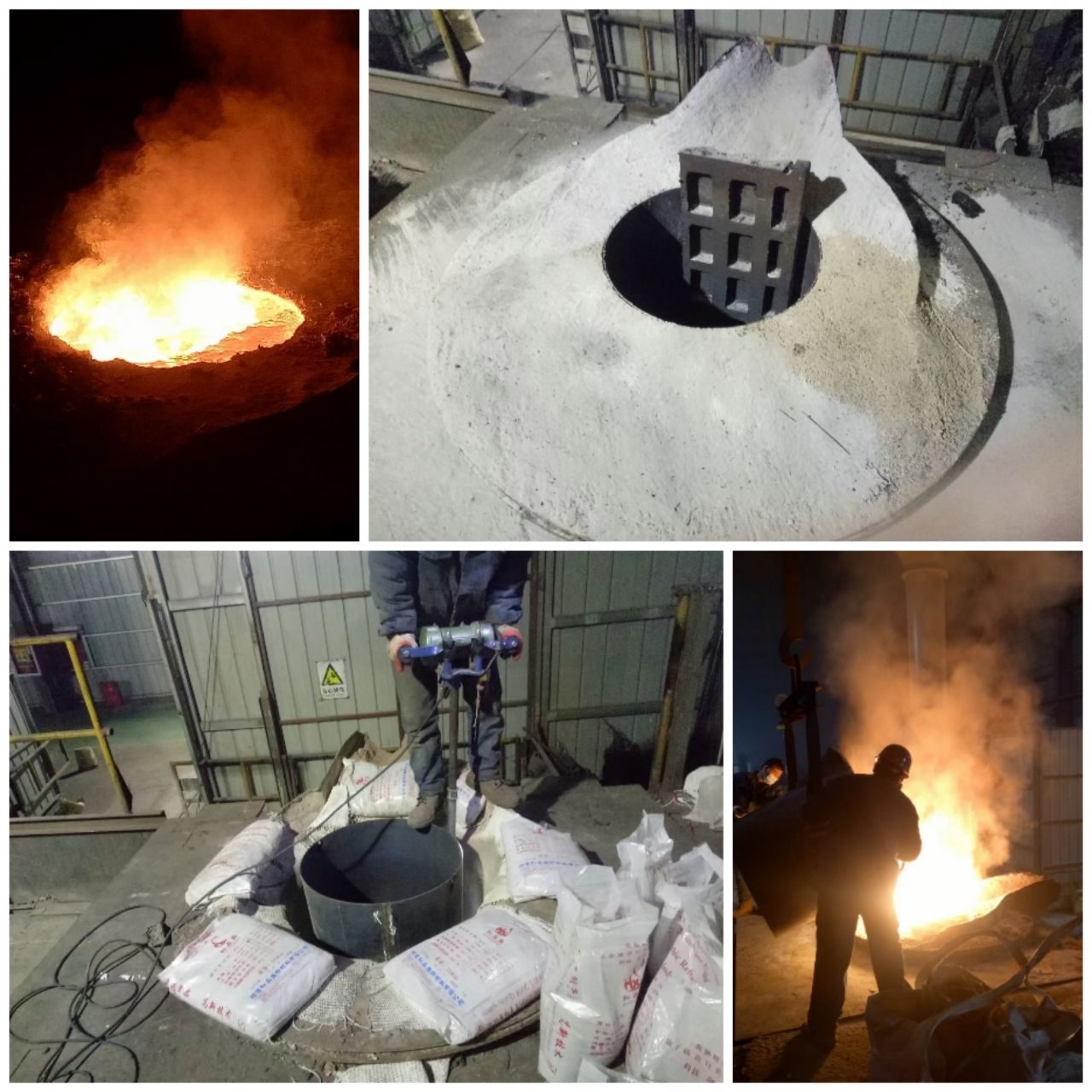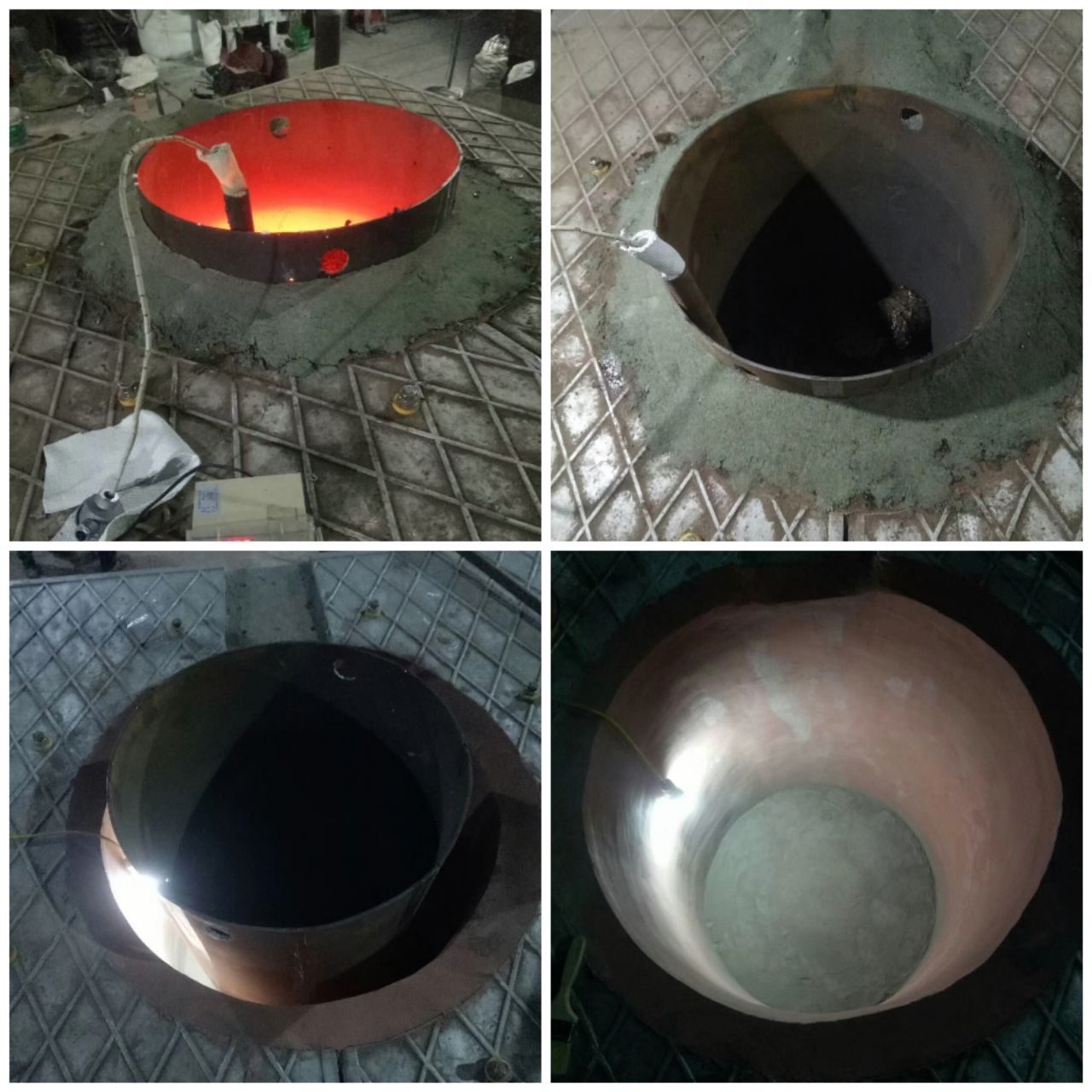 Reasons to Cooperate with Kerui Refractory
Quick Respond
In order to ensure timely response to customer needs, Kerui has set up an online chat on this website. In addition, you can also contact us via Whatsapp, email or leave a message. Usually, customers can get a quick response no more than 12 hours! If you're interested, why not contact us?
Wide Options
Except for refractory ramming mass, Kerui also provides other monolithic refractory products, refractory fire bricks, insulating bricks, ceramic fiber insulation products and many other refractory materials. Therefore, there is a wide range of options to support your business. Just get in touch with Kerui now to find a suitable product.
Stable Supply
There is a 150,000 tons of annual output of Kerui Refractory. Additionally, there is a fully automatic production line to support the large requirement. Moreover, we have supply high quality ramming products to many famous enterprises in the world. Even if you need a large quantity, we can deal with it easily.
Strict Quality Control
Whether it is raw materials, production processes or final products, Kerui has strict quality control standards. This is the key to ensuring product quality. Moreover, we will conduct chemical experiments and physical experiments to ensure that product performance meets customer requirements. Choose Kerui Refractory as your supplier, you can get products with superior quality!
Certificates
ISO, CE, SGS certificates are the best proof of high quality. These certificates help customers quickly understand the position of Kerui ramming materials in the international market. In addition, Kerui has also obtained many certificates from local government and the refractory industry. Kerui is really a trustworthy brand for worldwide customers.
Strong R&D Ability
With about 20 years of development, Kerui always attaches great importance to research and development capabilities. Correspondingly, we have the ability to customize high-performance ramming materials that meet customer requirements. In addition, we have 1 invention patent and 15 utility patents. Welcome to contact us for more details.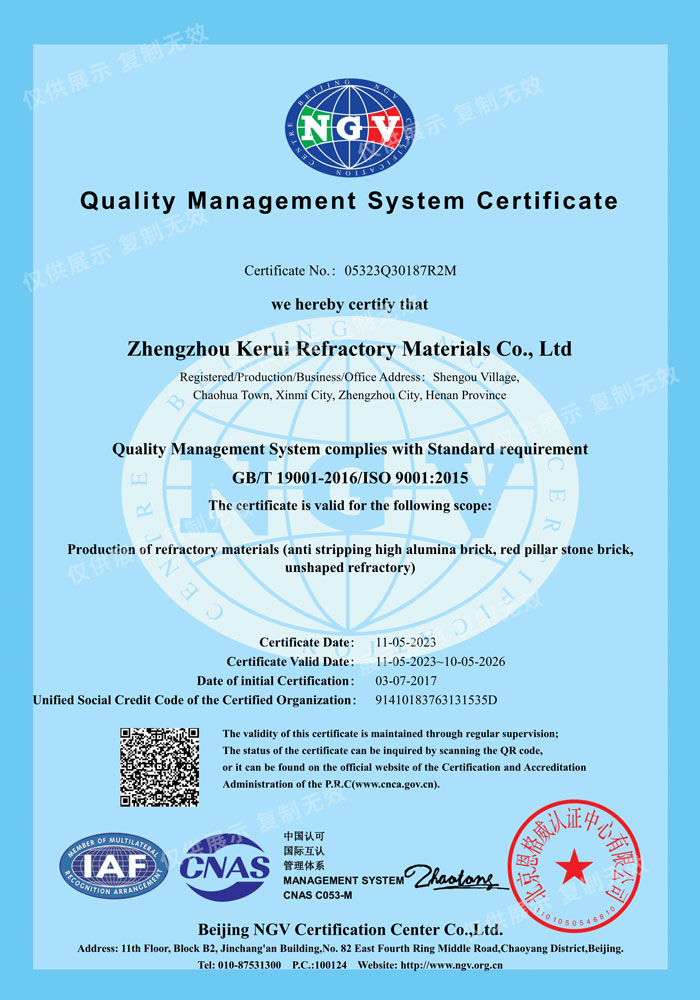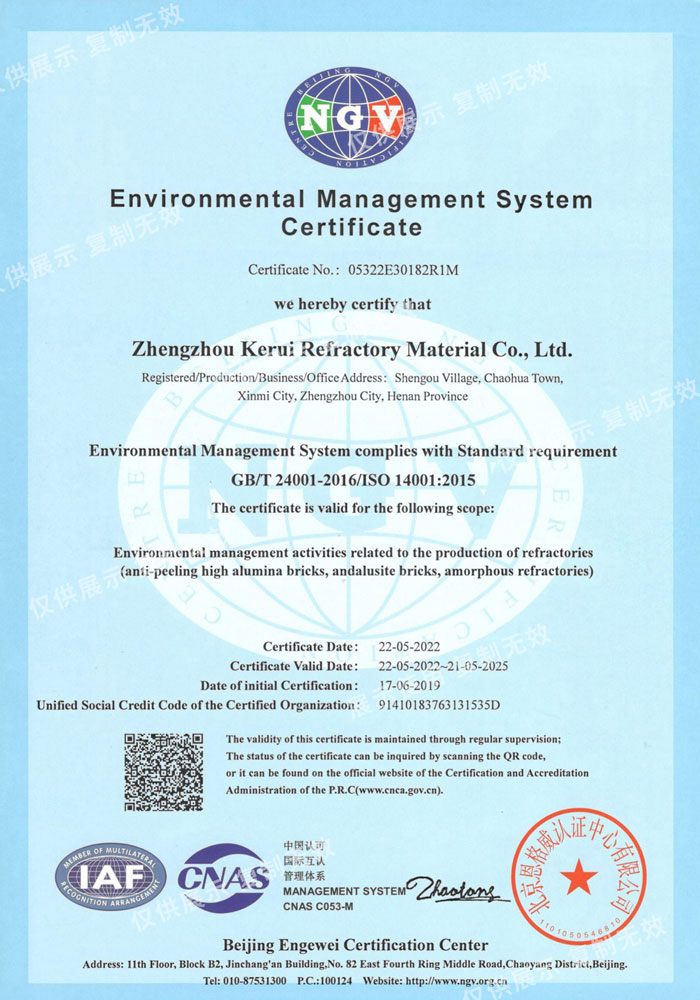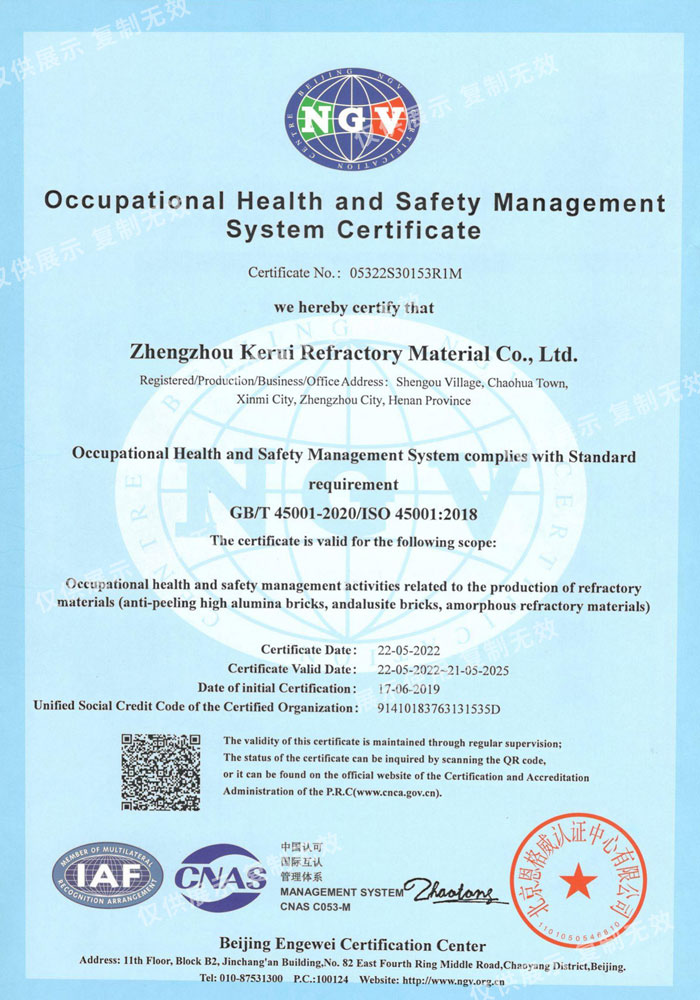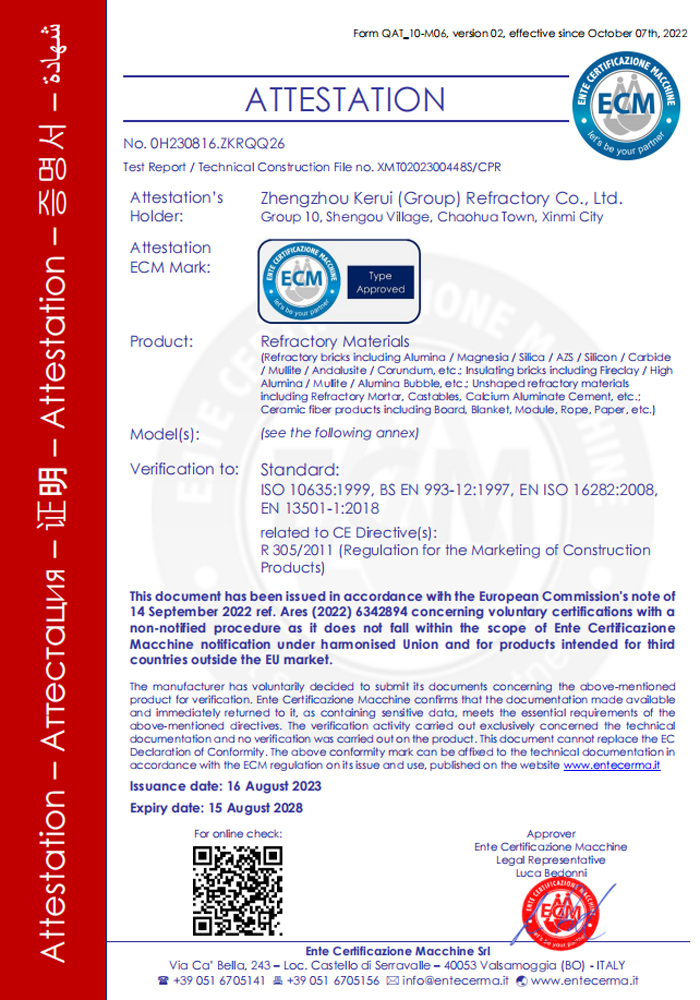 Kerui Service to Customers
Consult Service
If you are troubled by how to choose refractory ramming materials, please contact Kerui for professional and timely consulting services. In addition, the business managers who serve you are one-on-one and have rich experience in the industry. For example, customer in the steelmaking industry can get a complete set of refractory materials as well as refractory ceramic fiber solutions for the steelmaking industry after consultation!
Technical Service
With a strong emphasis on technical support, Kerui provides specialized assistance to address complex challenges related to the use of refractory materials. Besides, the technical service includes guidance on installation, maintenance and troubleshooting, which ensures that customers maximize the performance and longevity of the refractory products.
Customized Service
In order to maximize the quality of your project, a set of customized services is essential. Kerui supports customizing the parameters, packaging, shipping methods, payment methods, etc. of refractory ramming materials. Besides, the customized service ensures that customers receive refractory solutions that align precisely with their operational demands.
Tracking Service
In fact, a responsible ramming mass manufacturer must pay more attention to the tracking service. Kerui is responsible for tracking customer project results. There will even be regular customer return visits. As a professional supplier, we attach great importance to each customer's experience and listen carefully to each customer's opinions. These are why so many customers choose Kerui as their refractory cement supplier.
Tips for Construction of Refractory Ramming Mass
Construction method: manual ramming, air hammer ramming or machine ramming. Additionally, the thickness of each pounding and adding material is about 50-100mm.
Temperature requirement: workers can use the refractory ramming materials at room temperature. For example, thermoplastic organic materials that can form carbon bonds are used as binders. Moreover, most of them are constructed immediately after stirring in a hot state. After molding, workers use different heating methods according to the hardening characteristics of the mixture. The method promotes hardening or sintering.
Demolding of ramming mass: for ramming materials containing inorganic chemical binders, workers can easily remove and bake the molds after hardening to a certain strength. Moreover, it's convenient to demould these materials that contain thermoplastic carbon binders after cooling to the appropriate strength. Workers should heat the ramming mass quickly to carbonize after demolding and before use. If you want to know more useful tips about monolithic refractory, welcome to follow Kerui Pinterest.
Sintering of ramming linings: the sintering of refractory ramming linings can be carried out in advance before use. Besides, it's available by heat treatment using a suitable thermal regime when used for the first time. The baking and heating system of ramming materials varies according to different materials.
Other uses: the main use of ramming materials is to cast smelting furnace linings that are in direct contact with the melt, such as blast furnace tapping hooks, steelmaking furnace bottoms, induction furnace linings, electric furnace tops, and rotary kiln blanking parts. In addition to forming an integral furnace lining, customers can also use this product to manufacturer large-scale prefabricated components.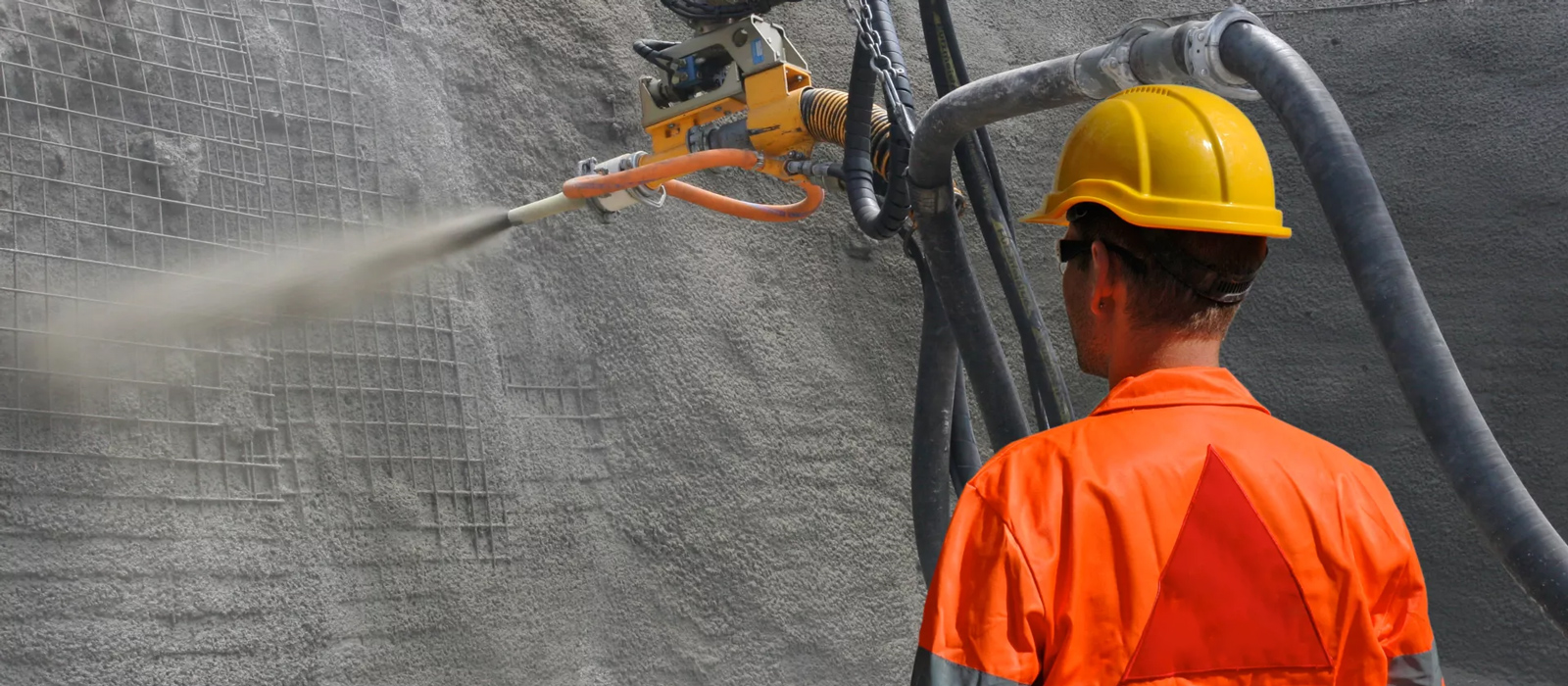 Conclusion
With excellent property as well as affordable price, Kerui refractory ramming mass is your best choice. Kerui is glad to offer the most professional service and full service. Contact us for more details!