Silica Refractory Brick
Silica refractory brick is a crucial component of high temperature kilns. It uses SiO2 as primary material and the extent is typically over 94%. Kerui silica brick has been a crucial component in high-temperature kilns. Please keep reading to learn more about it.
94-96

SiO2% (≥)

2.34-2.35

True Density (g/cm³)

1640-1660

Refractoriness Under Load (℃)

25-35

Cold Crushing Strength (MPa)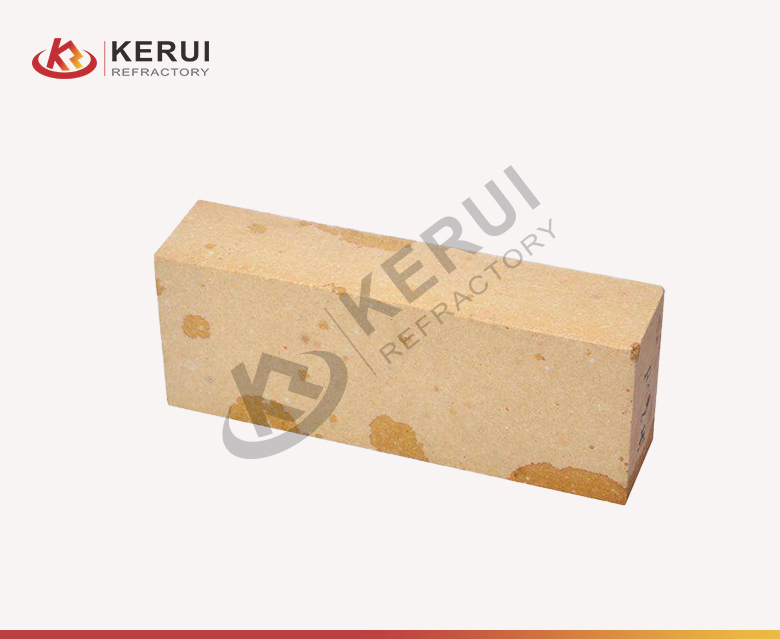 What Is Kerui Silica Refractory Brick?
Kerui silica refractory brick adopts natural silica as primary material, plus appropriate amount of mineralizer to promote the conversion of quartz to tridymite. Due to high content of silica, this brick belongs to acid refractory brick and has better resistance to acid slag erosion. Customers often purchase fire brick with silica used in high temperature furnaces with strong acid corrosion.
Kerui silica refractory brick is also known as silica brick, silicon brick, silicon refractory brick, silica fire brick and so on.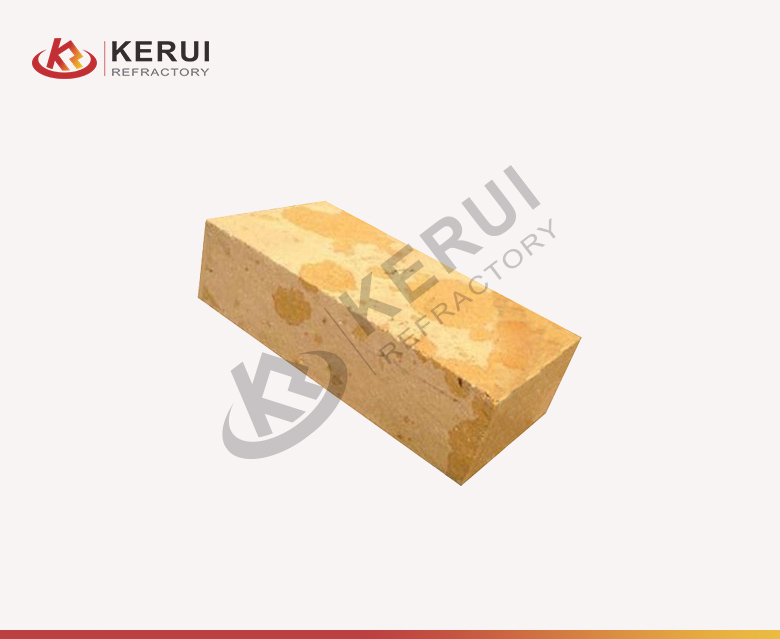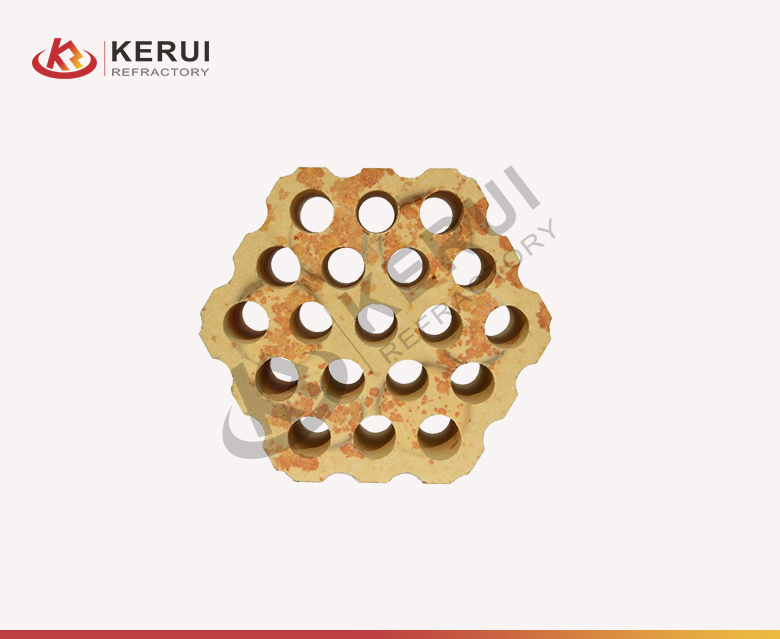 Physical and Chemical Index of Kerui Silica Refractory Brick
Kerui provides 3 kinds of silica refractory bricks for sale. From the following index table, you can learn about the physical and chemical properties of silica bricks.
Item/Grade
GZ-94

ω (SiO

2

)/%

μ

0
≥94
σ
1.0

ω (Fe

2

O

3

)/%

μ

0
≤1.4
σ
0.3
Apparent Porosity/%

μ

0
≤24
σ
1.5
True Density (g/cm³)

μ

0
≤2.35
σ
0.1
Cold Crushing Strength/MPa

μ

0
≥30
σ
10

X

min
20
0.2MPa Refractoriness Underload/℃

μ

0
≥1650
σ
13
Manufacturing Process of Kerui Silica Brick
With advanced manufacturing equipment and technology, Kerui produces silica brick with superior quality. Here is detailed description of the manufacturing process of Kerui silica brick.
Step1. Batching
Kerui quality inspection department sorts high quality silica for production. The fully automatic batching system weighs and batches SiO2 and other additives precisely. The mixing mill blends these materials for more than 5 minutes. The brick pulp will be transported to the molding system.
Step2. Molding
There are more than 20 sets of high tonnes press machines that can realize the accurate dimension of silicon bricks. Kerui supports customized shapes and sizes on the silica fire brick. Besides, molded bricks will be measured and weighed twice. Standard silica firebricks can enter the drying kiln.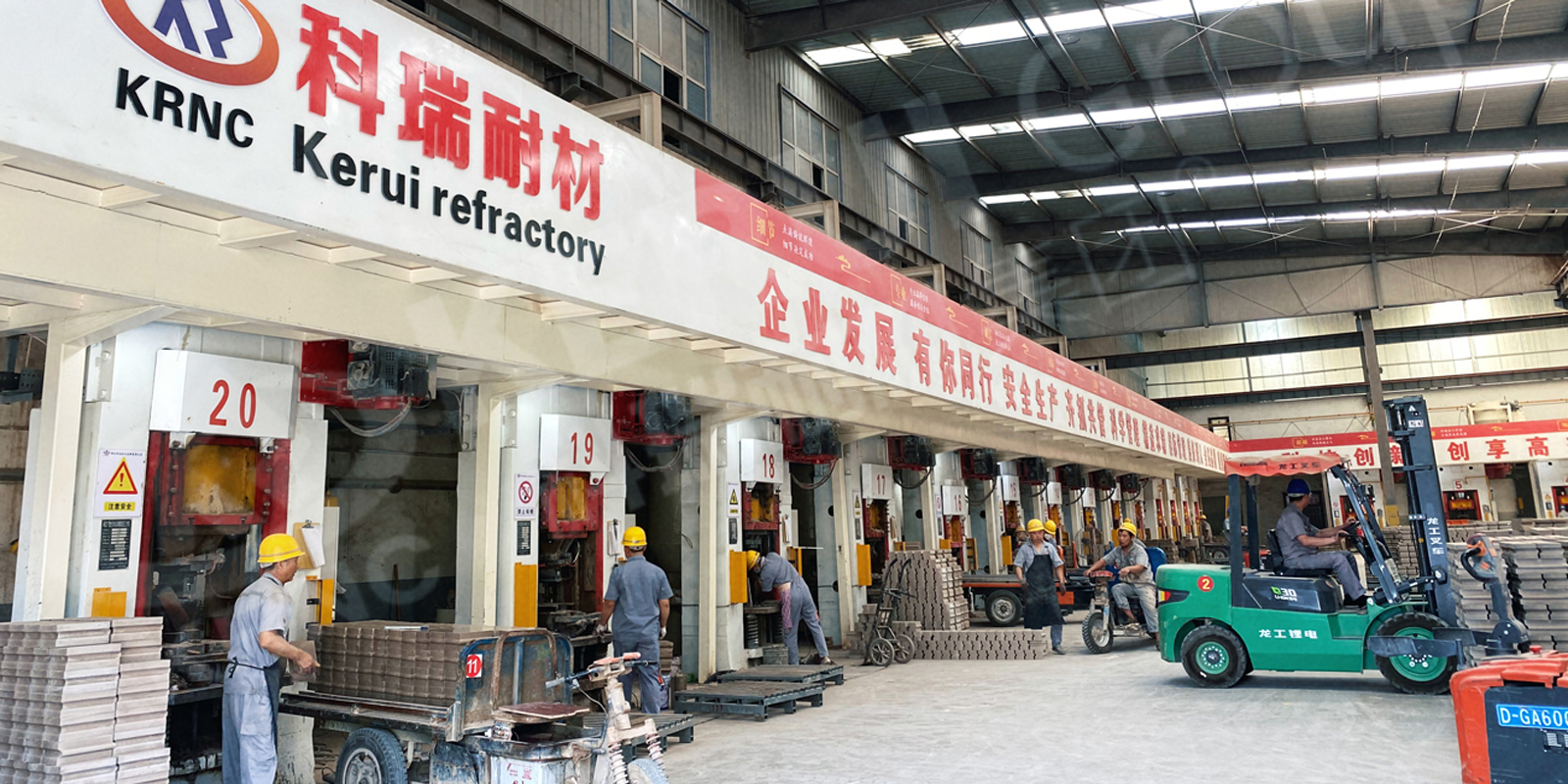 Step3. Drying
The molded silica fire bricks need to be gradually evaporated to remove water. The drying kiln heats up gradually, but the temperature is always below 500°C (932°F). Drying is to reduce the risk of heating and cracking during sintering, and to improve the efficiency of sintering.
Step4. Sintering
When making refractory bricks in reducing atmosphere, silica refractory bricks are sintered slowly at 1350°C – 1430°C (2462°F – 2606°F). When the sintering kiln is heated to 1450°C (2642°F), there is a total volume expansion of about 1.5-2.2%. This expansion will seal the brick joints and ensure the structural strength.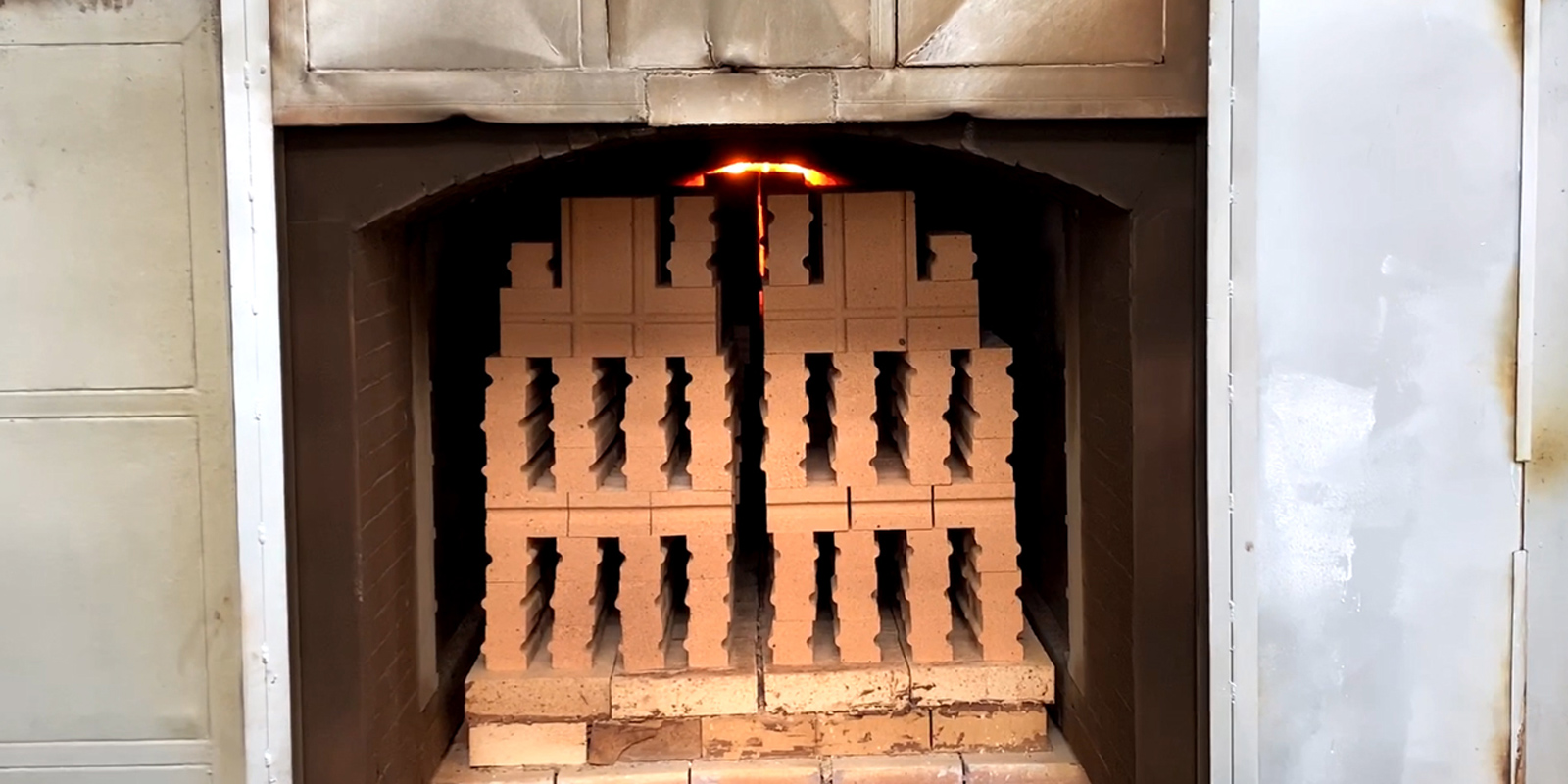 Step5. Packing and Delivery
After cooling down, Kerui quality inspection department will check various indicators of silica refractory bricks carefully and then they will conduct random inspection. Qualified silicon bricks will be packed and sent to customers' locations. Meanwhile, Kerui cooperates with world famous logistics companies to ensure safe and on-time delivery.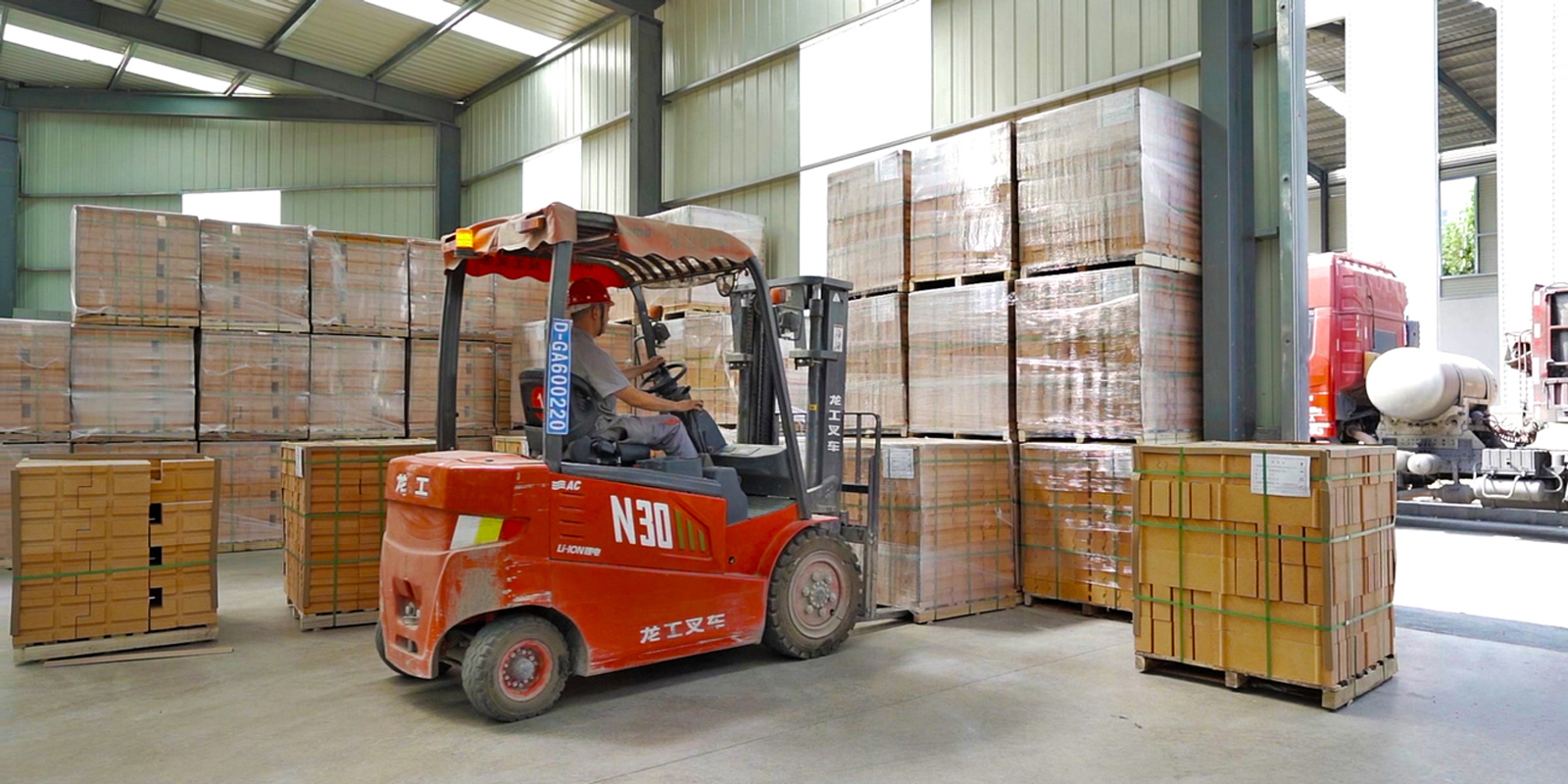 Excellent Performance of Kerui Silica Brick
Good Resistance to Acid Slag Corrosion
Due to the high silica content, kerui siliceous refractory bricks can resist the erosion of acidic slag and other substances such as CaO, FeO, Fe2O3, etc. This is one of the most important properties of silica refractory bricks.

High Refractoriness
Silicon refractory bricks have excellent refractoriness, as high as 1690°C-1710°C (3074°F – 3110°F). This characteristic shows that silicon can not be melted when acting in an environment of up to 1710°C (3110°F). As a result, high refractoriness expands the scope of use of fire heat bricks with silica.

High Load Softening Temperature
The structure of siliceous refractory bricks is very stable and can reach a high load softening temperature of 1620°C – 1650°C (2498°F – 3002°F). Therefore, this kind of brick has good resistance in the face of high temperature and load.

Good Thermal Conductivity
The compact silica refractory brick structure results in high thermal conductivity, which enables an even distribution of heat in the kiln and increases the efficiency of the heat treatment process. What's more, high thermal conductivity makes silica bricks better able to withstand thermal shock, which reduces the risk of brick cracking in the face of rapid temperature changes. Thus, it can improve the life of silicon refractory bricks.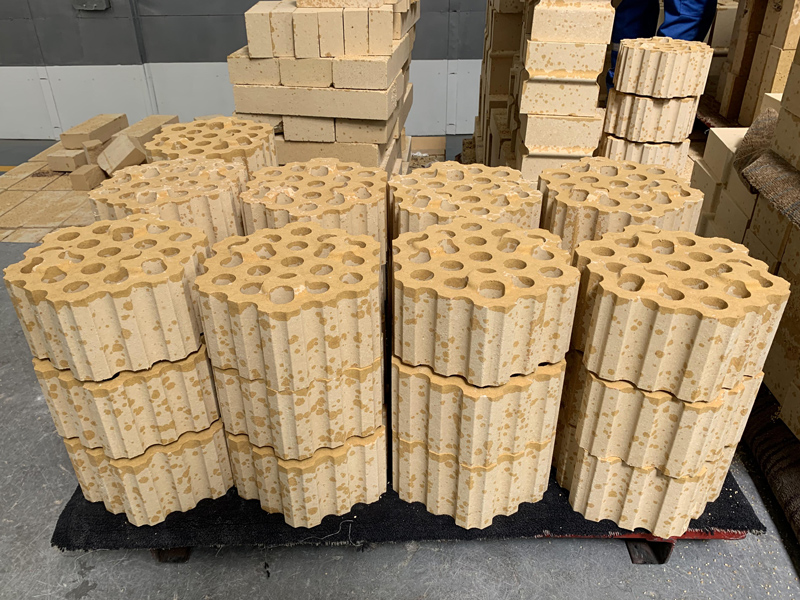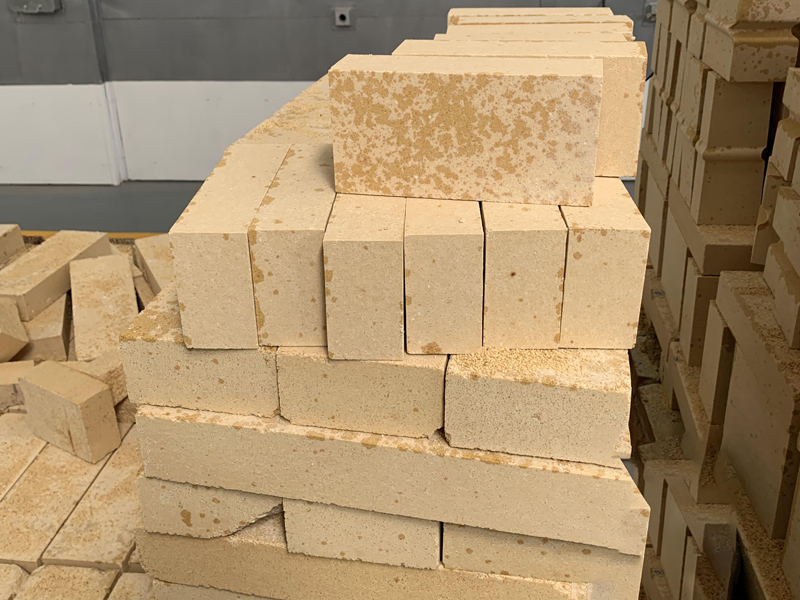 What Is Silica Refractory Brick Used for?
Kerui silica refractory bricks has wide applications for different parts of coke ovens, glass kilns, hot blast furnaces, electric arc furnaces and so on.
Silica Brick for Coke Ovens
Because the quality of silica fire bricks plays a key role in energy saving, consumption reduction, environmental protection and other performances of the coking oven. Silica brick is the main refractory material of coke oven. Meanwhile, Kerui silica bricks for coke ovens have excellent stability and slag resistance, good thermal conductivity and low quartz content.
Silica Refractory Brick for Glass Kilns
The silica refractory brick for glass kilns have relatively high requirements for resistance to acid and alkali steam erosion. Therefore, silica fire bricks for glass kilns have the characteristics of high purity, high density and high load softness. Besides, customers in glass making industry can also use this brick as insulation linings.
Silica Refractory Brick for Hot Blast Furnaces
Customers prefer to use silica bricks for hot blast stoves in high temperature areas, such as regenerative upper parts, combustion chambers and so on. When selecting silica bricks for hot blast stoves, and they must have the characteristics of high stability, high creep resistance, high load soft temperature and so on.
In addition to the above uses, Kerui silicon bricks can also be used in a wide range of industries and furnace. If you're not sure, please contact Kerui to get a clear reply.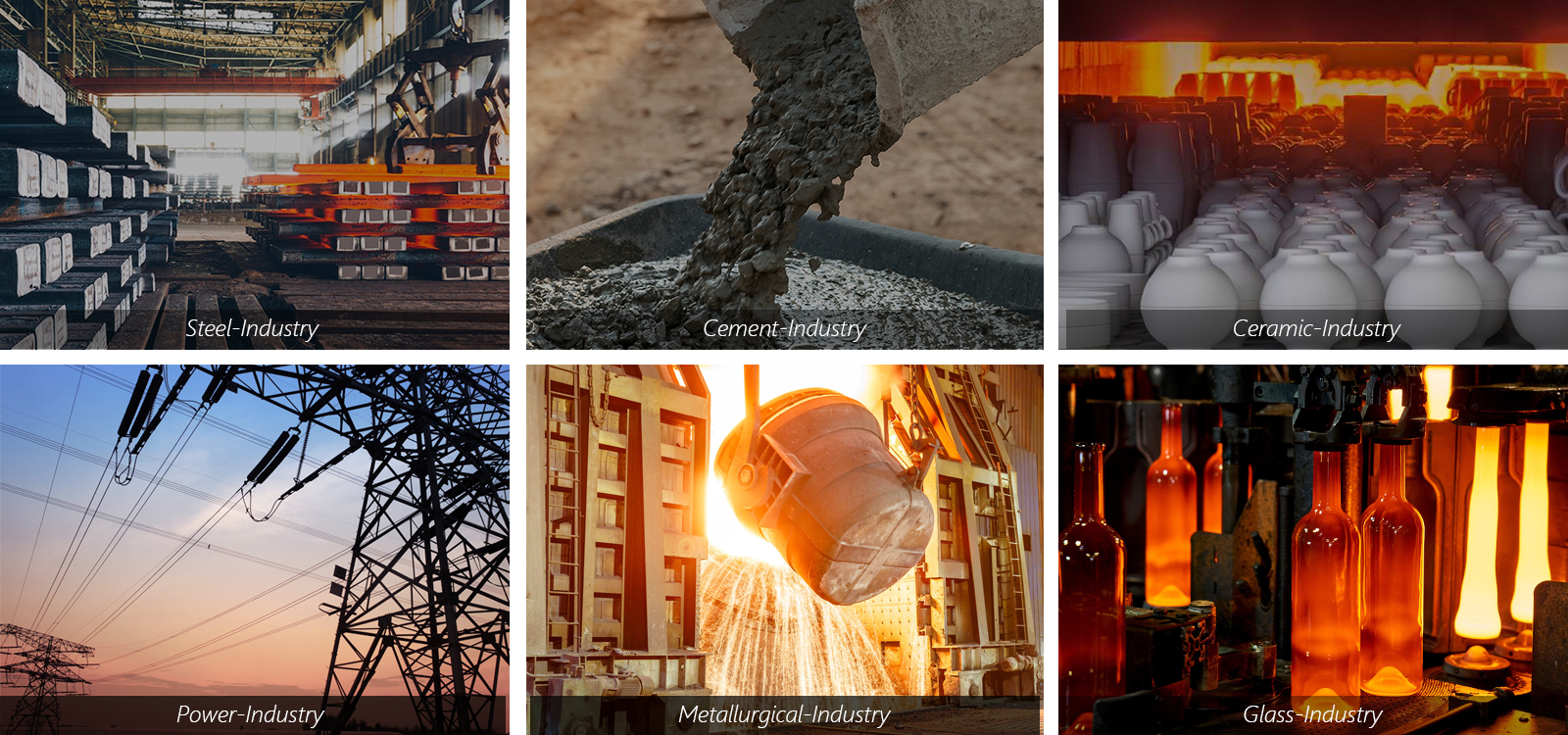 Kerui Silica Refractory Brick Price
Kerui silica brick price varies according to your specific requirements and purchase scale. But Kerui assures you of fair silica refractory brick prices in the market. Meanwhile, as an original silicon firebrick supplier, Kerui offers ex-factory prices, which reduces the costs of middlemen.
To receive a detailed fire brick cost, please leave a message and tell us your specific needs.
Reliable Silica Brick Manufacturer – Kerui Refractory
Original Factory
Kerui factory is located in Xinmi City, Henan Province, which is a famous refractory materials zone in China. For about 20 yeas of experience, Kerui has accumulated good reputation in this industry. Welcome customers come to Kerui factory for a visit!
Professional Team
You can enjoy one-stop service, because Keruigroup has a professional and efficient team with rich experience and professional knowledge. International trade managers and technical teams can provide silica brick solutions that satisfy customers. And we will promptly respond to any of your needs.
Advanced Production Equipment
In order to improve production efficiency, Kerui adopts advanced production equipment, including fully automatic batching system, industry-leading presses and tunnel kilns, etc. These advanced production equipment ensure the stable quality and fast production of silica refractory bricks.
Comprehensive Certificates
Certificates of authorities can help customers judge the quality of silica fire bricks quickly. Kerui has ISO certificates, SGS certificates, invention patent certificate and many utility model patent certificates. Due to high standards, Kerui products and production processes not only meet international standards but also far exceed industry standards.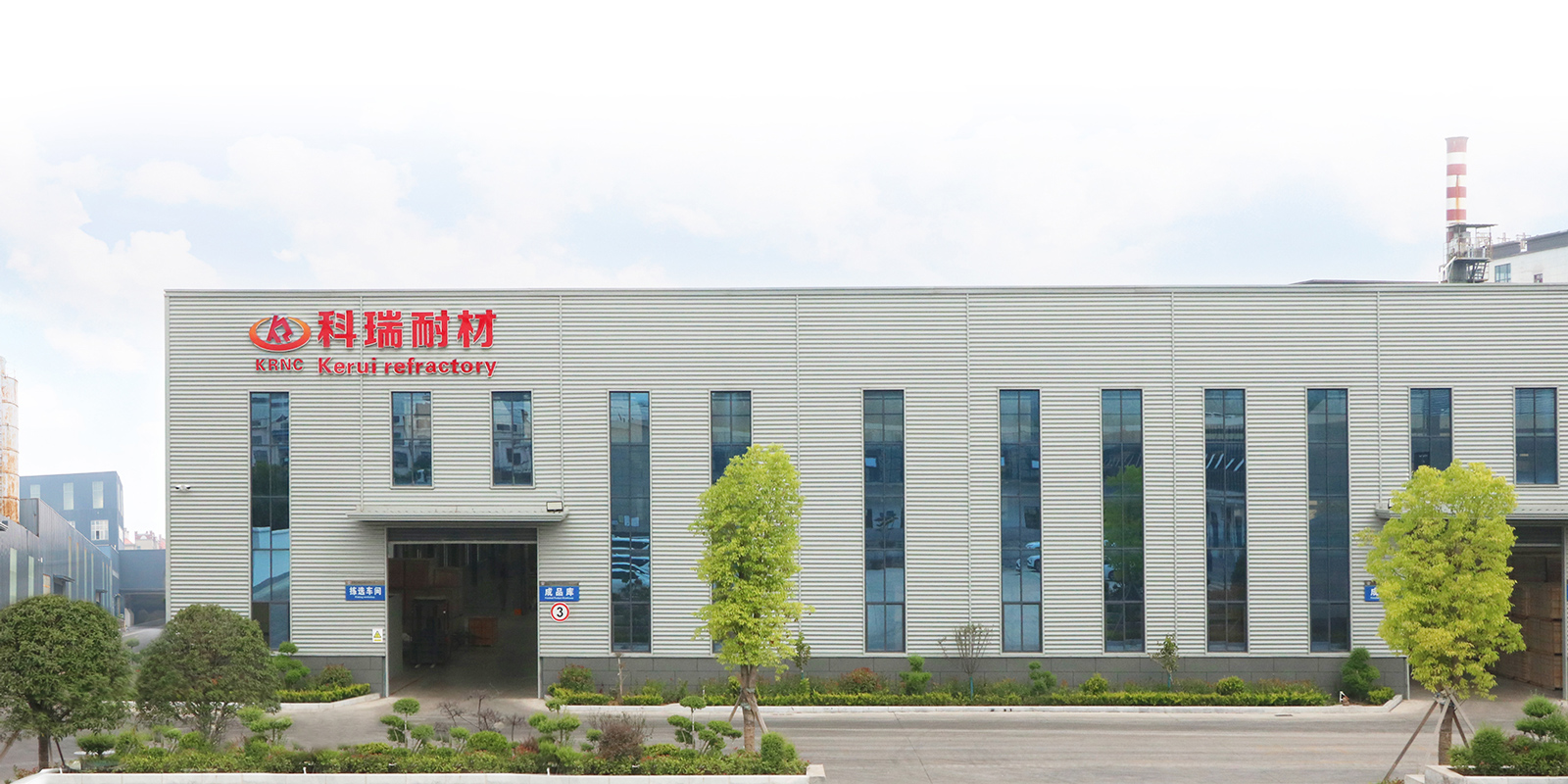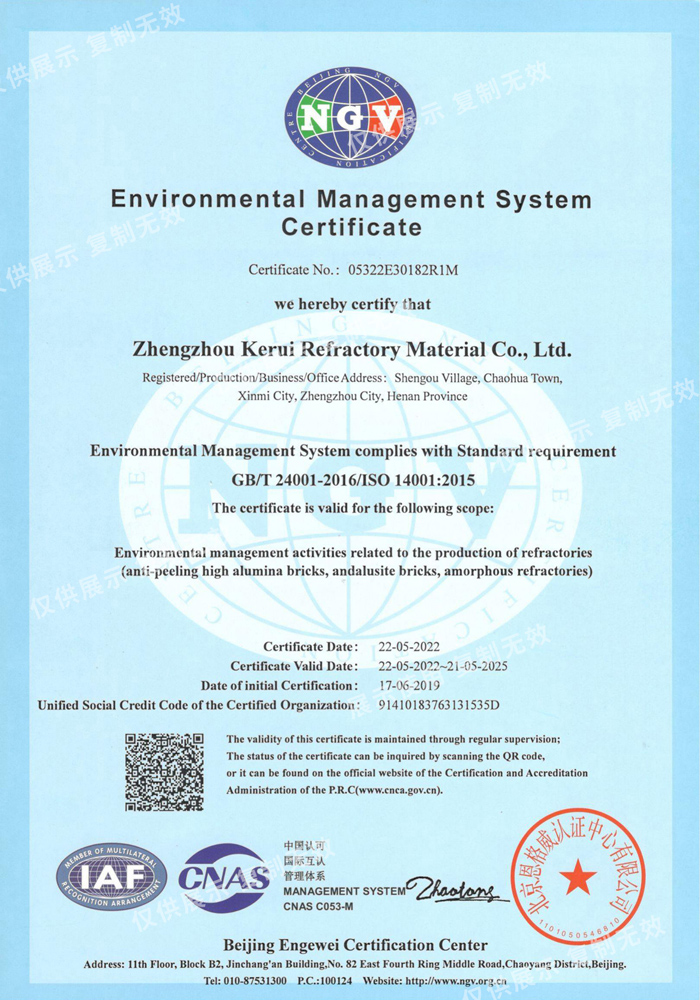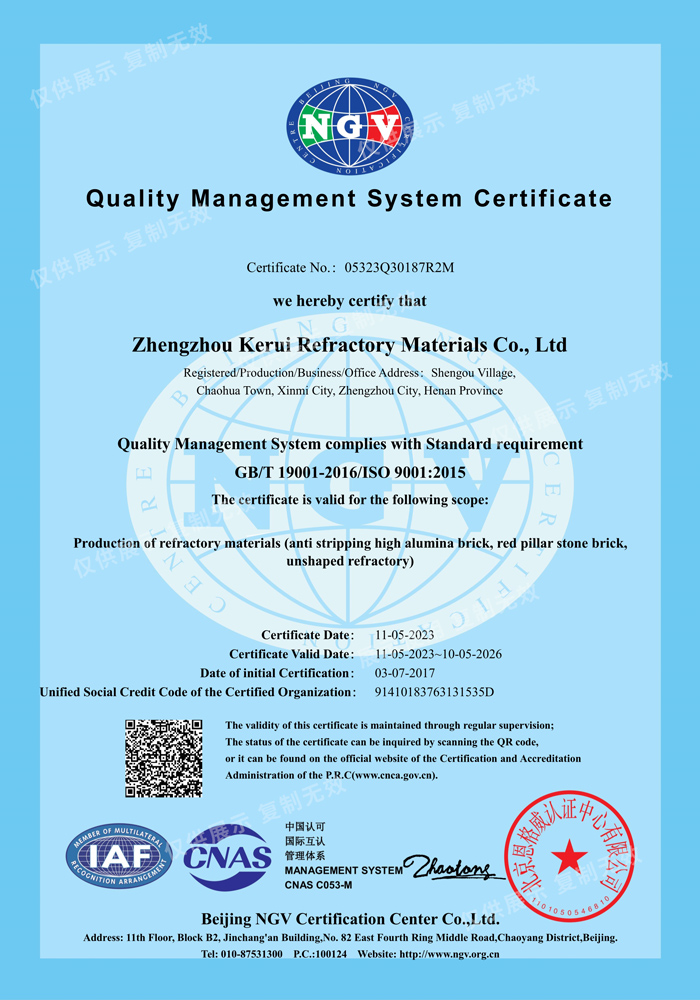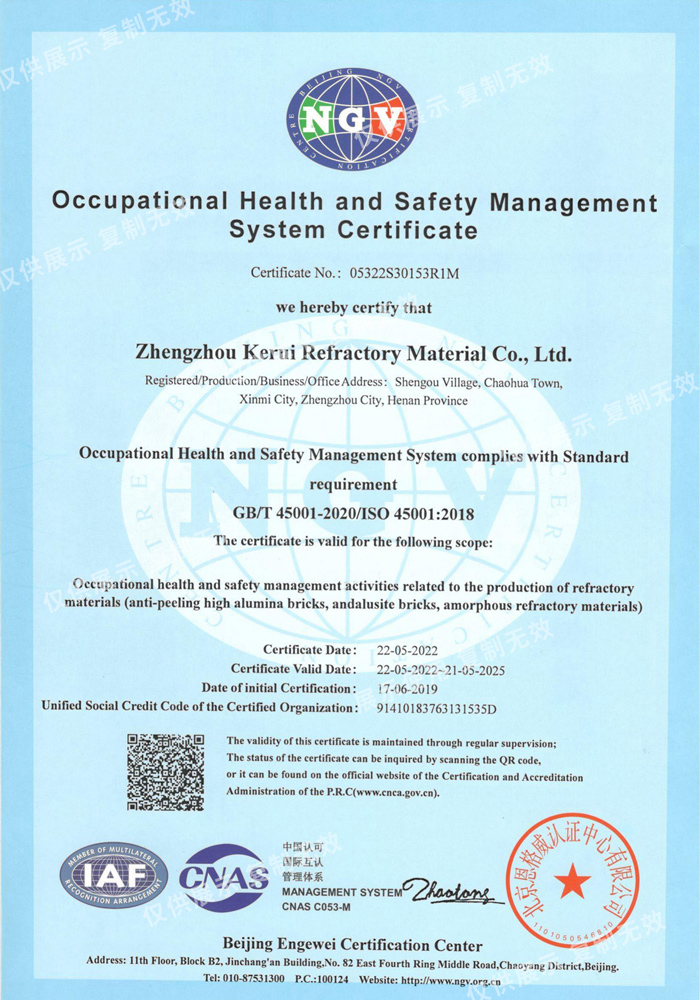 Precautions When Using Kerui Silica Refractory Brick
When building and using Kerui silica refractory bricks, it's important to ensure safe installation and optimize the performance of silica fire bricks. Here are some regular precautions when using this silica fire brick:
Storage
Store Kerui silica bricks in a dry and well-ventilated room or area with roof. It's better to put bricks away from moisture and direct contact with the ground. Kerui updates refractory news every week, please follow to learn more about refractory bricks.
Using Environment
Avoid exposing silicon bricks to extremely high temperature environment that exceeds its limit. Moreover, there exists easy damage of silicon refractory bricks by Al2O3, K2O and Na2O. When considering using the environment, you'd better avoid furnaces with these substances.
Regular Inspections and Maintenance
Inspect and replace damaged silica bricks regularly. Bricks with wear, damage, or deterioration should be replaced. So Kerui after-sales team will offer maintenance manual of silica bricks.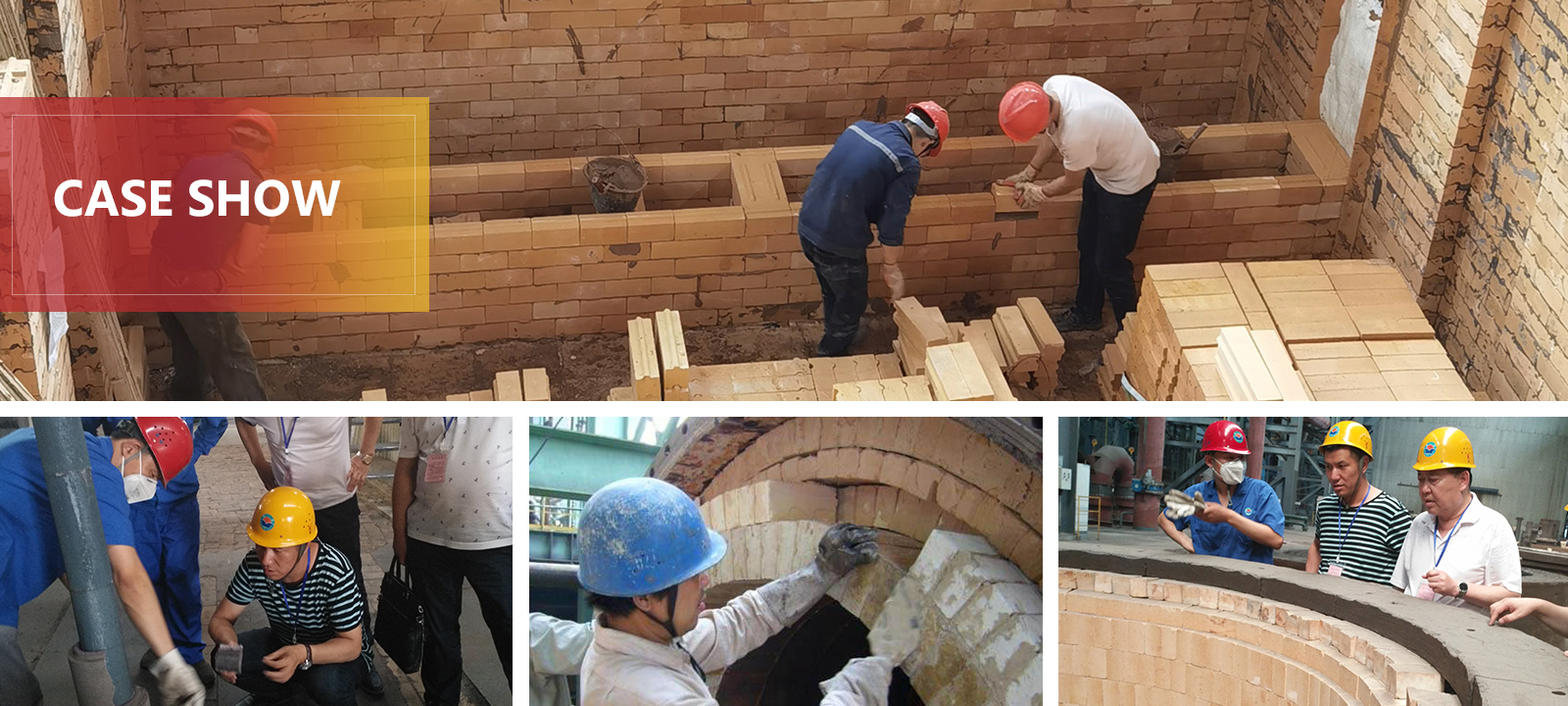 When purchasing silica refractory bricks, we sincerely recommend you choose a trusted manufacturer like Kerui Refractory. Kerui prioritizes quality and customer satisfaction. Don't hesitate to contact us today to discover more about our silica refractory bricks!