Fire Resistant Brick for Sale
When it comes to the construction of high temperature equipment, it's crucial to invest in high-quality fire resistant brick for sale. Kerui fire retardant brick for sale is famous for good properties, multiple functions and refractoriness as high as 1700℃ (3092℉). Now Kerui fire resistant brick has wide uses.
55-82

Al2O3% (≥)

1.9-3.9

Bulk Density (g/cm³)

1250-1790

Refractoriness Under Load (℃)

30-200

Cold Crushing Strength (MPa)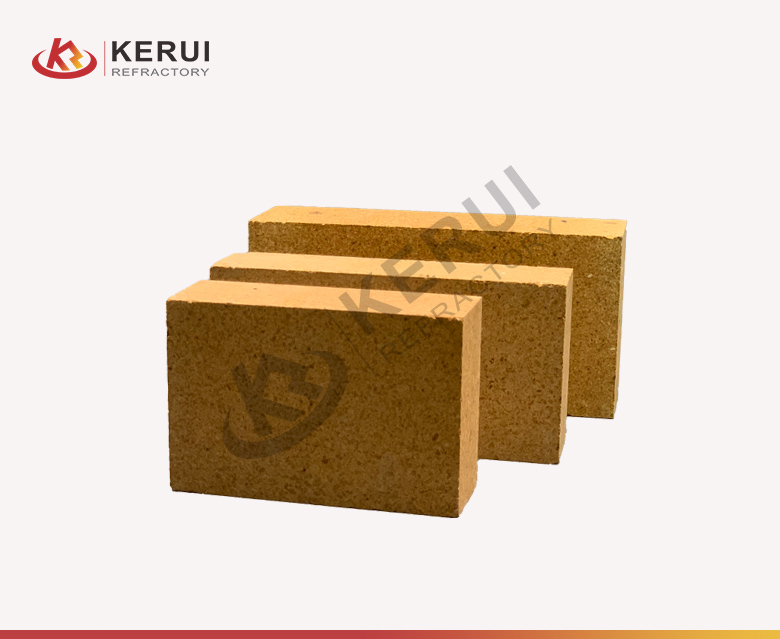 Basic Information of Kerui Fire Resistant Brick for Sale
Various Compositions of Fire Resistant Brick for Sale
Acid fire resistant brick: these bricks are made from silica and clay, which provides excellent resistance against acidic environments. These bricks are commonly used in industries such as chemical plants and refineries.
Neutral fire resistant brick: Made from alumina and clay, neutral bricks exhibit good resistance to both acidic and basic environments. They are widely used in power plants, incinerators, and boilers.
Alkaline fire resistant brick: These bricks are composed of magnesia and/or dolomite. Magnesite bricks offer exceptional resistance to high-temperature alkaline environments. They are commonly used in cement and lime kilns.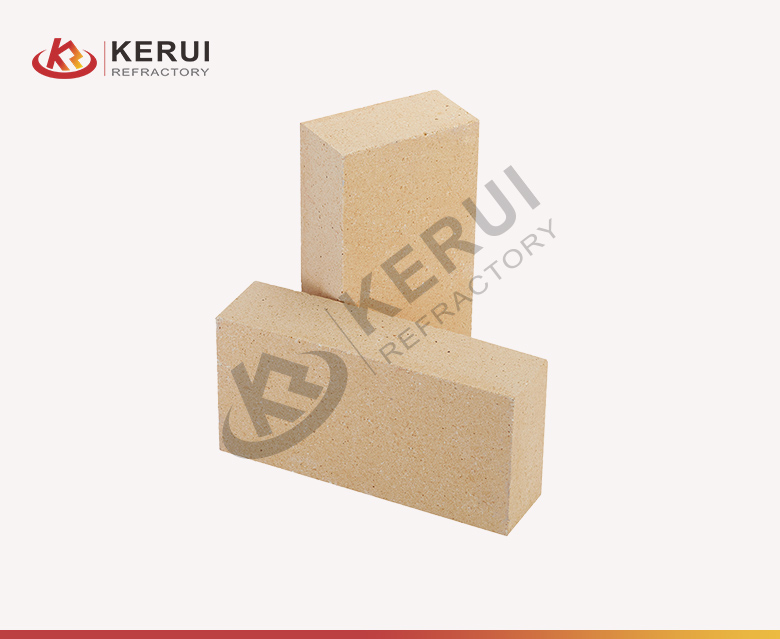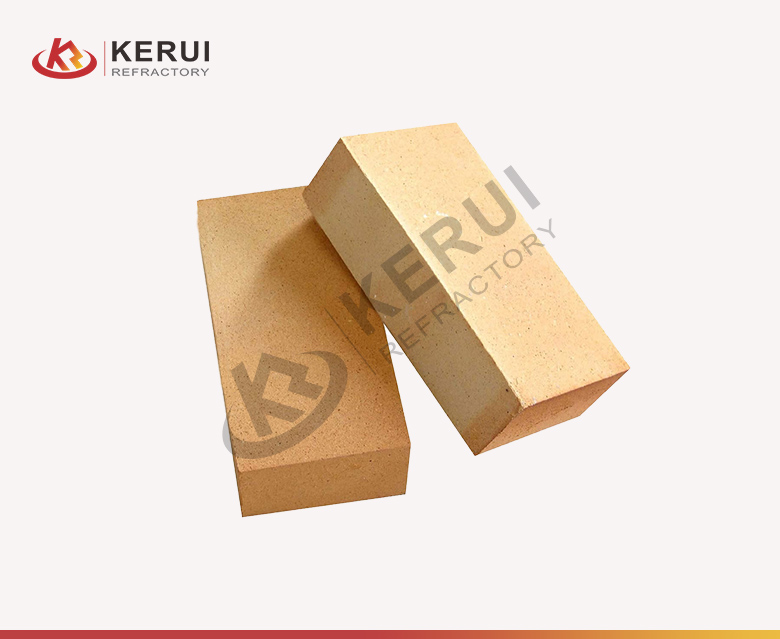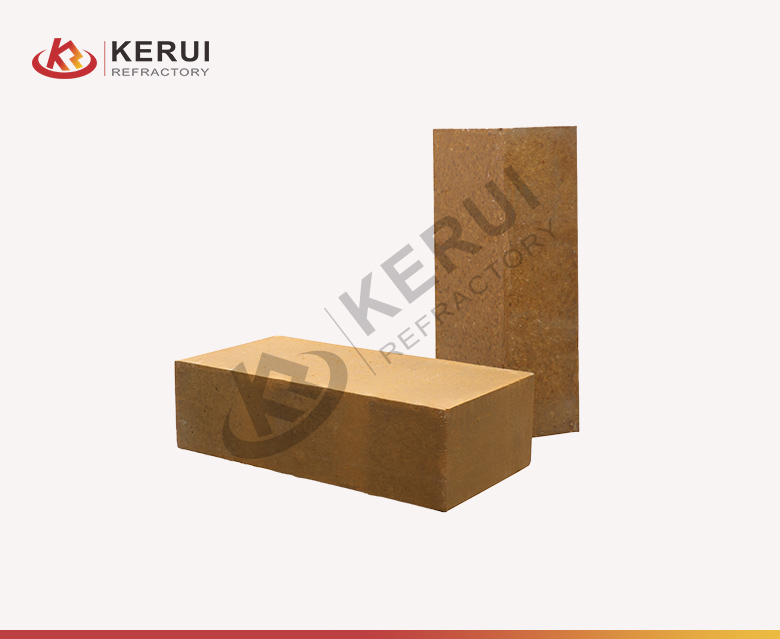 Various Shapes of Fire Resistant Brick for Sale
Standard fire resistant bricks: Also known as straight or rectangular bricks, they are the most common and versatile option for various applications.
Common size of fire resistant bricks: Kerui provides fire resistant bricks in standard sizes, such as 230mm x 114mm x 65mm, 230mm x 114mm x 75mm, and 230mm x 114mm x 100mm. These sizes allow for easy integration into existing structures.
Customized fire resistant bricks: Kerui also offers customized fire resistant brick for sale to meet specific project needs. These industrial fire bricks can be tailored in terms of shape, size, and special features, ensuring a perfect fit for unique construction requirements.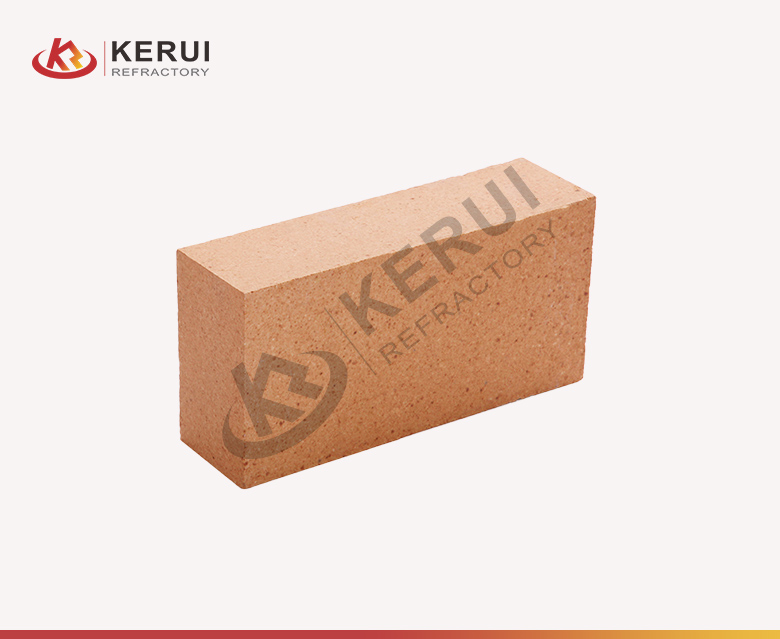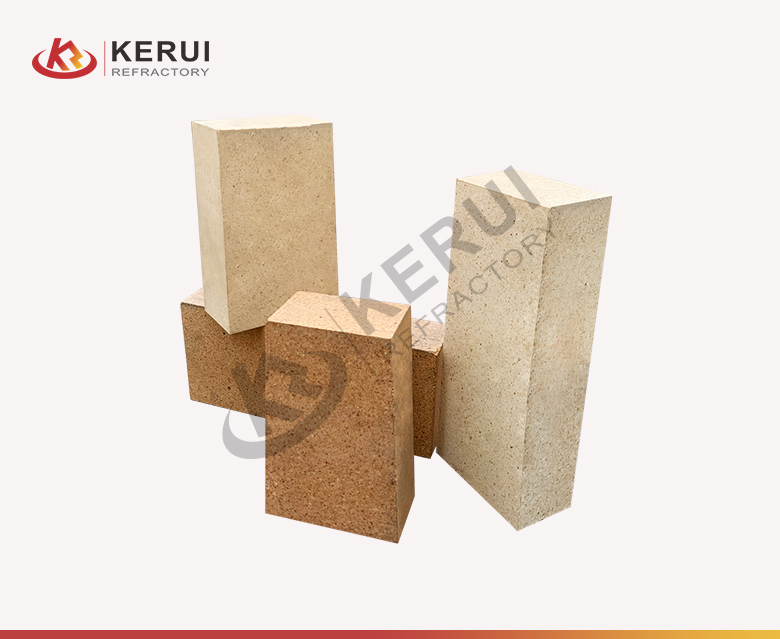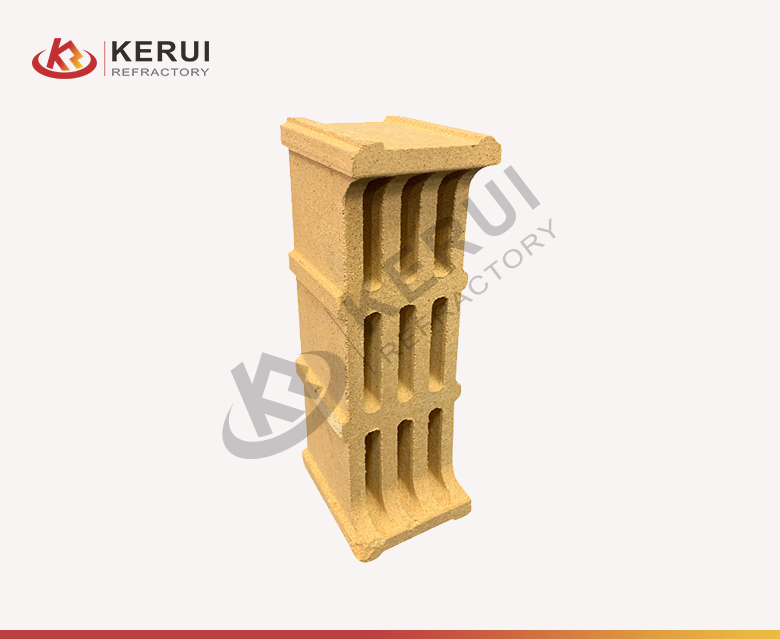 Various Manufacturing Processes of Fire Resistant Brick for Sale
Sintering process: This process involves compacting and heating raw materials to high temperatures without melting them. The materials fuse together, forming a solid brick structure with excellent thermal stability and strength.
Electric fused process: In this process, high-temperature electric arcs melt the raw materials, which are then cooled and solidified to form fire resistant bricks. This method allows for precise control over the composition and properties of the bricks.
Composite production of fire resistant brick: in order to save customers' costs, Kerui has developed composite bricks made of various materials in recent years. As you can see from the picture below, different parts of this firebrick have different functions.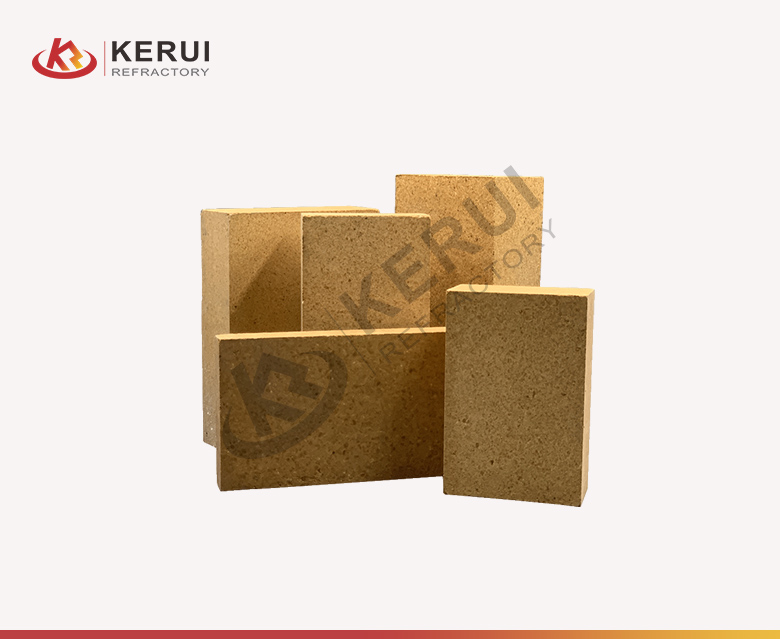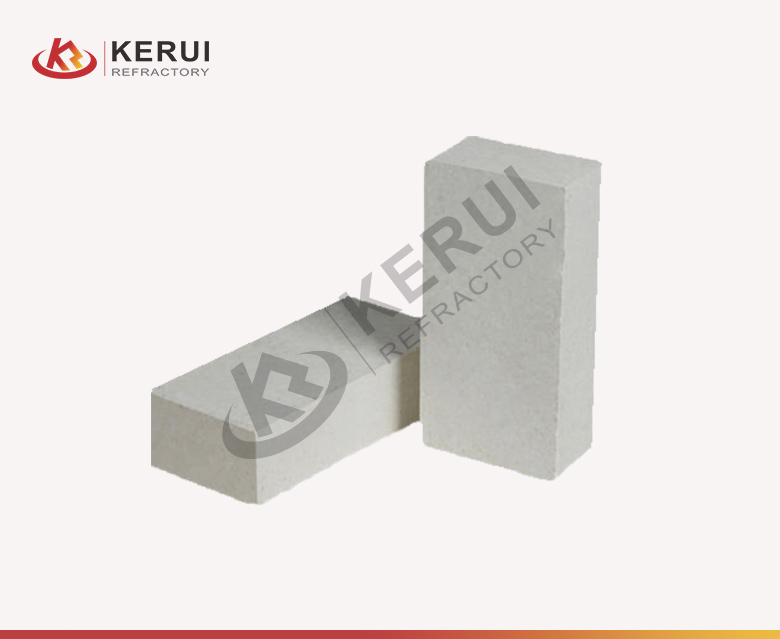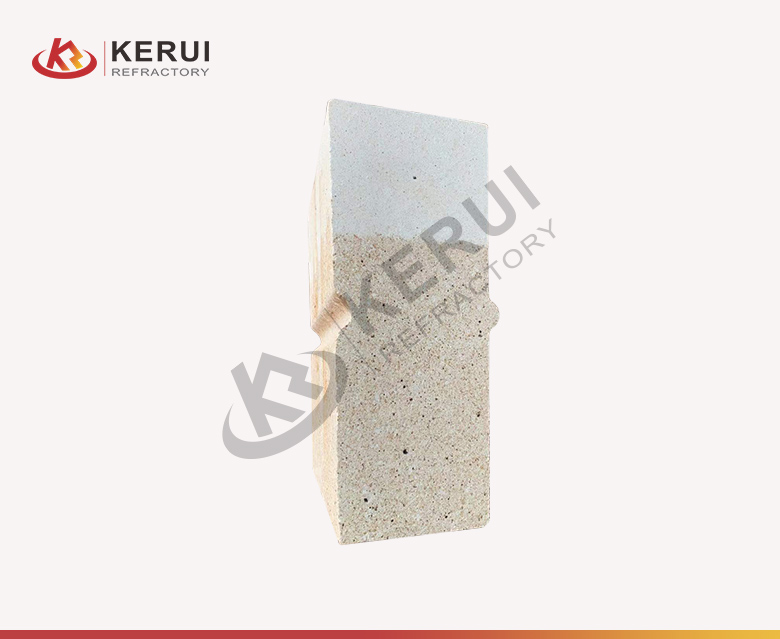 Good Properties of Kerui Fire Resistant Brick for Sale
Heat Resistance
Kerui fire resistant brick is made of raw materials with high purity, which results in better heat resistance. After thousands of tests and experiments, Kerui fire rated brick can withstand extreme high temperature up to 1700℃ (3092℉). With integrity under high temperatures, Kerui fire resistant brick for sale can be use in various industries. Moreover, this brick has longer service life.
Chemical Resistance
When building glass furnaces, environmental protection equipment, chemical furnaces or other furnaces that are severely eroded by chemical solutions, customers tend to choose chemically resistant bricks like fused cast AZS block. Kerui enhances corrosion resistance by improving the chemical composition and structure of refractory bricks, thereby prolonging the service life of the kiln.
Thermal Shock Resistance
Thermal shock resistance means that the refractory brick inside the kiln can still maintain stability in the face of high temperature shock. Kerui magnesia-chrome brick and magnesia-calcium brick series have good thermal shock resistance. Kerui has professional testing equipment for physical and chemical properties, and we can provide authoritative testing reports.
Slag Resistance
The high density and low porosity of Kerui fire resistant bricks bring excellent slag resistance. This brick can resist slag, dust, metal solution, gaseous substances, etc. of metallurgical furnaces. According to the specific conditions of the kiln, Kerui can produce refractory materials with similar chemical composition to the slag to reduce the reaction intensity.
Wear Resistance
Kerui fire resistant brick has excellent wear resistance to face continuous change in high temperature kilns. In order to prolong the service life of refractory bricks and kilns, the wear resistance must be improved. Kerui creates high-density refractory bricks through reasonable particle size composition and advanced preparation technology.
Pressure Resistance
Pressure resistance refers to the ultimate load that refractory bricks can bear per unit area at a certain temperature. This feature is of great significance to the storage and masonry of refractory bricks. Customers usually stack refractory bricks for storage. Kerui refractory bricks with high pressure strength will not affect subsequent use after being stored for a long time.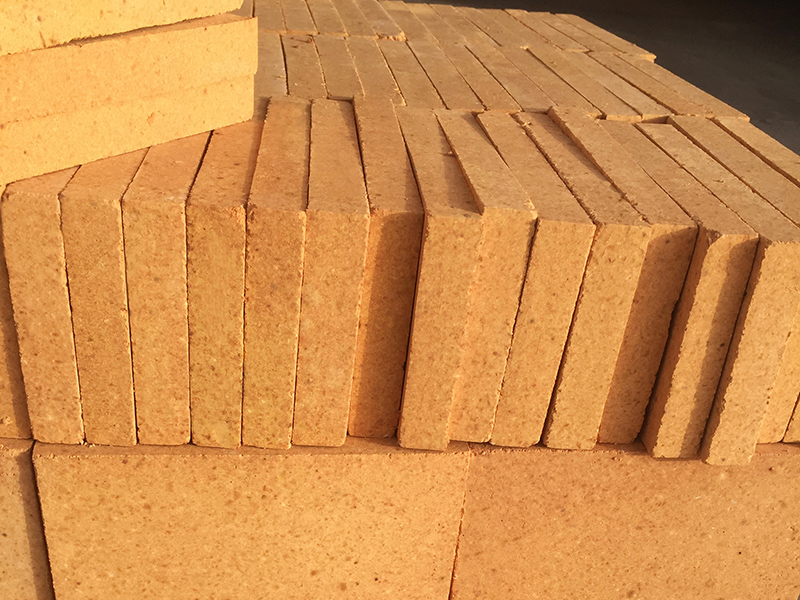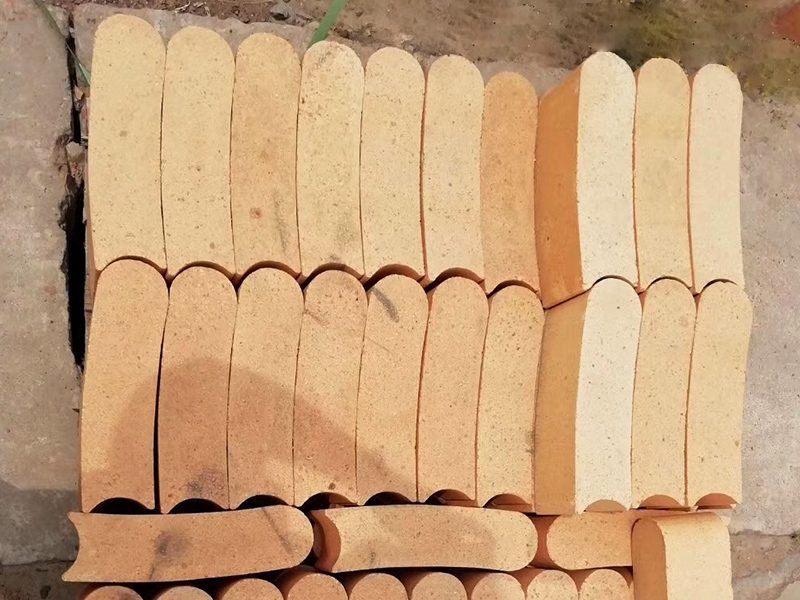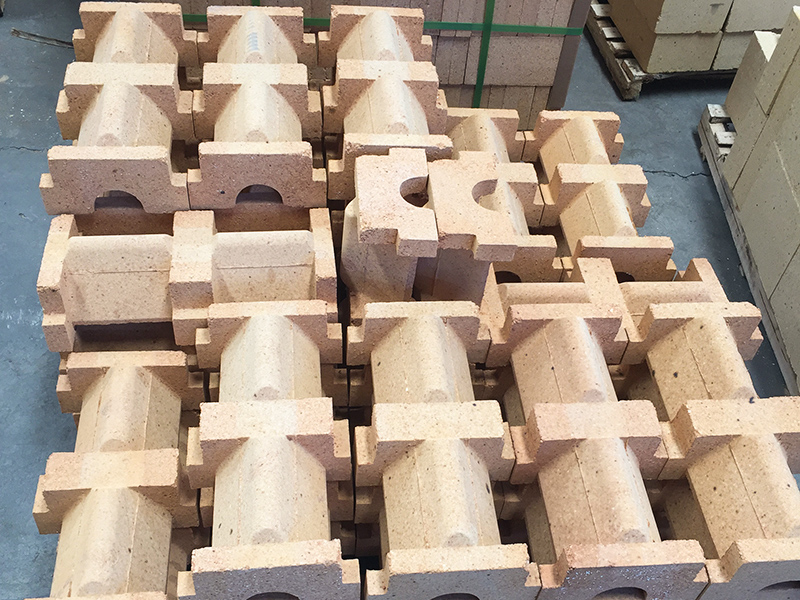 Advanced Manufacturing Process of Kerui Fire Resistant Brick
Accurate Ratio on Raw Materials
Kerui implements a strict raw material inspection system to ensure the quality and consistency of the materials used. This helps in maintaining the desired properties of the fire-resistant bricks. Additionally, an automated batching system is employed to precisely control the ingredient proportions, ensuring accurate and consistent mixing of the raw materials.
Precise Molding
More than 20 sets of high-tonnage press machines are utilized to exert significant pressure on the brick pulp, which results in precise shaping and compacting of the fire-resistant bricks. After molding, the bricks undergo a secondary inspection to ensure they meet the required standards and specifications before further processing.
Efficient Drying and Sintering
Kerui factory is equipped with 2 tunnel kilns with 168 meters. There are also PLC systems to accurately control and monitor real-time temperature and position during the drying and sintering processes. This ensures optimal conditions for the fire burnt bricks to achieve the desired strength and properties.
Careful Check and Packaging
A dedicated quality control department conducts regular inspections and sampling to ensure the overall quality and consistency of the fire-resistant bricks. The bricks are carefully checked for any defects or deviations from the specifications. Only qualified fire resistant bricks are packaged according to customer specifications. Kerui also offers customizes packaging solutions.
On-time Delivery
Kerui collaborates with renowned international logistics companies to ensure timely and reliable delivery of fire resistant bricks. This partnership ensures that the products reach customers' location within the agreed time. On-time delivery service enhances customer satisfaction and minimizing delays.
Wide Applications of Kerui Fire Resistant Brick
Fire Resistant Brick in Steel and Iron Industry
Types of fire resistant brick: high alumina refractory brick, clay fire brick, corundum brick, silicon carbide brick, clay insulation brick, other composite bricks and so on.
Application positions: lining of steel-making furnace, lining of blast furnace, lining of ladle, flue to heat gas and lining of blast furnace.

Fire Resistant Brick in Glass Industry
Types of fire resistant brick: AZS brick, magnesia refractory brick, magnesia chrome brick, silica brick, clay brick, high alumina brick, fussed magnesia zironia brick and so on.
Application positions: bottom of glass furnace, furnace wall, roof and arch angle of melting zone, pool wall directly in contact with molten glass, regenerator severely eroded by chemicals, etc.

Fire Resistant Brick in Non-ferrous Industry
Types of fire resistant brick: magnesia chrome brick, silicon carbide brick, corundum brick, high alumina brick, magnesia alumina spinel brick, clay brick and so on.
Application positions: reaction towers, linings, furnace roofs, furnace bottoms, furnace doors, metal slag outlets, roasting furnaces, blast furnaces, etc. for non-ferrous metal kilns.

Fire Resistant Brick in Other High Temperature Industries
Types of fire resistant brick: high alumina brick, fire clay brick, magnesia brick, silica brick, corundum brick, mullite brick and so on.
Application industries: cement industry, building materials industry, ceramic industry, power industry, petrochemical industry and so on.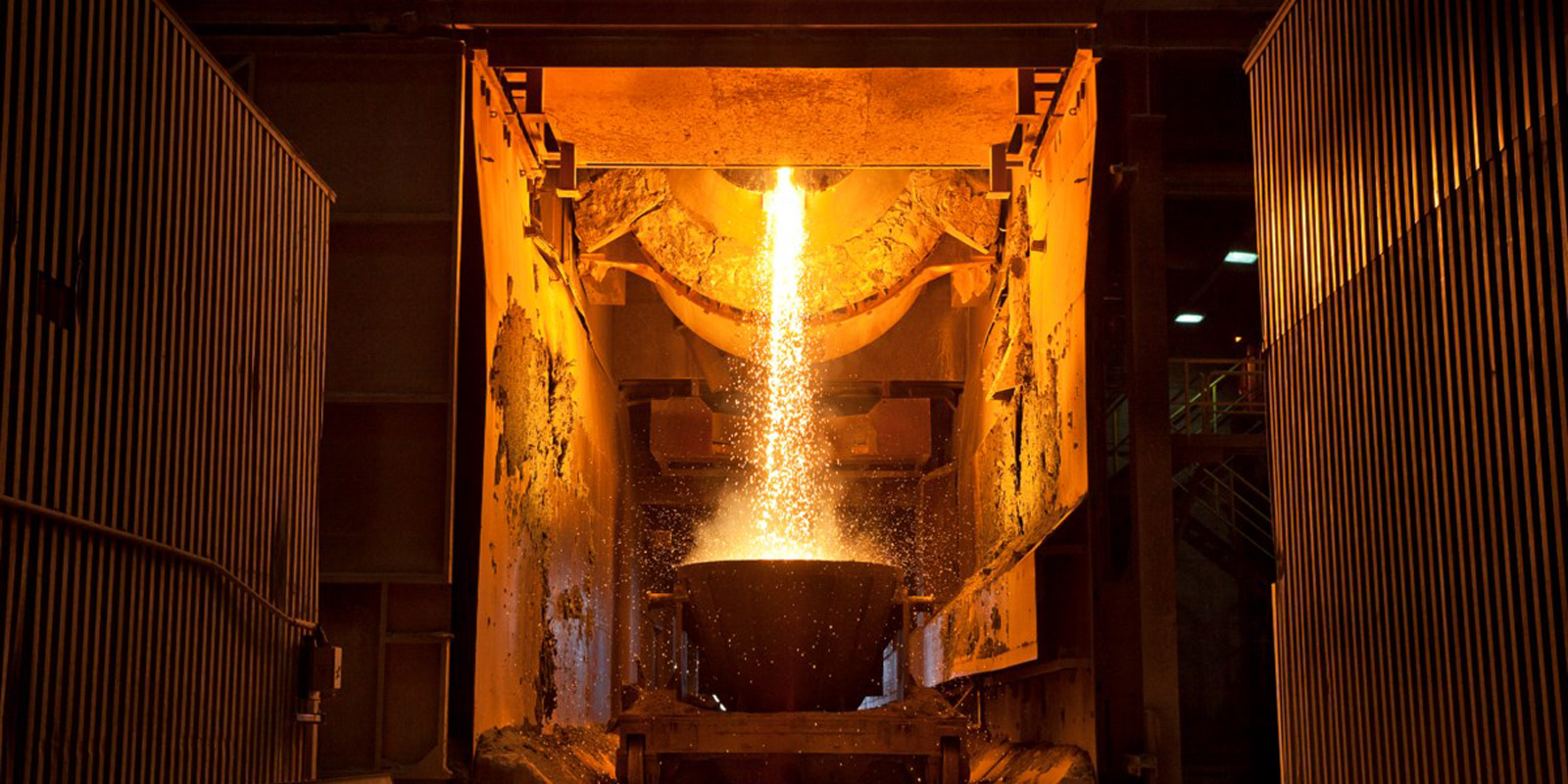 Kerui Affordable Fire Resistant Bricks for Sale
Many customers prefer Kerui affordable fire resistant brick with good quality. Kerui provides competitive fire resistant brick prices on the market.
As an original fire resistant brick manufacturer in China, Kerui has low production costs because we can get cheap but high-purity raw materials in our factory. Besides, Kerui adopts large-scale production, which reduces production costs in each production step. If you wonder how much do fire bricks cost, please contact Kerui today.
Kerui Refractory – Top Fire Resistant Brick Manufacturer in China
Strong Factory
The annual output of Kerui Refractory is 150,000 tons! It's the strong production equipment, advanced technology and skilled employees that support the amazing output. With a strong factory and stable production capacity, even if you need a large batch of refractory bricks at one time, Kerui can meet the demand.
Professional Team
Kerui selects employees strictly. Take engineers as an example, they have rich experience in this industry for more than 20 years. Besides, they are always ready for customer consultation and after-sales assistance. Kerui offers one-to-one service in each cooperation step.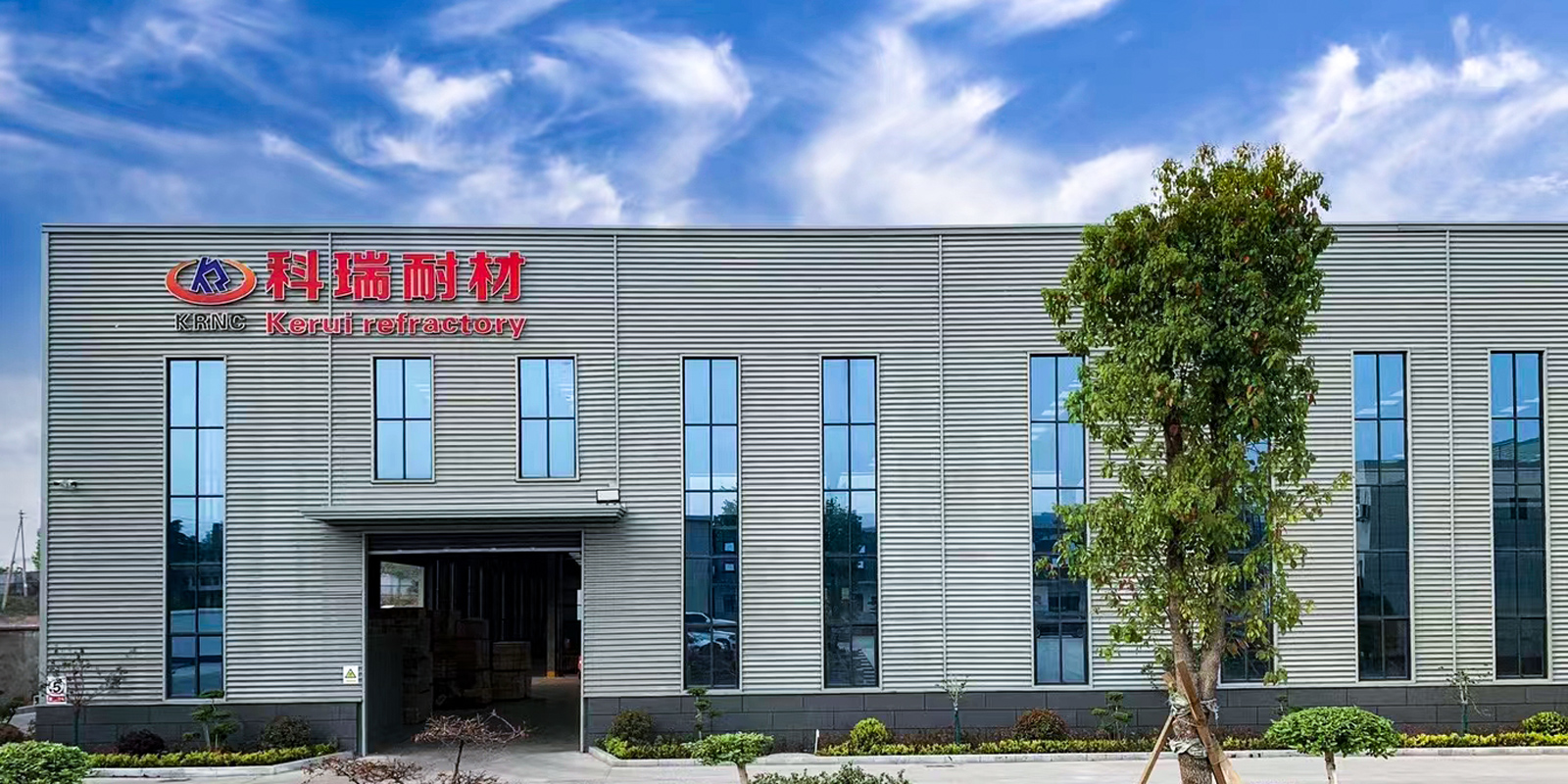 Customized Service
According to customers' needs, Kerui supports customized service include the chemical compositions, sizes, shapes and so on. The most convenient way to obtain customized solutions is to tell Kerui your detailed requirements about refractory bricks. Many cusyomers speak highly of Kerui timely response within 24 hours.
Valid Certificates
With ISO and SGS certificates, customers are confident to buy Kerui fire resistant bricks. Kerui works continuously to exceed to standards of the industry. More importantly, Kerui won many industry certificates in the past years, which proves its comprehensive strength.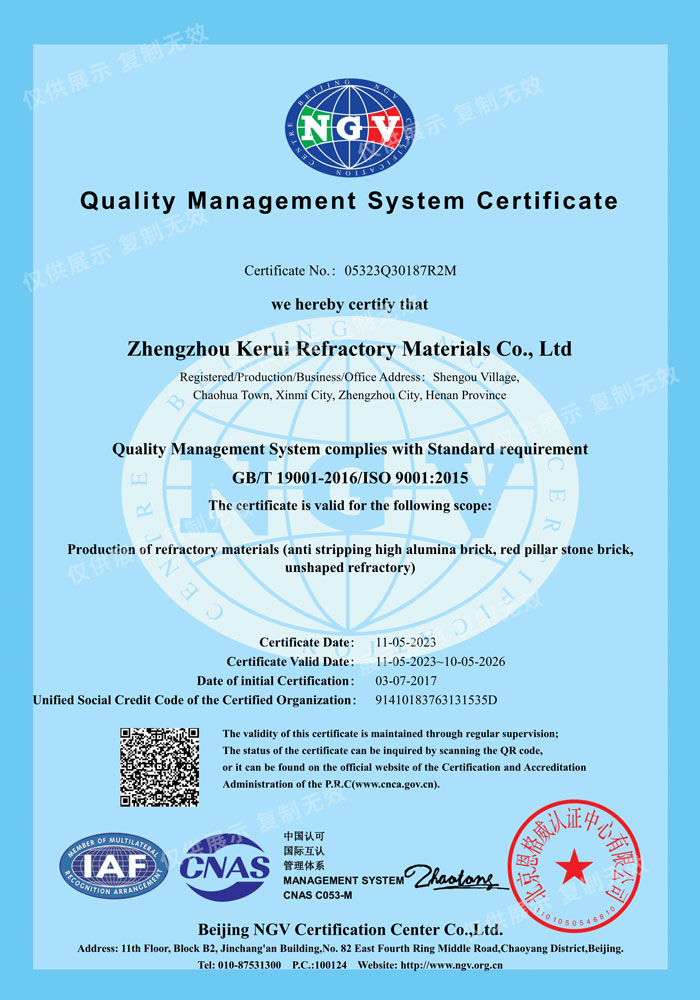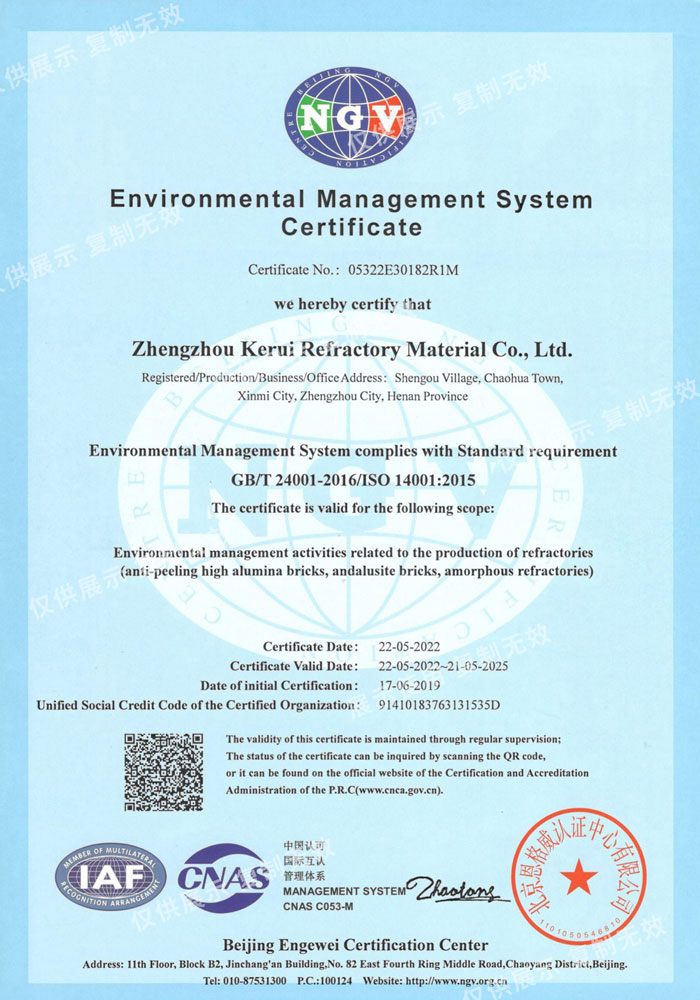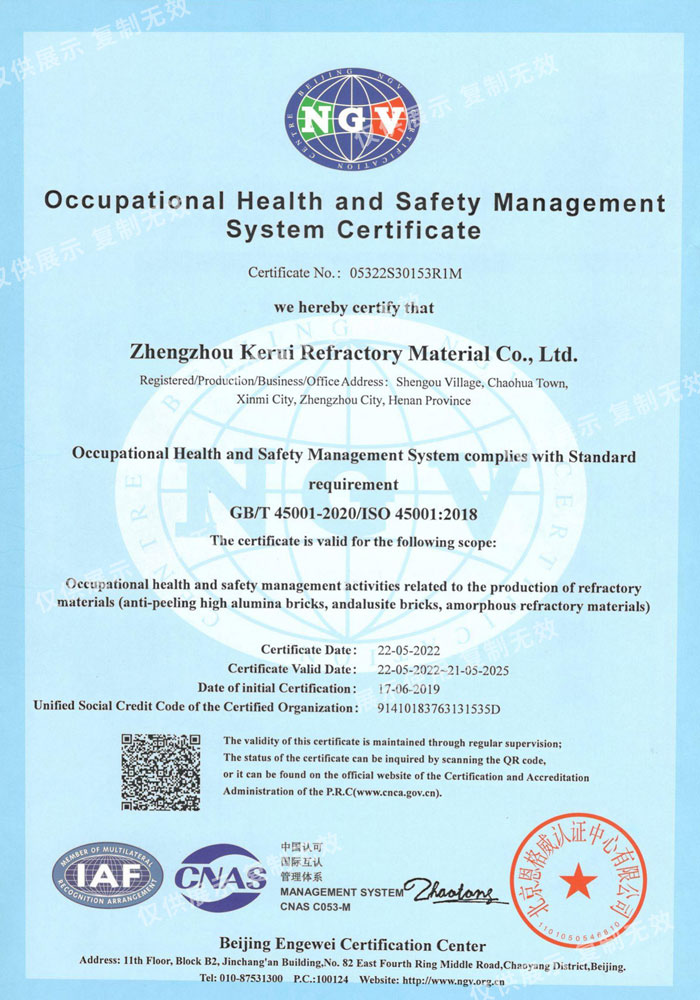 In fact, lost of customers prefer Kerui fire resistant brick because of its excellent performance. More importantly, establishing stable cooperation with Kerui, customers will enjoy complete services. If you're considering purchasing fire resistance brick, we sincerely recommend Kerui to you. Customers who plan to cooperate with Kerui can follow our YouTube account.