AZS Refractory Brick
With high purity of Al2O3, AZS refractory brick is a kind of high-grade refractory material. This brick has better heat resistance features and higher density. In the high-temperature industry, Kerui AZS bricks are commonly recommended due to high quality and reasonable price.
45-50

ZrO2% (≥)

0.5

Fe2O3% (≤)

2.70-3.20

Bulk Density (g/cm³)

70-80

Cold Crushing Strength (MPa)
What is AZS Refractory Brick?
"A" of AZS brick is Alumina (Al2O3). Alumina of AZS brick is extremely high and reaches at least 90%. As we all know, higher content of Al2O3 commonly refers to higher refractoriness and density.
"Z" of AZS brick is Zirconia (ZrO2). Zirconia has better resistance to glass solution erosion. Moreover, it can also reduce the risk of cracking and cracking of bricks due to thermal expansion at high temperatures.
"S" of AZS brick is Silica (SiO2). Silica forms a dense glass phase in AZS bricks, which can prevent the penetration of glass melt and prevent the melt from eroding the AZS brick.
In addition to the chemical compositions mentioned above, Kerui AZS refractory brick also contains Fe2O3, CaO, MgO, Na2O and many other small amounts of chemical elements. Other names about Kerui AZS brick are fused cast brick, alumina zirconia silica brick, zirconia corundum brick, fused Zirconia corundum brick and so on. Besides, this kind of firebrick for sale has better heat resistance features and higher density, so customers often use AZS brick in working environments with higher standards.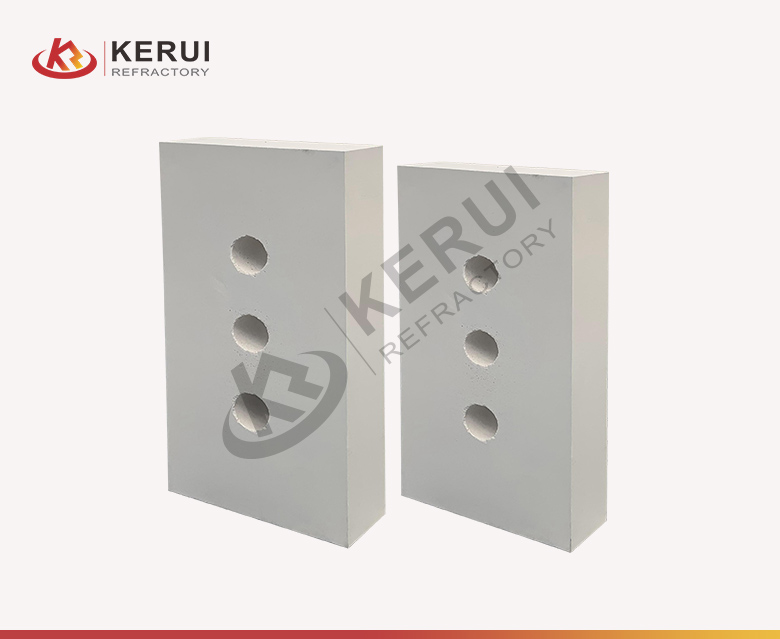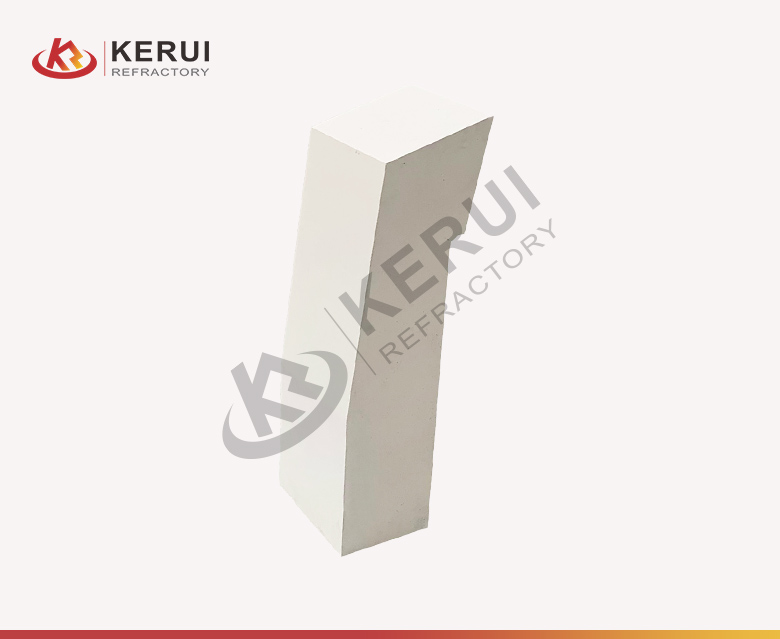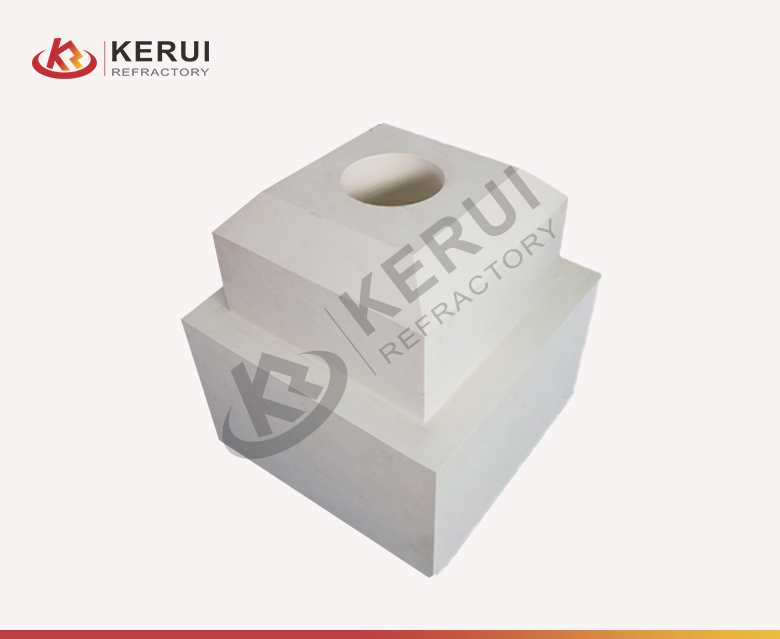 Specifications of Kerui AZS Refractory Brick for Sale
According to different compositions, Kerui mainly provides three kinds of AZS refractory bricks for sale. You can see from the table below: the more ZrO2 it contains, the better the performance is. Please tell us which type of brick you're interested in and get more information later.

Item/Grade
AZS16
AZS20
AZS32
Chemical Compositions

ω (ZrO

2

)/%

≥ 16
≥ 20
≥ 32

ω (Fe

2

O

3

)/%

≤ 0.5
≤ 0.5
≤ 0.5
Physical Properties
Bulk Density (g/cm³)
≥ 2.70
≥ 2.80
≥ 3.20
Apparent Porosity/%
≤ 20
≤ 18
≤ 18
Cold Crushing Strength/MPa
≥ 70
≥ 80
≥ 80

Refractoriness Underload T

0.6

/℃

≥ 1580
≥ 1620
≥ 1630
Advanced Manufacturing Process of Kerui Fused Cast AZS Brick
The quality of AZS brick is influenced by proportions of raw materials and manufacturing process. Kerui adopts highly intelligent manufacturing process. Here are details about the process:
Step1
Raw Materials
Kerui selects alumina, zirconia and other materials with high purity to manufacture AZS bricks. Moreover, the fully automatic batching system makes it available to get AZS bricks with pure texture and reasonable crystal phase structure.
Step2
Melting
There is a full set of advanced melting equipment here. It is worth mentioning that the efficient cooperation between the control system and the oxygen blowing equipment ensures the uniformity and stability of the product quality.
Step3
Casting
The molten liquid is cast into molds. In this step, Kerui provides CAD, CAXD and 3D design services to efficiently meet customer needs. In addition, this production uses an integrated model structure to improve the surface flatness.
Step4
Cold Working
In the cooling stage of AZS bricks, Kerui adopts unique annealing technology, so that AZS bricks cool down at a reasonable rate and reduce cracks. In addition, Kerui uses a high-precision equipment enhances the appearance of the AZS refractories.
Step5
Inspection
Importantly, Kerui adopts advanced radar detection equipment, which can effectively detect the interior of AZS fire bricks. In addition, the intelligent image detection system provides high-quality supervision services.
Step6
Package and Delivery
During the delivery stage, Kerui employees package in strict accordance with the work instructions and packaging label requirements. According to the contract, Kerui provides timely and safe delivery service for each customer.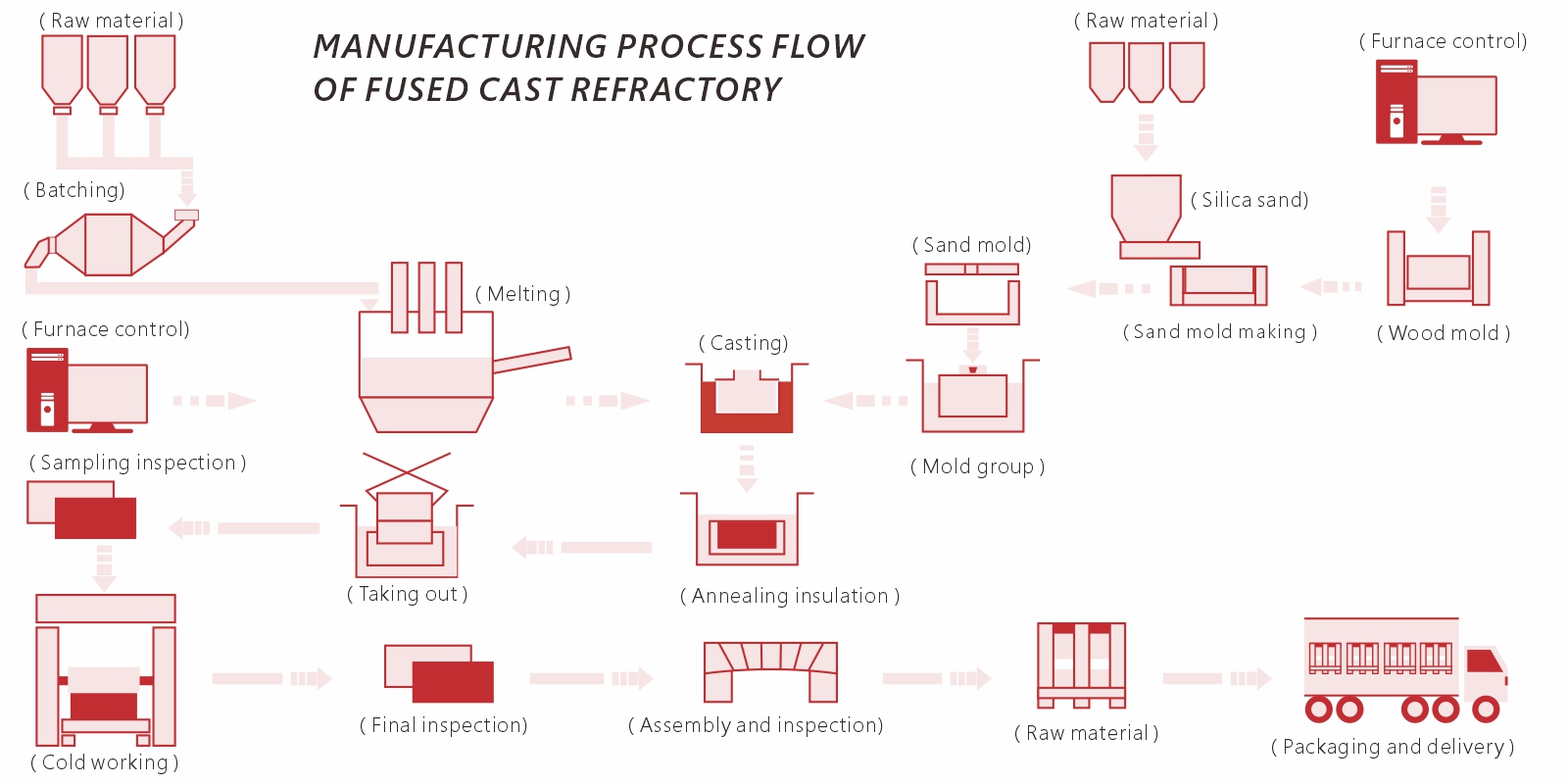 Excellent Performance of Kerui AZS Brick
| | | | | |
| --- | --- | --- | --- | --- |
| High Refractoriness | Strong Slag Resistance | High Refractoriness | Pollution-free | Anti-strip Performance |
The refractoriness of Kerui AZS brick reaches 3092℉ (1700℃), which is far more than other refractory bricks. High refractoriness can maintain the structural integrity and mechanical properties at extremely high temperatures.
AZS bricks have good chemical stability and strong resistance to slag, especially in glass solution. Besides, the combination of alumina and zirconia helps prevent some negative reactions. Thus it reduces corrosion and erosion.
The refractoriness under load of Kerui AZS
fire resistant brick
ranges from 1600℃ to 1800℃ (2912℉ to 3272℉) or even higher. Therefore, the brick can withstand a specified load without significant deformation and has more applications.
No matter in the production process or application process, Kerui has strict control over environmental conservation. Additionally, this is the reason why worldwide customers purchase wholesale AZS brick from Kerui Refractory.
There is Zirconia in AZS brick, which enhances its anti-strip performance. This brick is helpful to avoid attacking to the glass furnace lining. Application of this brick can effectively improve the longevity of the high-temperature furnace lining.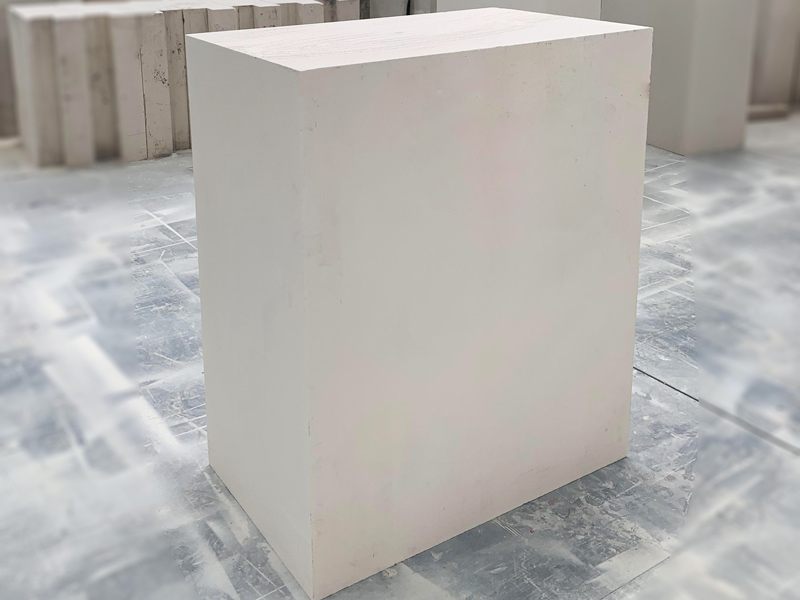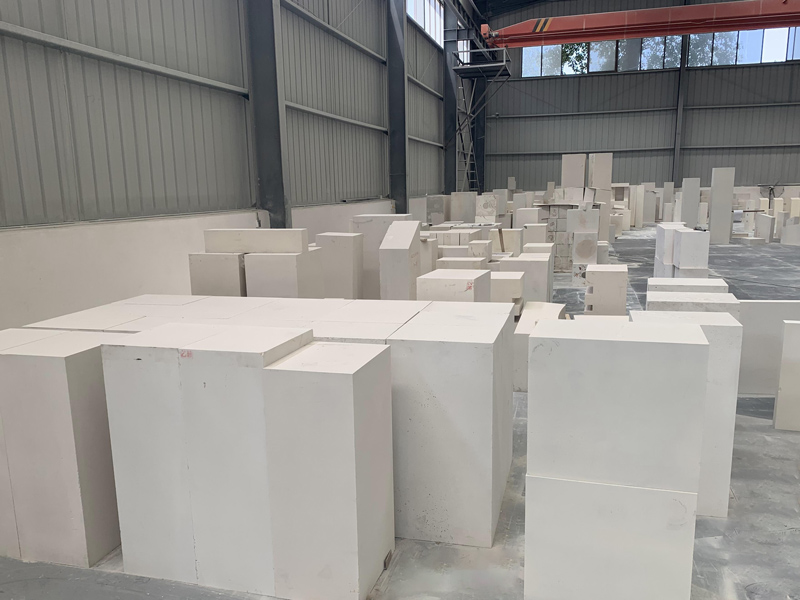 Wide Applications of Kerui AZS Refractory Brick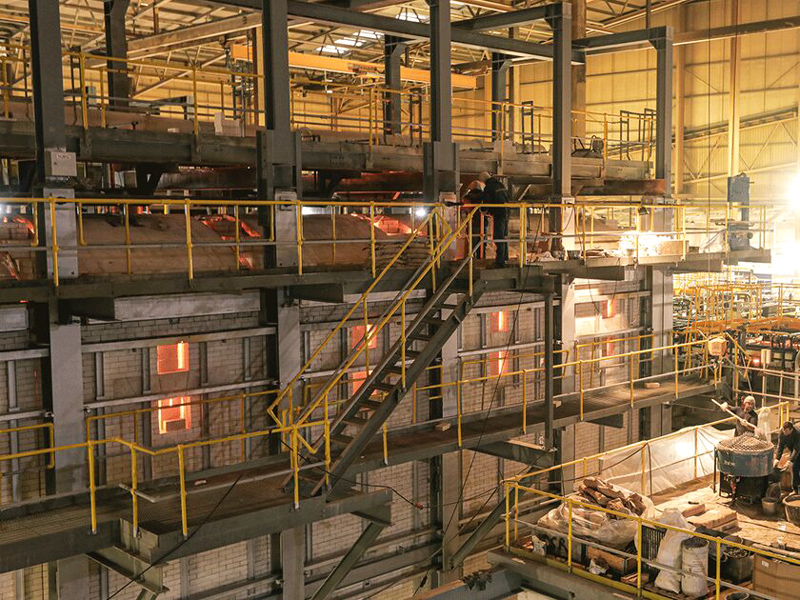 Mainly Use in Different Parts of Glass Kilns
AZS bricks are widely used in the glass industry due to their excellent properties and suitability for glass melting processes. Customers commonly use superior AZS brick at upper structures, side walls of refiners, linings, paving blocks, fore-hearth channel blocks and other key parts of glass kilns.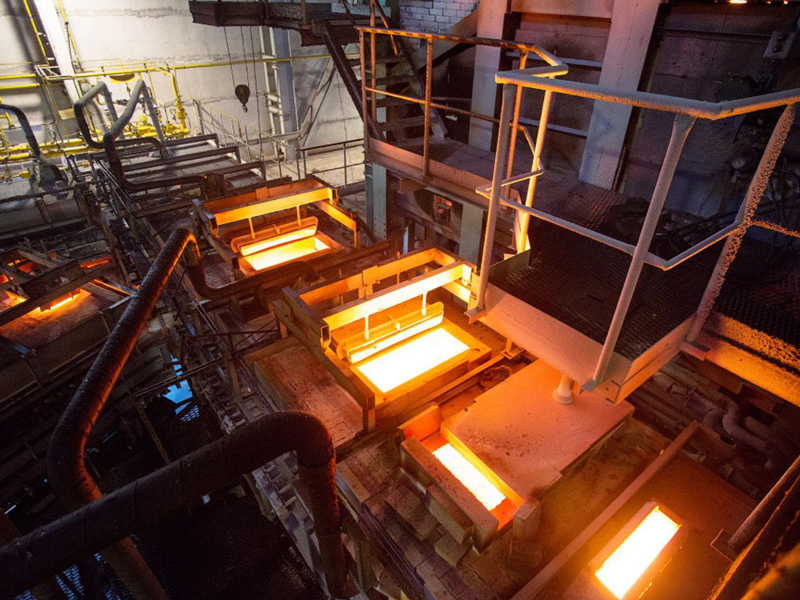 Also Use in Other High-temperature Industries
Moreover, Kerui AZS refractory brick is appropriate for high temperature kilns with severe chemical erosion and frequent temperature changes. For example, steel ladle lining, incinerators, sodium silicate furnaces, ceramic frit furnaces, foundry plants and so on. You can also follow Kerui Facebook to know more information.
Is AZS Brick Affordable from Kerui Refractory?
Yes! Kerui provides affordable AZS refractory brick for worldwide customers. If you want to buy this brick at great price, please don't hesitate to contact Kerui. Here are some factors about why Kerui offers great AZS brick prices:

Ex-factory Price
As a professional AZS brick manufacturer located in Xinmi City, Kerui Refractory is the source supplier. We're confident to provide ex-factory prices. Therefore, don't worry about costs occurring in the intermediate link.
Highly Cost-effective
The durability extends the service life of AZS brick. It reduces the cost of repair and maintenance. This long-term advantage makes AZS brick a highly cost-effective solution for high-temperature applications.
Other Added Values
Besides affordable AZS refractory brick prices, Kerui also provides competitive and value-added services. Customers can enjoy customized and one-stop solution, sample test, technical support and so on.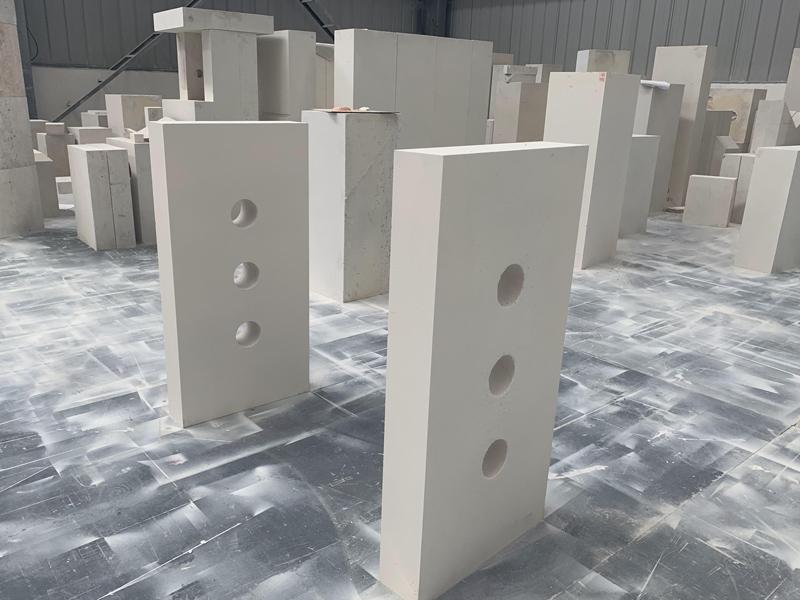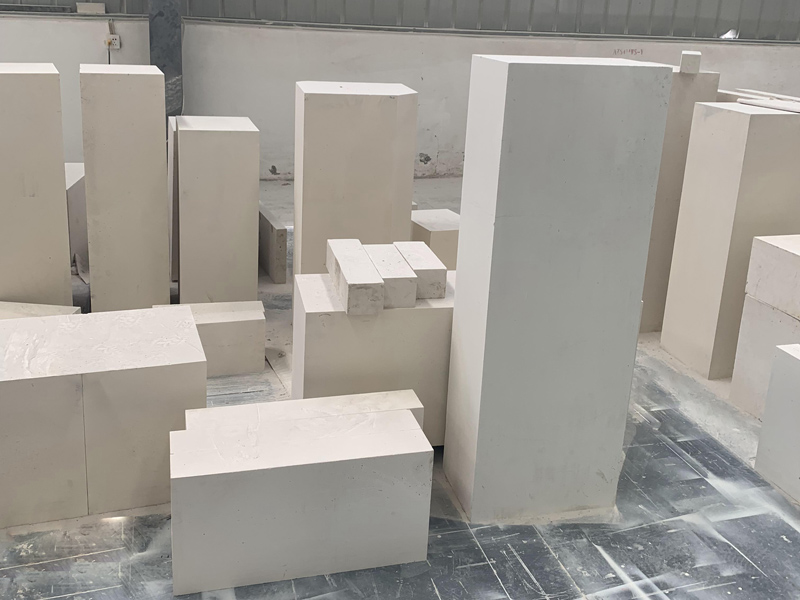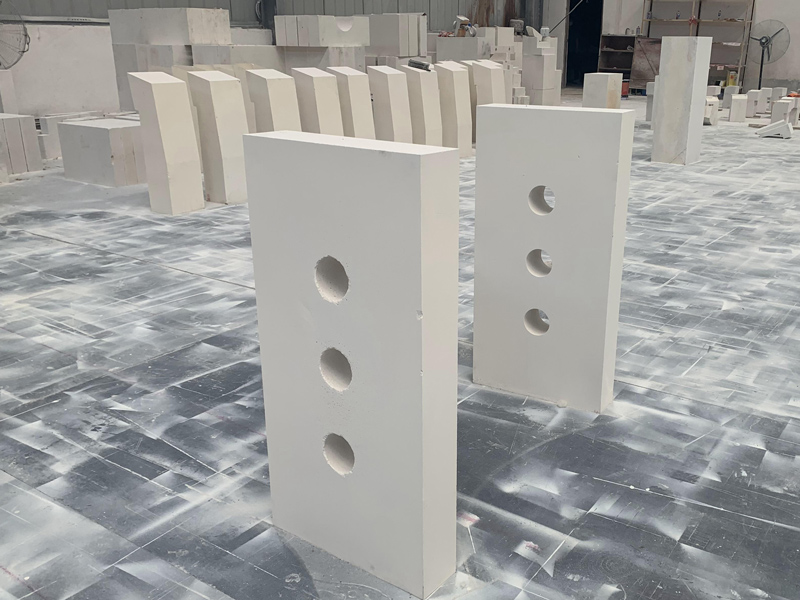 Why Choose Kerui as Your AZS Brick Supplier?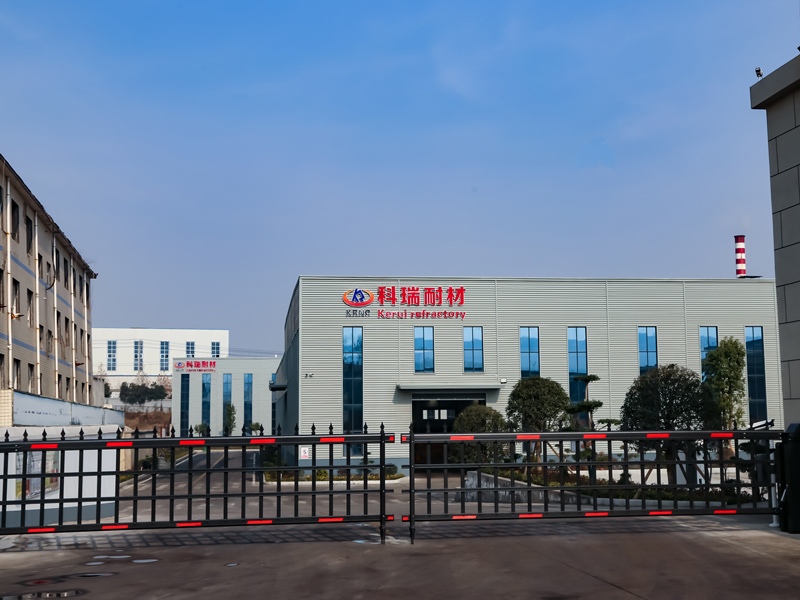 Rich Experience
Founded in 2004, Kerui has rich experience in manufacturing and exporting refractory materials, especially AZS brick. Besides, our customers cover more than 30 countries. Kerui also cooperates with the world's top 500 enterprises and leading companies in high-temperature industries. Therefore, customers speak highly of Kerui's products and services.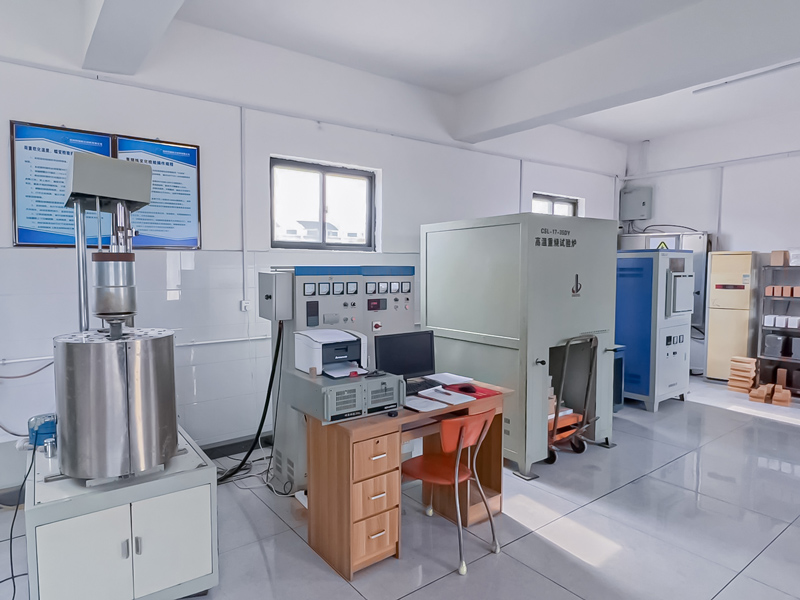 Outstanding Quality
With premium raw materials and core production process, Kerui provides AZS brick with outstanding quality. In the product cycle, Kerui adopts strict quality control system. Each AZS brick meets the highest quality standards. Moreover, Kerui will check products carefully before shipment. Customers can receive these bricks with satisfaction.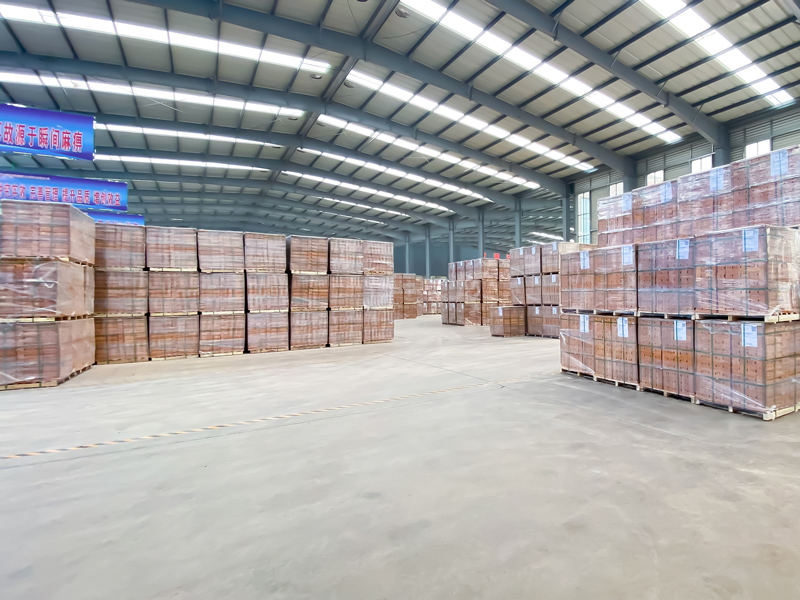 Fast Production
For standard AZS brick, Kerui Refractory supports direct delivery from stock. As for customized bricks, they can be out of the kiln within 4-7 days and delivered quickly. Additionally, there are more than 200 skilled employees to ensure efficient production. Kerui cooperates with internationally renowned logistics companies to ensure on-time delivery.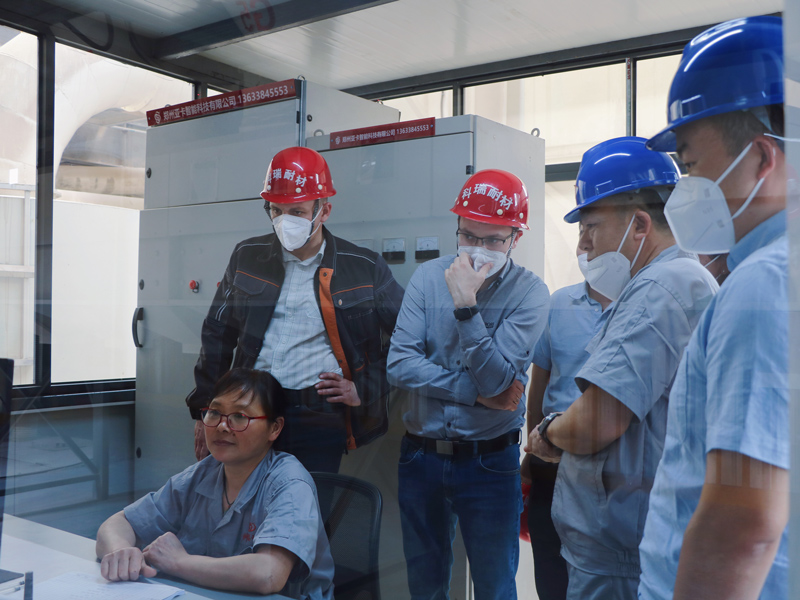 Comprehensive Service
As a global AZS brick supplier, Kerui offers comprehensive services including technical consulting, customized solution, test and quality assurance and after-sales service. Correspondingly, there is a professional team in Kerui. Besides, Kerui aims to establish long-term partnerships with customers. In the same industry, Kerui keeps innovative on products and services.
Kerui AZS brick has been an important component in high temperature industries because of its excellent performance. With strong production strength and service quality, Kerui is confident to be your first choice. If you're going to buy AZS refractory brick, please contact us and we'll reply soon!