Mullite Refractory Bricks
As a kind of high-grade refractory material, mullite refractory bricks are well-known because of high performance and wide applications. Kerui is a professional mullite brick manufacturer in China. Please take Kerui high-quality mullite bricks for sale into consideration.
60-70

Al2O3% (≥)

26-28

Apparent Porosity (%)

1760-1780

Refractoriness(℃)

25

Cold Crushing Strength (MPa)
What are Main Compositions of Mullite Refractory Brick?
Main Compositions of mullite refractory bricks are 60%-75% Al2O3 and 24%-35% SiO2. Al2O3 has high melting point and brings higher heat resistance for mullite brick. SiO2 is a kind of acid material, which enhances corrosion resistance of mullite brick. Mullite refractory brick is a kind of high-grade refractory material. The refractoriness is as high as 1790℃ (3254℉). Another important function of SiO2 is to combine Al2O3 and form mullite phase. Kerui firebrick supply controls compositions of mullite brick accurately. As a result, Kerui mullite can supply fire bricks that have high properties.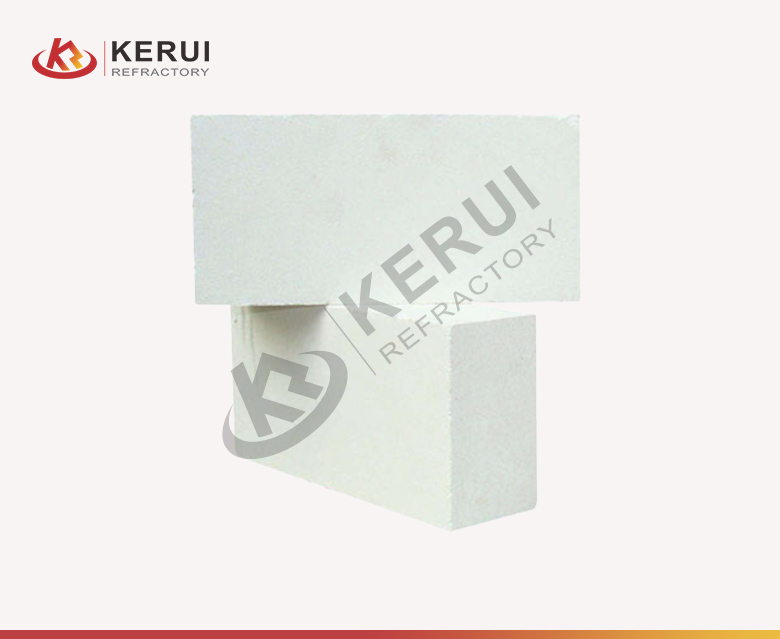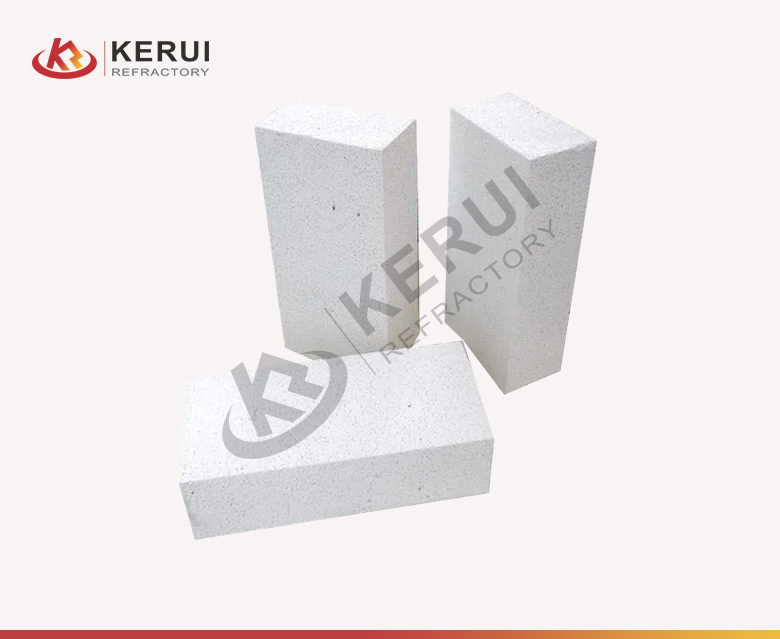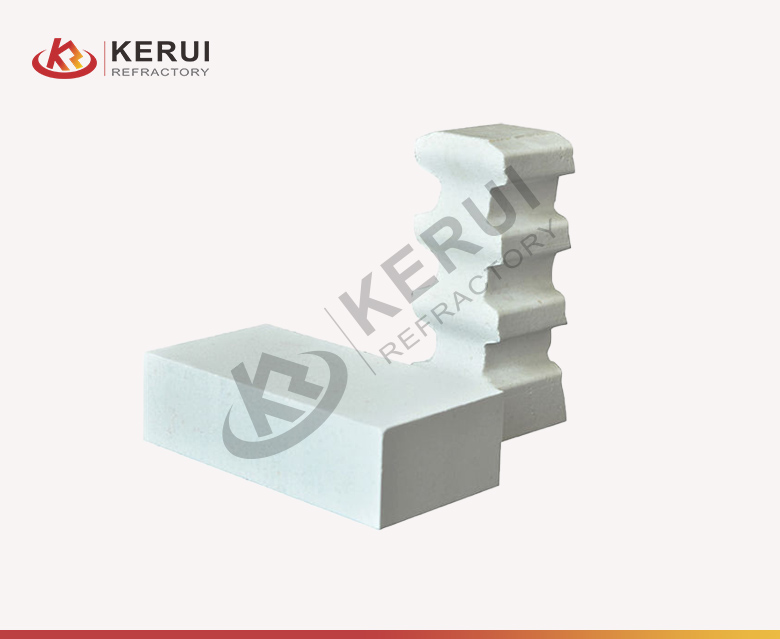 Kerui Mullite Refractory Brick for Sale
Kerui provides different kinds of mullite refractory bricks for sale. With annual output of 150,000 tons, Kerui has the ability to large-scale production of mullite bricks.
Item/Grade
JM-70
JM-62

ω (Al

2

O

3

)/%

μ

0

≥

70.0
62.0
ở
3.0

ω (Fe

2

O

3

)/%

μ

0

≤

1.8
1.5
ở
0.2
Refractoriness/℃

μ

0

≥

1780
1760
ở
10
Apparent Porosity/%

μ

0

≤

28
26
ở
2
Cold Crushing Strength/MPa

μ

0

≥

25
ở
7
Permanent Linear Change (1500℃*2h)/%

X

min

~X

max
-0.1~+0.4
Different Classifications of Kerui Mullite Refractory Brick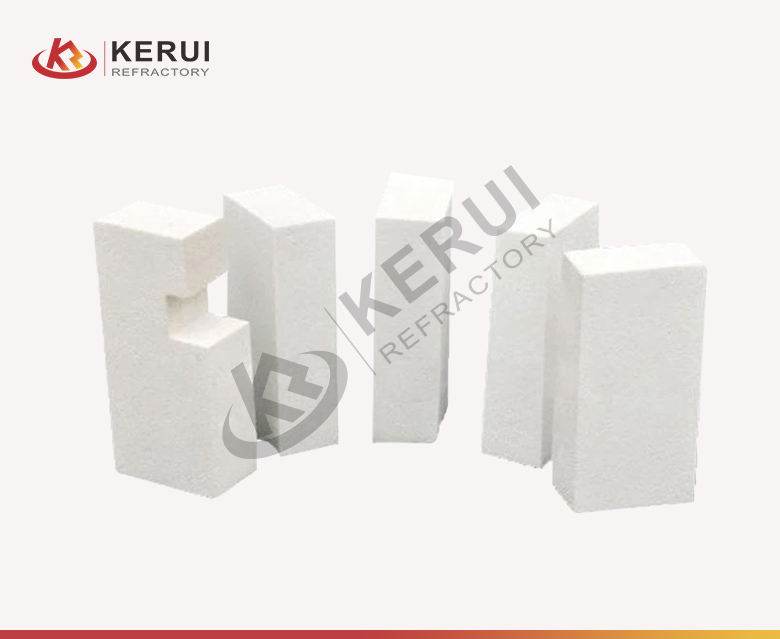 Sintered Mullite Refractory Bricks
Sintered mullite refractory brick refers to putting molded mullite brick into tunnel kilns for drying and sintering. Kerui intelligent PLC system controls the temperature and position of bricks in tunnel kilns. The structure of sintered mullite refractory brick is denser.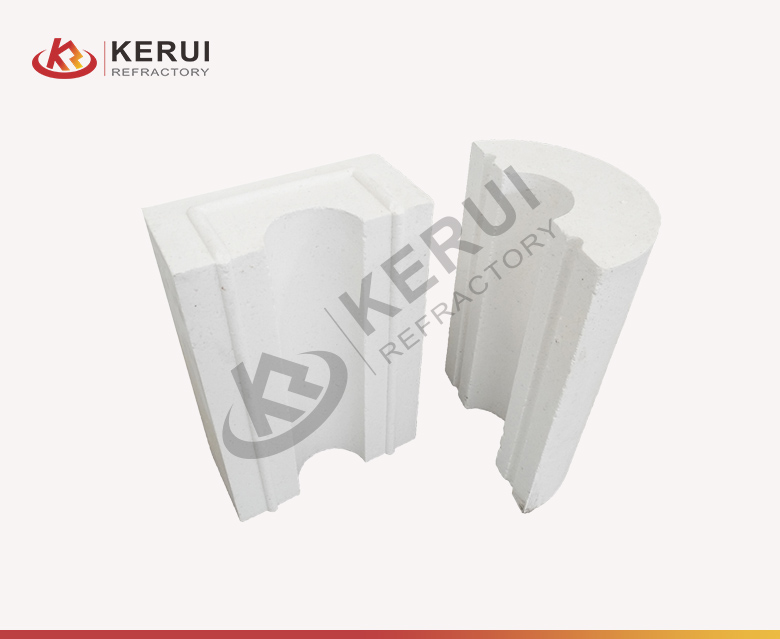 Fused Mullite Refractory Bricks
For fused mullite refractory brick, original mullite will be melted in electric furnace and then poured into molds. After fusing, the purity of mullite brick is higher. Fused mullite brick is suitable for customers who have higher requirements.
Corundum Mullite Refractory Bricks
Kerui corundum mullite brick is a special material mixed with corundum and mullite minerals. Due to the excellent combination, this brick has high compressive and flexural strength. Besides, it's suitable as the lining of kilns with extreme enviornment.
Excellent Performances of Kerui Mullite Refractory Brick
Stable in High Temperature Conditions
Kerui mullite refractory bricks can withstand high temperatures of at least 1790℃ (3254℉). Because we use raw materials with less impurity for production. It means Kerui mullite refractory brick have high refractoriness and high resistance to thermal shock. Many customers choose this brick to keep the stability of high temperature kilns and furnace.
Good Creep Resistance
The chemical composition of mullite is dense and hard, which forms good creep resistance. This means it maintains its shape and dimensional stability even when subjected to long-term thermal loads. This property is crucial for applications where the refractory material is subjected to constant stress and high temperatures over extended periods.

Strong Resistance to Chemical Corrosion
One of the remarkable properties of Kerui Mullite Refractory Brick is its resistance to chemical corrosion. It exhibits excellent stability when exposed to acidic or alkaline environments, making it suitable for applications where corrosive gases, liquids or solids are present. The brick's chemical resistance helps maintain its structural integrity and performance over extended periods, reducing maintenance needs and enhancing operational efficiency.

Good Electrical Resistivity
Kerui Mullite Refractory Brick possesses good electrical resistivity, making it an ideal choice for applications that require electrical insulation. This high temp fire brick effectively prevents the flow of electric current and the conduction of charges, contributing to enhanced electrical safety and performance. This characteristic is particularly valuable in electric furnaces, resistance heating systems, and other electrical equipment operating in high-temperature environments.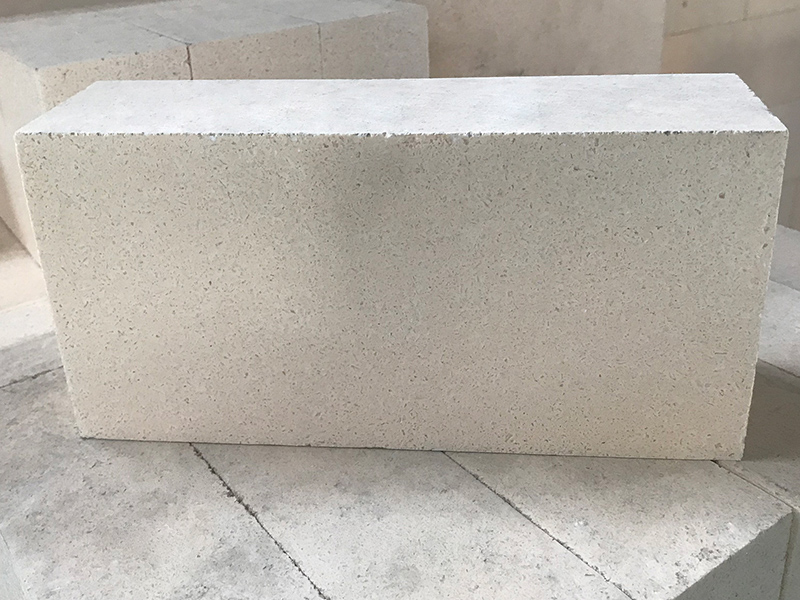 Extensive Applications of Kerui Mullite Refractory Brick
Steel and Iron Industry
In the steel and iron industry, the properties of Kerui mullite refractory bricks are able to bear intense heat generated during the steel and iron making process and ensure structural integrity. When used in steel and iron industry, this brick is suitable for blast furnaces, hot blast stoves, steel ladles and so on.

Glass Industry
Actually, the mullite brick is significant in glass industry. Because this brick has excellent resistance to chemical corrosion. In glass manufacturing, these bricks are used in the refractory linings, construction of furnaces, tank regenerators, checkers and many other parts of glass making furnaces.
Cement Industry
The cement manufacturing process has high requirements on the hardness of brick. Because it will cause strong shock and abrasion. The mullite refractory bricks from fire bricks manufacturing contribute to the overall efficiency and durability of the cement manufacturing process.

Power Industry
To withstand the intense heat and corrosive conditions in power industry, customers had better choose mullite brick for the high temperature kiln. This brick can also help maximize energy efficiency and reduce heat loss in power plants.

Non-ferrous Industry
The non-ferrous industry requires mullite bricks with high melting points and resistance to chemical corrosion. Therefore, Kerui mullite refractory bricks atre extensively employed in the construction of smelting furnaces, converters, refining vessels and other positions.

Environmental Industry
Due to thermal shock and erosion by acidic gases caused in environmental equipment, Kerui mullite bricks play a significant role. When customers use this brick in waste incineration and hazardous waste treatment facilities, it can realize safe and effective production.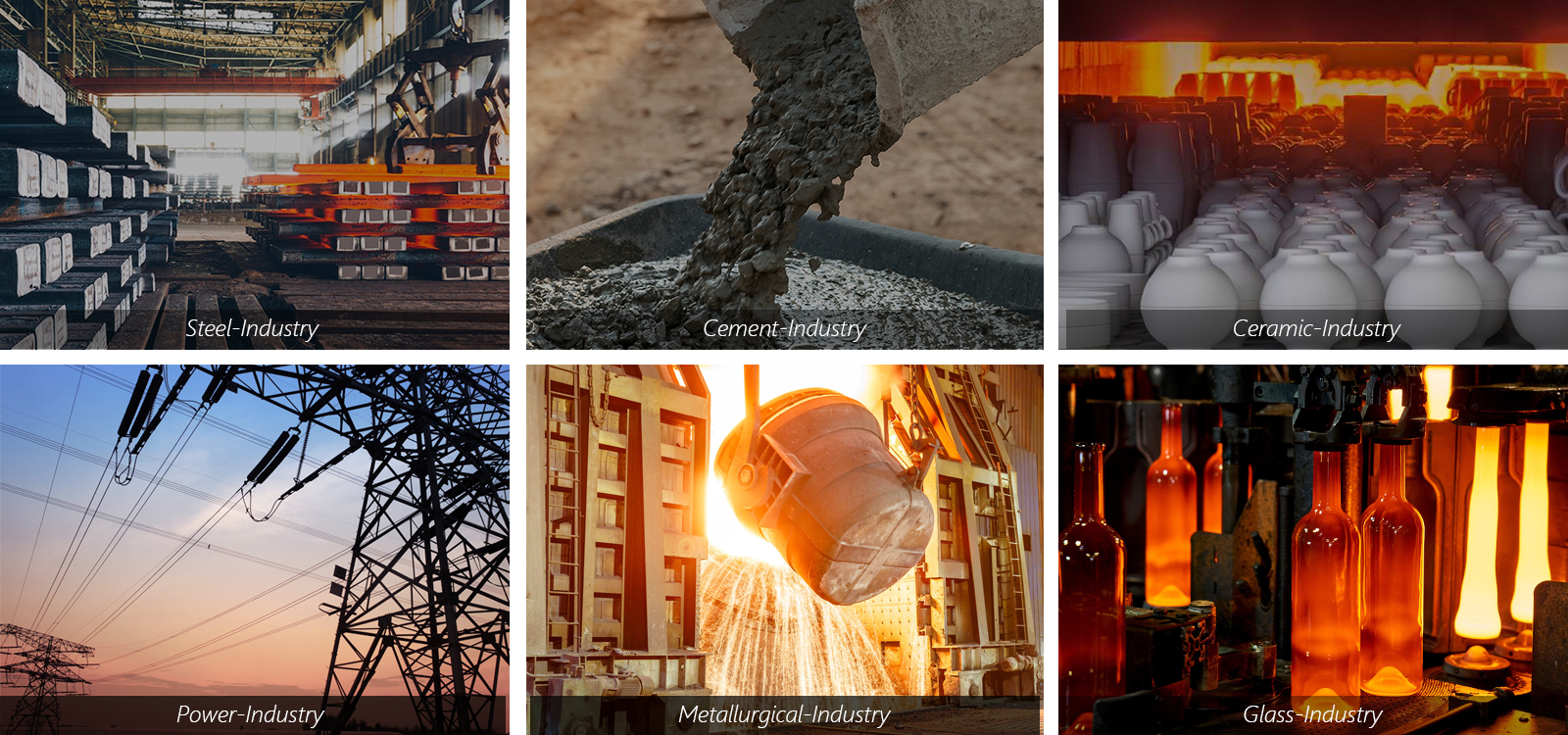 Is Mullite Refractory Brick Expensive?
No, Kerui mullite refractory brick is NOT expensive! It's well-known that Kerui provides affordable mullite refractory brick in this industry.
Compared with other mullite brick suppliers, Kerui stands out for our reasonable refractory brick price and superior mullite bricks. As an original mullite brick manufacturer, Kerui assures customers of ex-factory price. Buy mullite refractory bricks from Kerui Refractory, you can get cost-effective solutions.
Factors Influence the Mullite Brick Price
Cost of Raw Material
As the main material of mullite bricks, mullite is derived from high-purity alumina and silica. The cost of alumina and silica affects mullite brick price directly. Kerui is located in Xinmi City, Henan Province, which owns rich mineral resources for refractory. That is an important reason why Kerui offers reasonable mullite brick price.
Performance
Higher performance of mullite brick results in higher price. Because mullite refractory brick manufacturers need to control raw materials with high quality and more strict quality control to ensure better performance. At Kerui, we always adhere to industry-leading quality control and won't add the price of mullite bricks for sale.
Solution of Mullite Bricks Manufacturer
If customers have additional requirements on the size or shape for mullite bricks, the price may be higher. Besides personalized solution on the mullite brick itself, Kerui also offers integrated solutions that include consultation support, engineering expertise, delivery service as well as installation services.
Top Mullite Brick Manufacturer in China – Kerui Refractory
Leading Production Technology
Kerui continuously invests in research and development to improve production efficiency and product quality. As a result, Kerui is able to provide large quantities of mullite bricks for sale and innovates new type of refractory brick to save customers project costs.
Certificates of Mullite Refractory Brick
With commitment to quality and excellence, Kerui is validated by ISO and SGS. Besides, Kerui obtained invention patent certificates and more than 20 utility model patent certificates, which stands for a reliable mullite refractory brick manufacturer.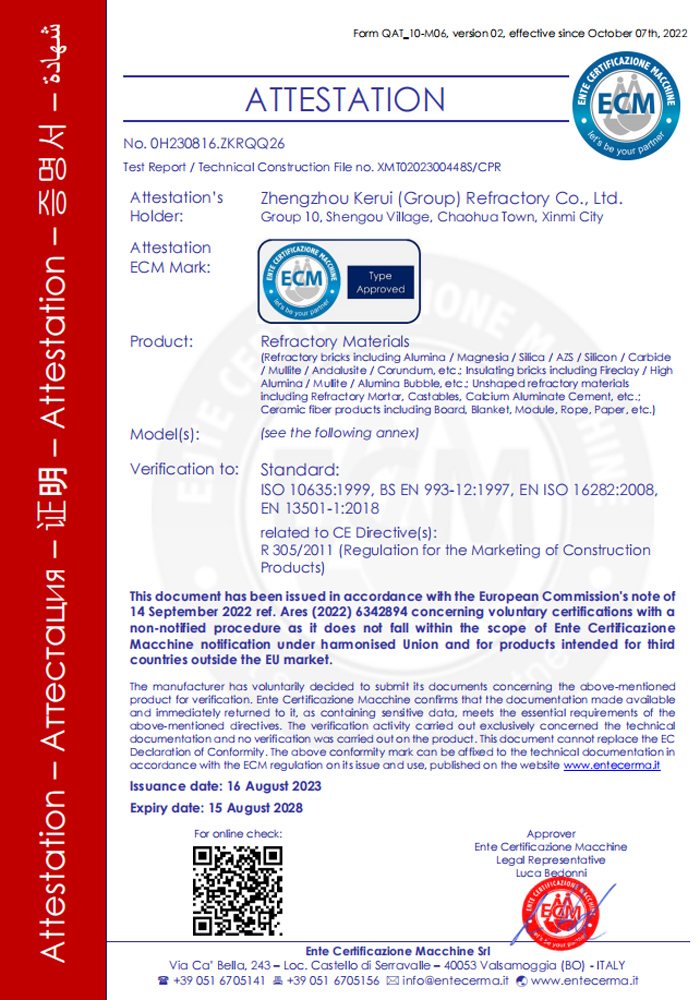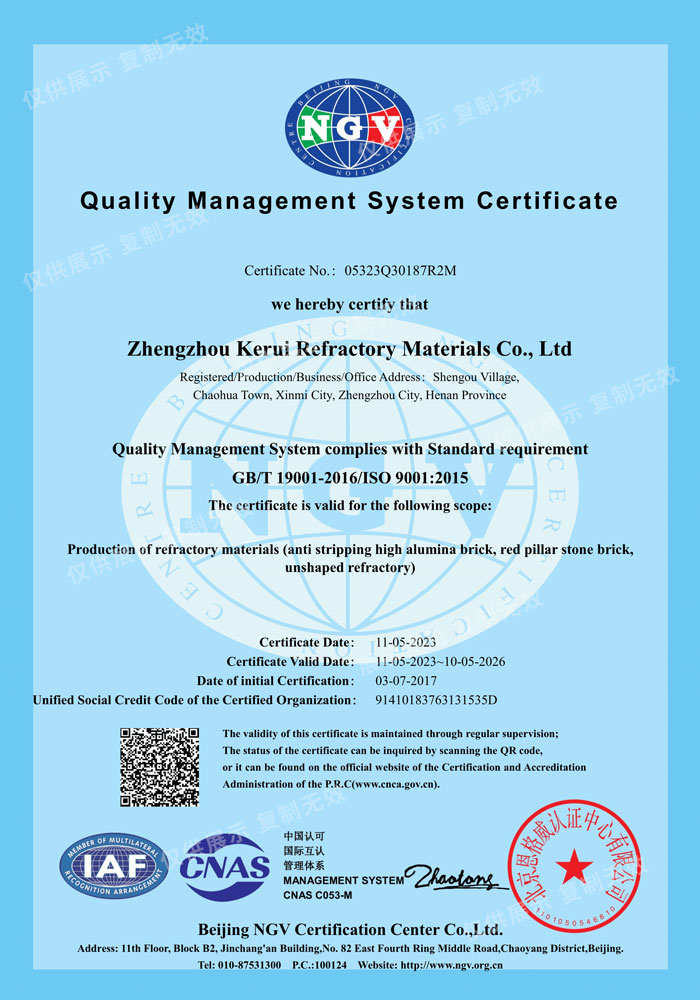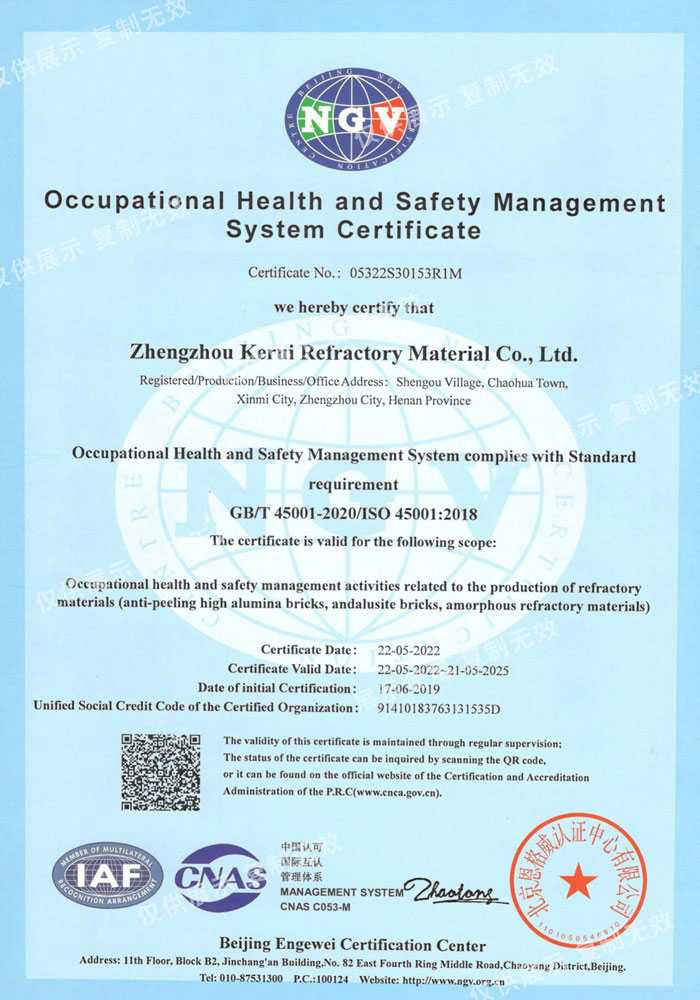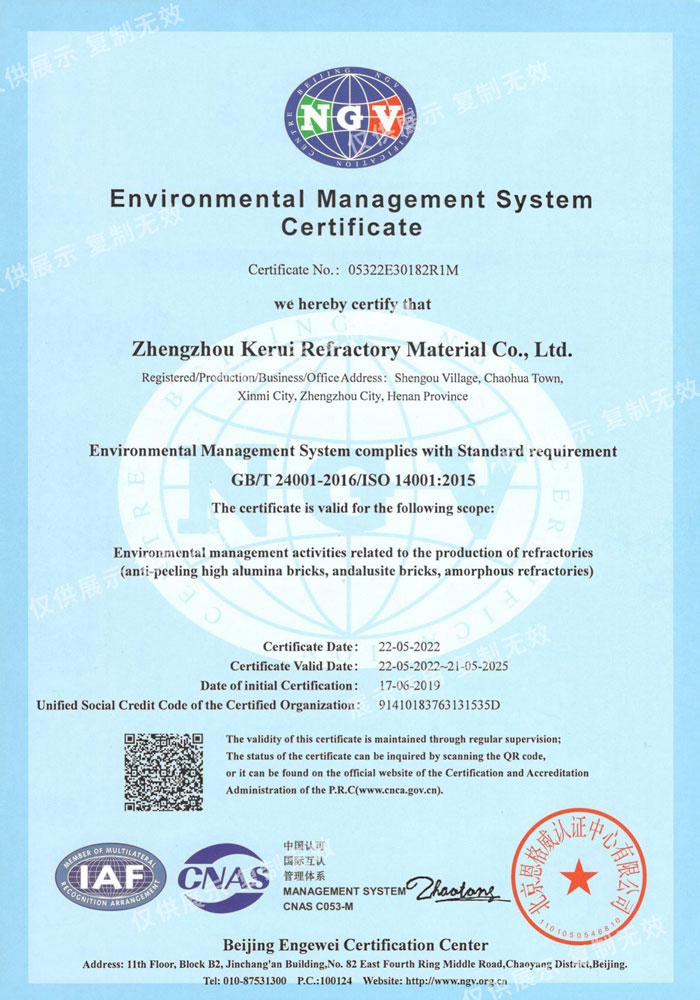 Considerate Service
From pre-sales consultation to after-sales support, Kerui Refractory ensures that customers receive personalized attention and prompt assistance. By prioritizing customer satisfaction, Kerui has built long-term relationships and become a trusted partner in the industry. You can also contact Kerui via Youtube.
Rich Export Experience
Kerui Refractory exports mullite refractory bricks to more than 30 countries and covers about 2,000 customers. Our professional and experience team is confident to provide suitable solution for you. With superior quality and responsible service, Kerui wins good reputation in the worldwide market.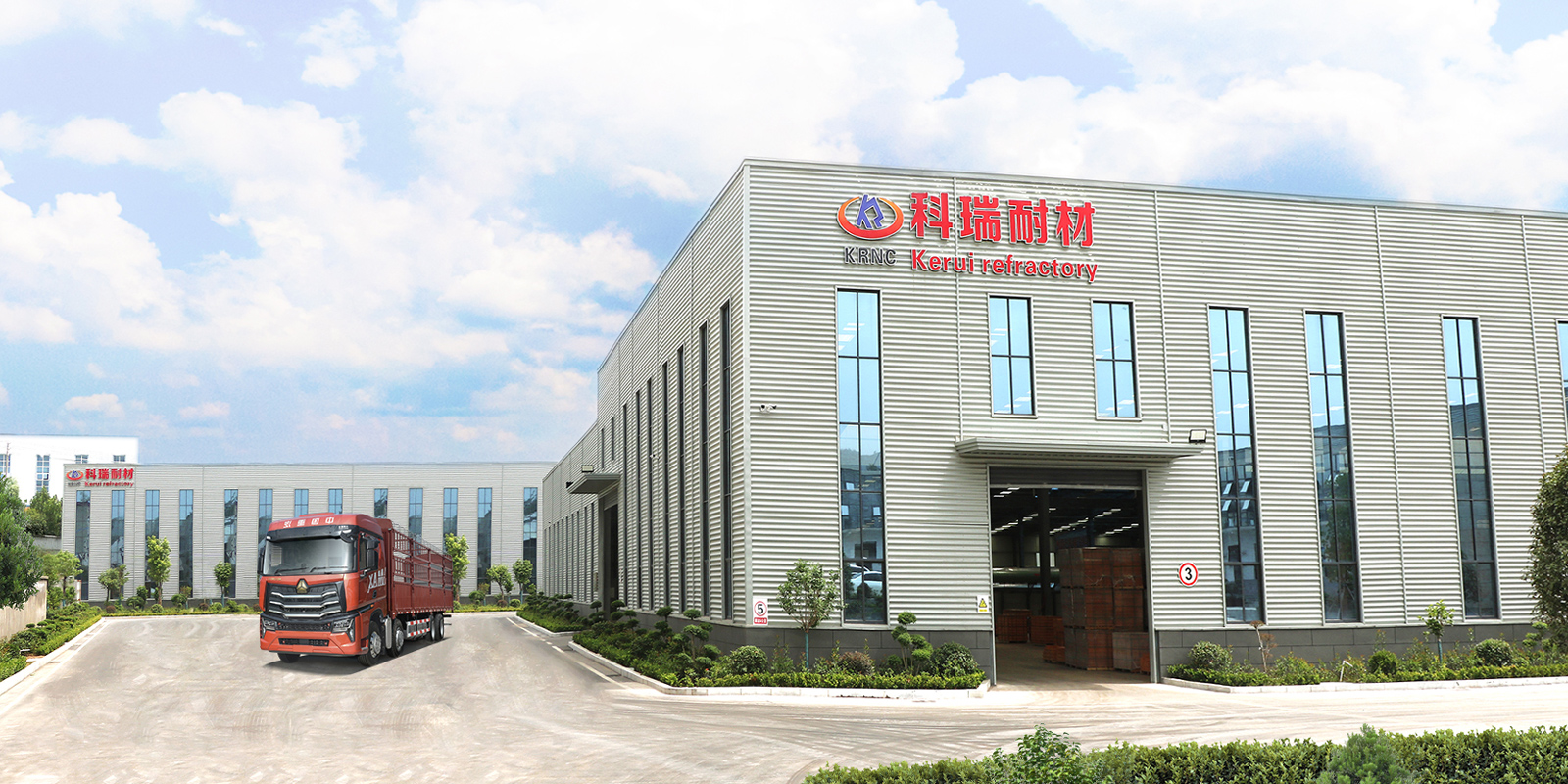 It's necessary to buy mullite refractory bricks of better quality and from reliable manufacturers. Kerui Refractory sincerely recommends you purchase mullite bricks from Kerui. Because Kerui is confident to provide high quality mullite bricks with considerate service.