Magnesia Refractory Bricks
As an important consumable in refractory industry, magnesia refractory bricks are in great need. This brick is commonly made of multi minerals and has strong alkaline and high density. Moreover, Kerui is a reliable magnesia brick manufacturer with more than 20 years experience.
91-97

MgO% (≥)

2.86-2.95

Bulk Density (g/cm³)

1560-1700

Refractoriness Under Load (℃)

50-65

Cold Crushing Strength (MPa)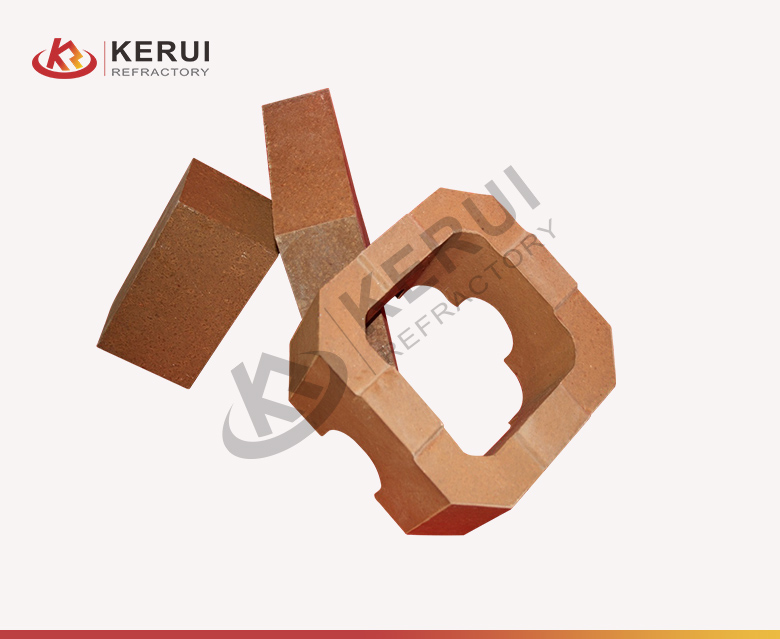 Parameters of Kerui Magnesia Refractory Brick
The biggest difference among each kind of magnesia brick for sale is the content of MgO. Therefore, in line with the parameters and your specific demands, you can find suitable magnesium oxide bricks for your project. Contact Kerui to receive more information.
Item/Grade
M-98
M-97A
M-97B
M-95A
M-95B
M-91
M-89
ω (MgO)/%

μ

0

≥

97.5
97.0
96.5
95.0
94.5
91.0
89.0
σ
1.0
1.5

ω (SiO

2

)/%

μ

0

≤

1.00
1.20
1.50
2.00
2.50
/
/
σ
0.30
ω (CaO)/%

μ

0

≤

/
/
/
2.00
2.00
3.00
3.00
σ
0.30
Apparent Porosity/%

μ

0

≤

16
16
18
16
18
18
20
σ
1.5
Bulk Density (g/cm³)

μ

0

≥

3.00
3.00
2.95
2.90
2.85
σ
0.30
Cold Crushing Strength/MPa

μ

0

≥

60
60
60
60
50

X

min
50
50
50
50
45
σ
10
0.2MPa Refractoriness Underload/℃

μ

0

≥

1700
1700
1650
1560
1500
σ
15
Permanent Linear Change/%

X

min

~X

max
1650℃*2h
-0.2-0
1650℃*2h
-0.3-0
1600℃*2h
-0.5-0
1600℃*2h
-0.6-0
Introduction of Kerui Magnesia Refractory Bricks
The main raw material of Kerui magnesia bricks is magnesia (MgO), with a content as high as 91%. Meanwhile, it has high refractoriness at 2000℃ (3632℉) and strong resistance to alkaline corrosion. Besides, Kerui offers large-scale magnesia bricks for sale continuously. Addtionally, according to different manufacturing processes, Kerui magnesium brick can be classified into burnt refractory brick and unburnt refractory brick:
Burnt Magnesia Refractory Bricks
Burnt magnesia brick needs sintering process with high temperatures to combine particles in the bricks tightly. Therefore, this brick has higher density and durability. Generally, burnt magnesia brick includes magnesia refractory brick, magnesia chrome brick, magnesia calcium brick, magnesia alumina spinel brick, magnesia iron brick and so on.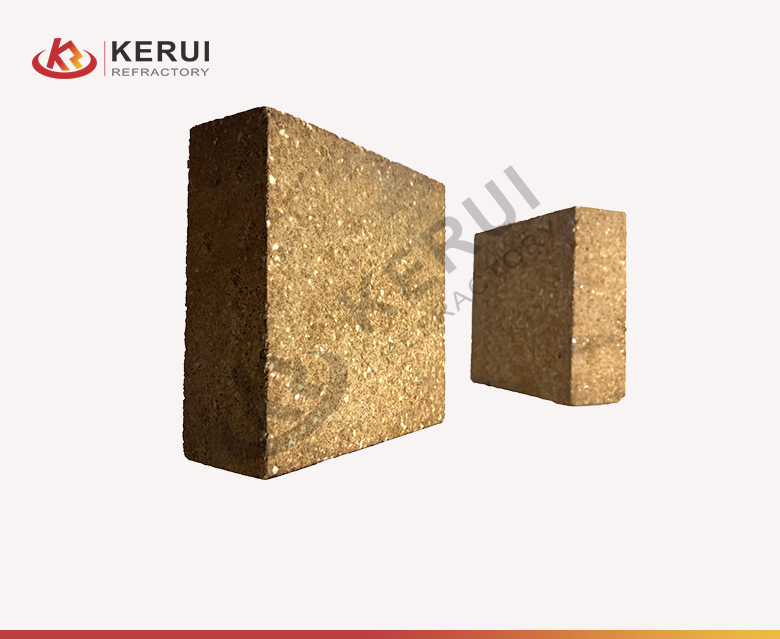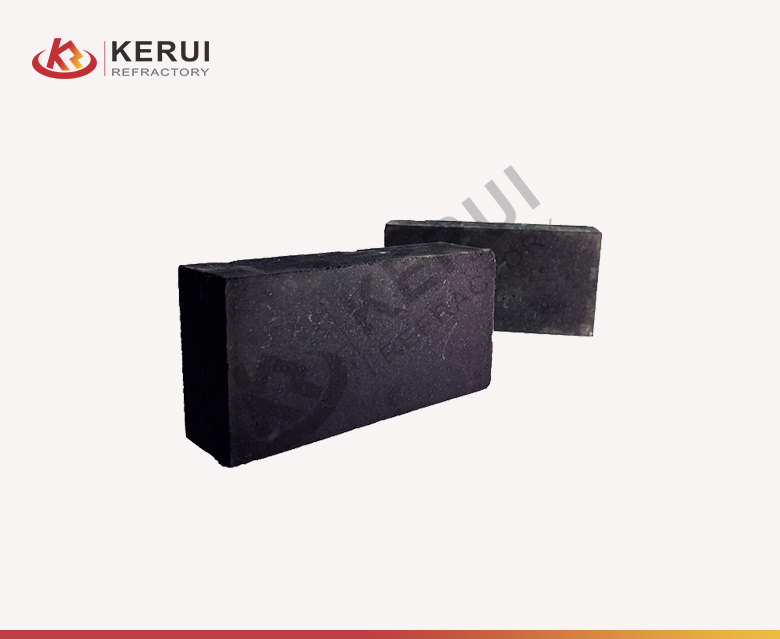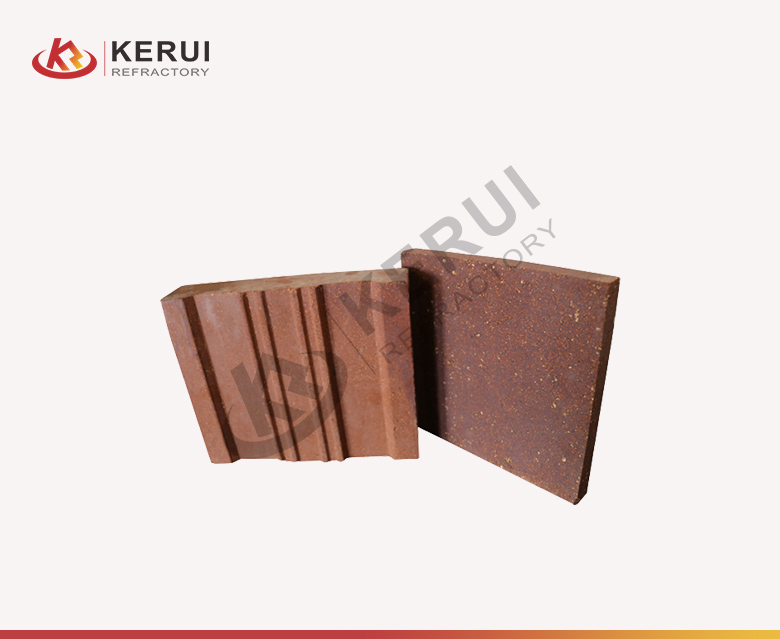 Unburnt Magnesia Refractory Bricks
Unburnt magnesia brick adapts chemical or physical reactions to form a dense structure. Meanwhile, it has a shorter production cycle and lower price. Commonly unburnt magnesia brick includes magnesia carbon brick, alumina magnesia carbon brick, alumina silica carbon brick, magnesia calcium carbon brick and so on.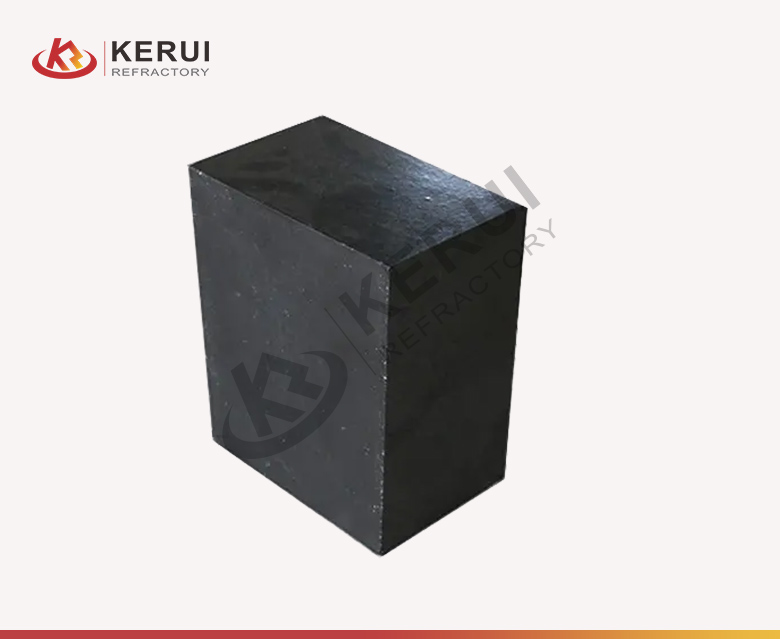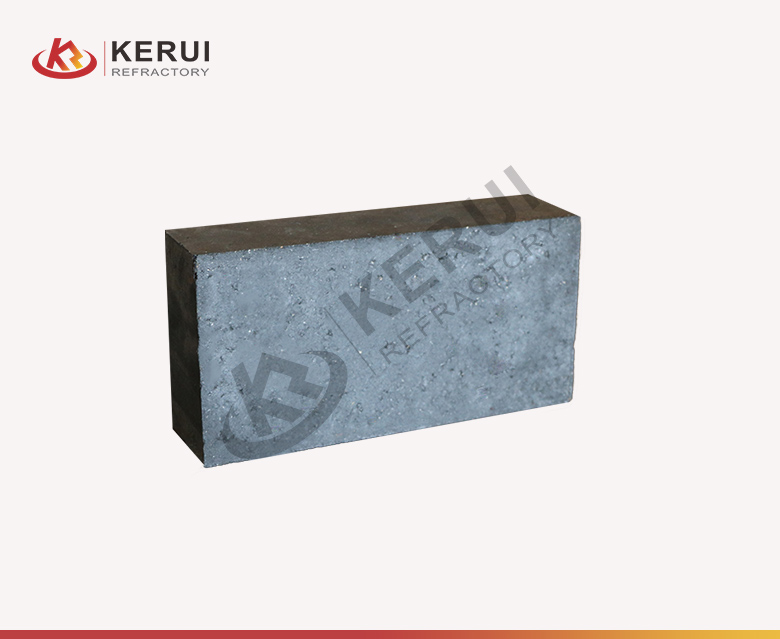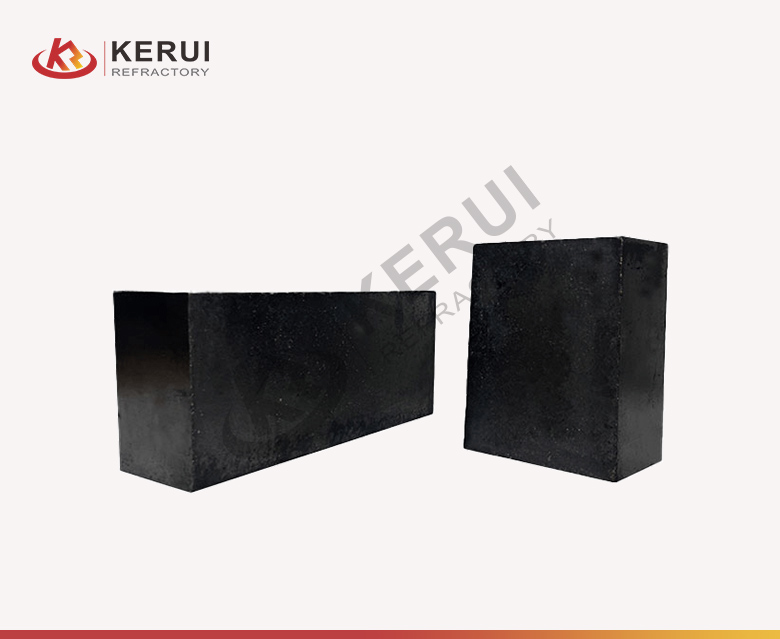 Manufacturing Process of Magnesia Refractory Bricks
Step1
Processing of Raw Materials
Kerui uses high-purity and high-quality magnesia as the raw material for making magnesia refractory bricks. In order to improve the slag resistance and permeability of magnesia bricks, Kerui workers grind high-quality magnesia into fine powder and add it to the automatic batching machine when processing raw materials. Meanwhile, the automatic batching machine can carry out precise ratio.
Step2
Molding Process
Magnesia bricks have less water content. Additionally, Kerui shapes these bricks by 20 sets of press machines. With the increase of molding pressure, the strength, density and load softening temperature of magnesia bricks after firing will also increase. Meanwhile, unburnt magnesia brick adds chemical binder to form dense structure. At this step, customers can require the customized shape.
Step3
Drying Process
Magnesia bricks are dried to remove excess water in the binder to improve the strength of the brick embryo. At the same time, it should be noted that the drying temperature of magnesia bricks is low. Higher temperatures may accelerate the hydration of magnesia, which is not conducive to water removal. Therefore, it's worth noting that unburnt brick uses medium temperature to dry extra water.
Step4
Sintering Process
Firing is to enhance the density of magnesia bricks. In addition, the firing temperature increases with the increase in magnesium content. Generally, the firing temperature of magnesia bricks is about 1500°C. Meanwhile, the PLC control room can control the firing temperature and the position of the kiln car in real-time to ensure that the temperature in the kiln is stable. Therefore, the quality is relatively stable.
Step5
Packaging and Shipping Process
Kerui has strict requirements for the packaging of finished magnesia bricks. In order to ensure the best customer experience, magnesia bricks must be stored in a dry and ventilated place. Additionally, the gap between bricks must be uniform and firm. Then the finished magnesia bricks will be strictly packed and sent to the customer's location. Kerui ensures safe and timely delivery.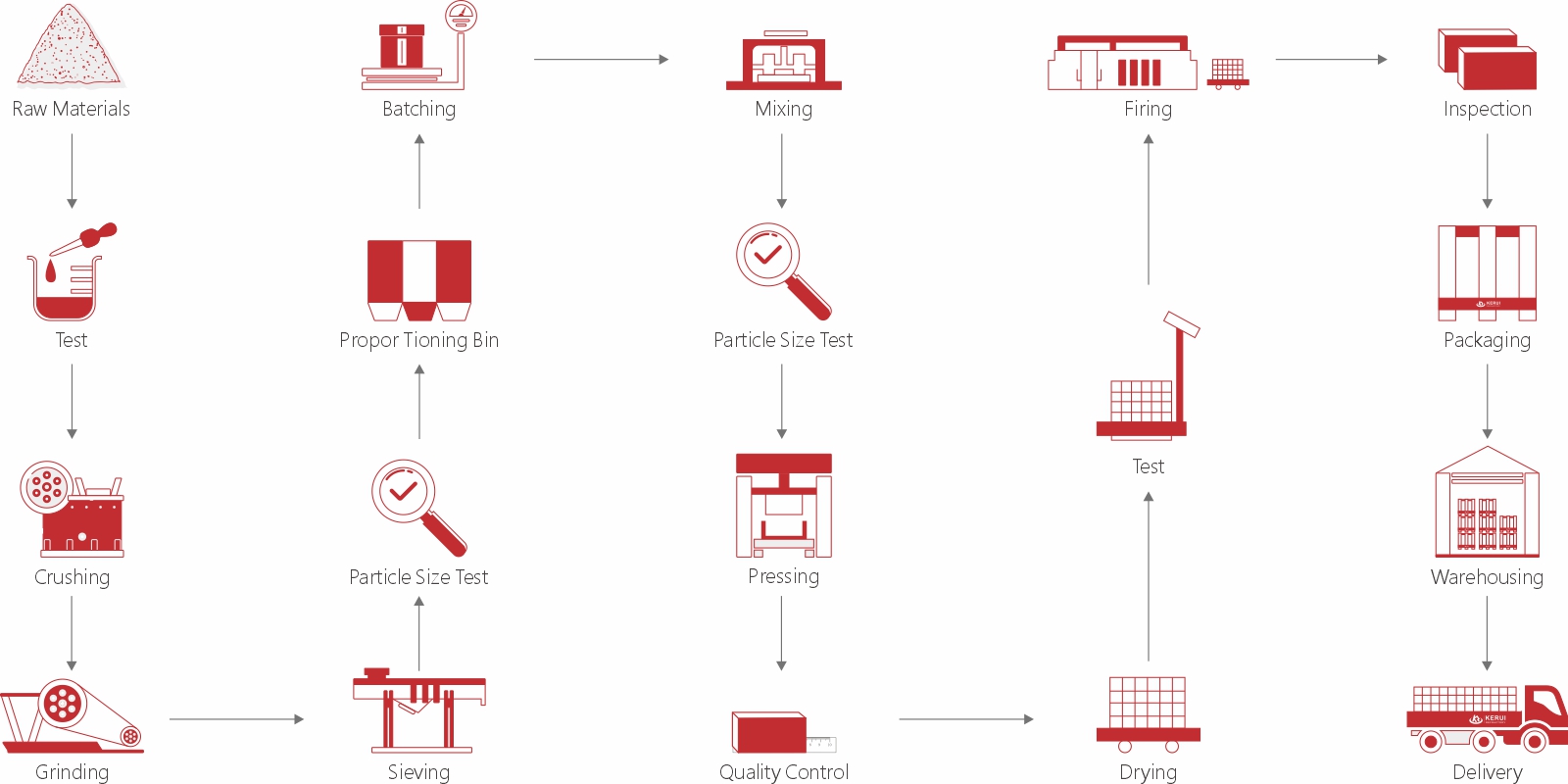 Features of Kerui Magnesia Refractory Bricks
Superior Quality
As the main content of magnesia brick, MgO has high melting point, which results in high refractoriness. Besides, Kerui factory is located in Xinmi City, Henan Province, it owns rich mineral resources for refractory materials. Therefore, Kerui magnesia brick made of high quality raw materials has superior quality.
Easy to Use
Flexible magnesia brick can be cut and installed easily to fit various complex shapes and structural needs. Besides, magnesia brick is relatively lighter than other refractory bricks, which is convenient for workers to carry and operate. Therefore, you can contact Kerui to customize magnesia brick to save your time and energy on cutting.
Energy Saving
Kerui magnesia brick has strong thermal conductivity. Meanwhile, this means that magnesia brick is able to absorb and release heat quickly, which improves working efficiency and heat energy utilization. Additionally, by using magnesia fire resistance brick in your kilns, the heat can spread soon and reduce energy consumption.
Long Service Life
Compared with magnesia refractory bricks from other suppliers, Kerui's brick uses better raw materials and more advanced production technology. Therefore, Kerui magnesium brick is harder and has higher density. At the same time, customers who invest in Kerui magnesia brick can reduce the frequency of replacement.