Magnesia Chrome Brick
Except for basic properties such as high refractoriness, stable thermal shock resistance and high hardness, magnesia chrome brick also improves chemical resistance, especially in acid chemical corrosion environments. Kerui offers excellent magnesia chrome bricks for high temperature kilns.
65-85

MgO% (≥)

7-18

Cr2O3% (≥)

3-3.08

Bulk Density (g/cm³)

50-55

Cold Crushing Strength (MPa)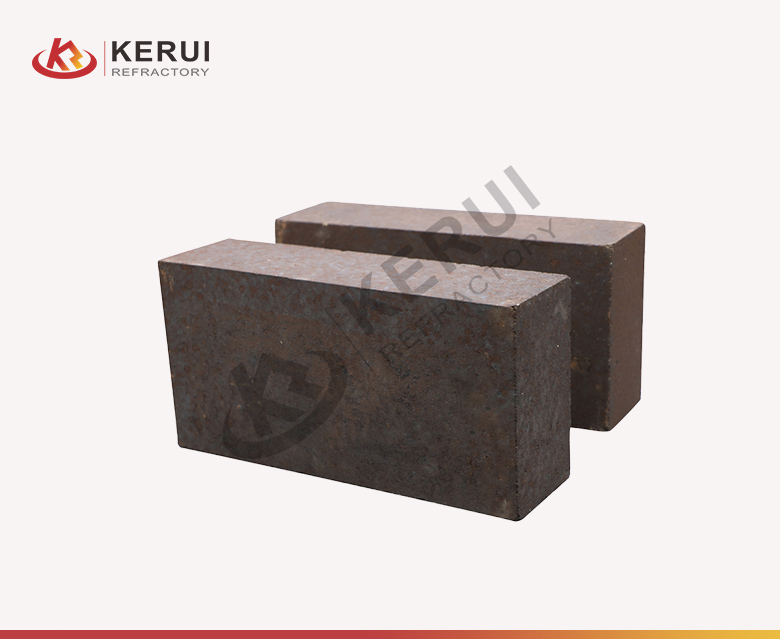 Chemical Composition of Magnesia Chrome Brick
Magnesia (MgO): magnesia is the primary component of this brick and serves as the refractory agent. It provides high-temperature resistance, basicity, and excellent thermal conductivity.
Chrome Oxide (Cr2O3): chrome oxide acts as a stabilizer in the brick and helps to improve its high-temperature performance and corrosion resistance.
Impurities: Kerui MgO chrome brick may also contain small amounts of impurities, such as iron oxide (Fe2O3) and alumina (Al2O3), depending on the specific manufacturing process and intended application.
The exact chemical composition may vary slightly based on the specific grade and application requirements of the magnesia Chrome fire Bricks. The balance of these components is carefully controlled during the manufacturing process to achieve the desired properties and performance characteristics of the refractory brick.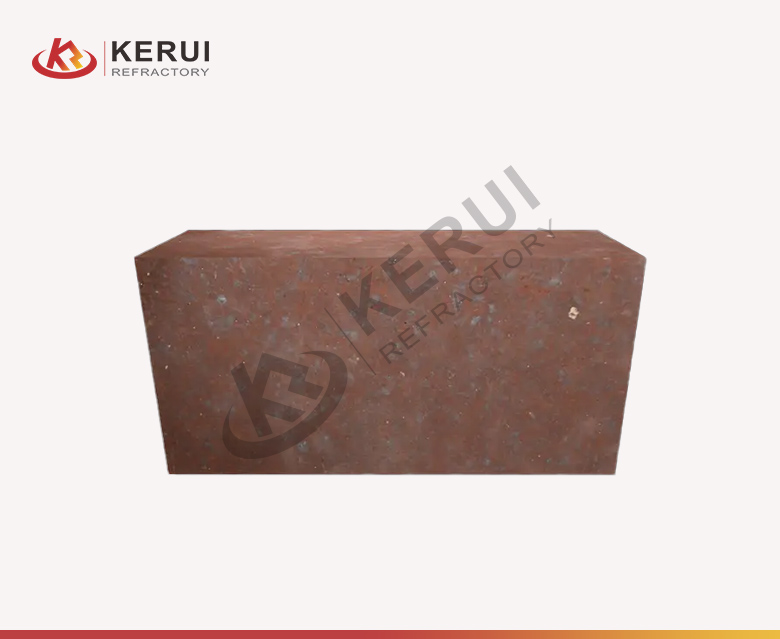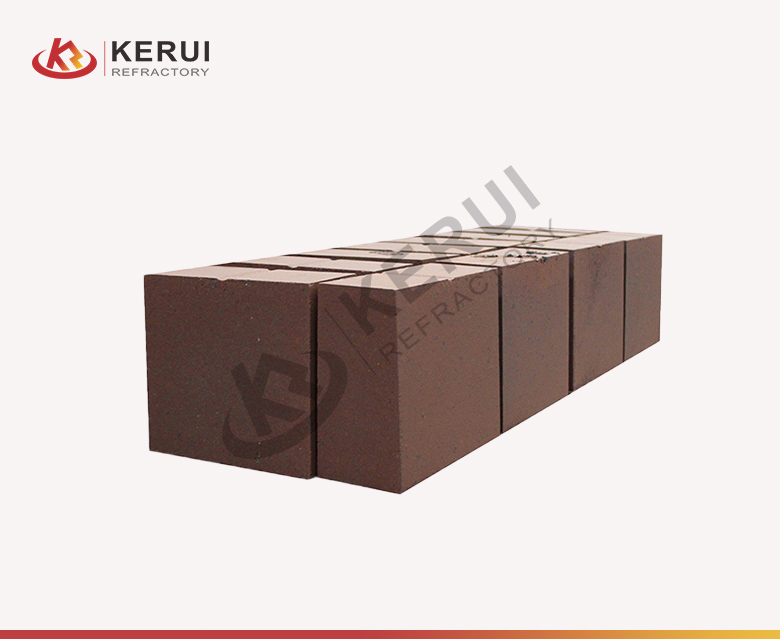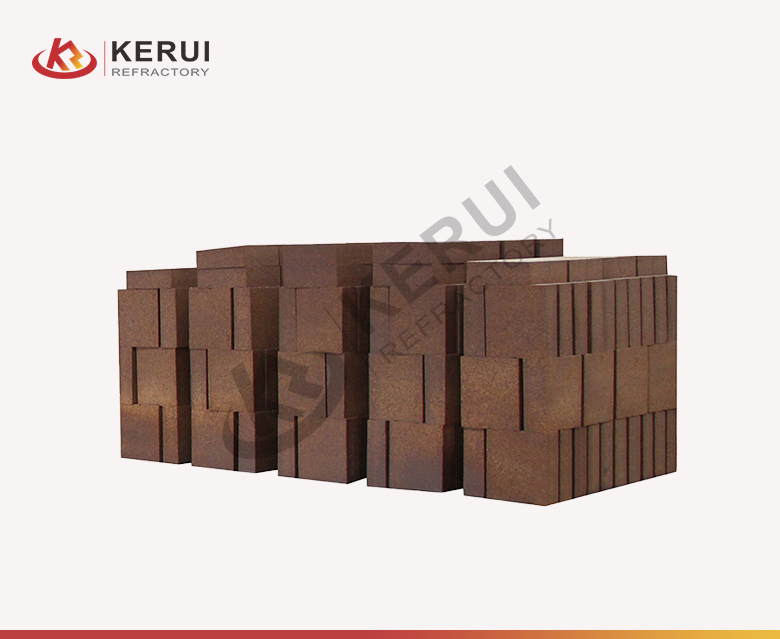 Technical Index of Kerui Magnesia Chrome Brick for Sale
Kerui chrome magnesite bricks have different chemical compositions and manufacturing process. Please choose suitable Kerui magnesia refractory bricks for sale from the table below. If you have additional requirements, please tell Kerui to get support.
Item/Grade
MGe-16A
MGe-16B
MGe-12A
MGe-12B
MGe-8A
MGe-8B
ω (MgO)/%

μ

0

≥

50
45
60
55
65
60
ở
2.5

ω (Cr

2

O

3

)/%

μ

0

≥

16
16
12
12
8
8
ở
1.5
Apparent Porosity/%

μ

0

≤

19
22
19
21
19
21
ở
1.5
Cold Crushing Strength/MPa

μ

0

≥

35
25
35
30
35
30

X

min
30
20
30
25
30
25
ở
15

0.2MPa Refractoriness Underload T

0.6

/℃

μ

0

≥

1650
1550
1650
1550
1650
1530
ở
20
Note:
MGe6/MGe8/MGe12/MGe16: common burnt magnesia chrome bricks;
DMGe6/DMGe8/DMGe12/DMGe16: unburnt magnesia chrome bricks.
2 Different Kinds of Kerui Magnesia Chrome Bricks
Burnt Magnesia Chrome Brick
Burnt magnesia chrome bricks refer to common bricks that need high temperature sintering process to form a dense structure. According to different process methods with raw materials, burnt chrome magnesite bricks can also be classified into:
Common burnt magnesia chrome brick: this high temp refractory brick has lower purity on raw materials (purity of MgO is between 89% and 92%) and simple manufacturing process. The sintering temperature is relatively low.
Direct bonded magnesia chrome brick: this brick contains high purity of MgO on more than 95% or even 97%. It also requires higher temperature at about 1700℃ (3092℉).
Fused bonded magnesia chrome brick: this brick is made of fused magnesia chrome sand. It requires high sintering temperature and the purity of raw materials is largely preserved.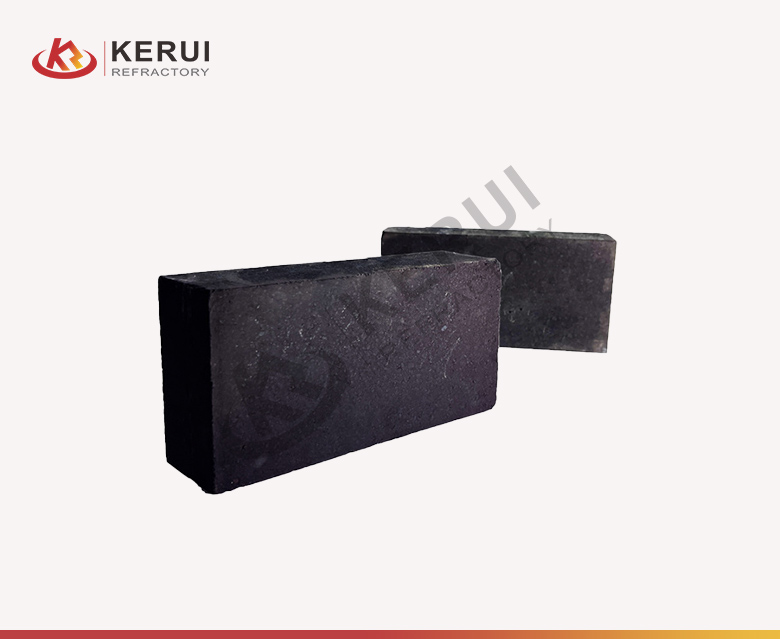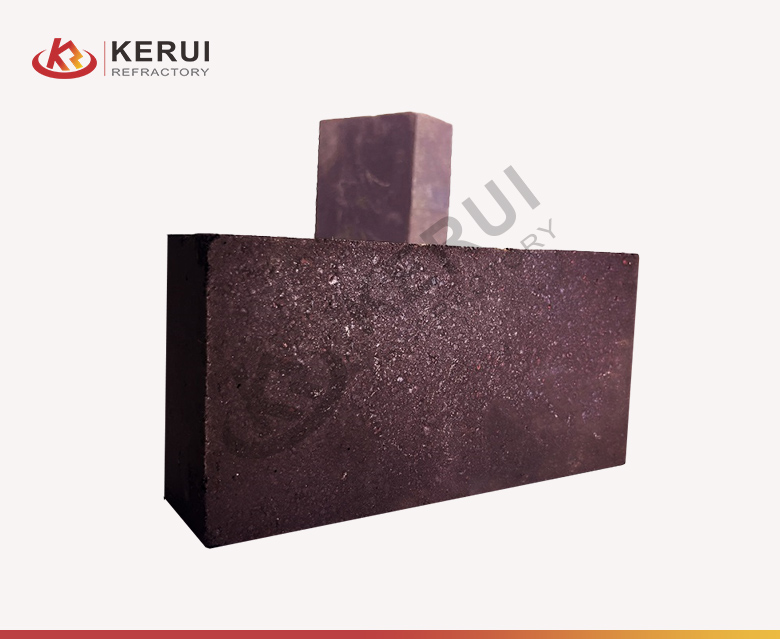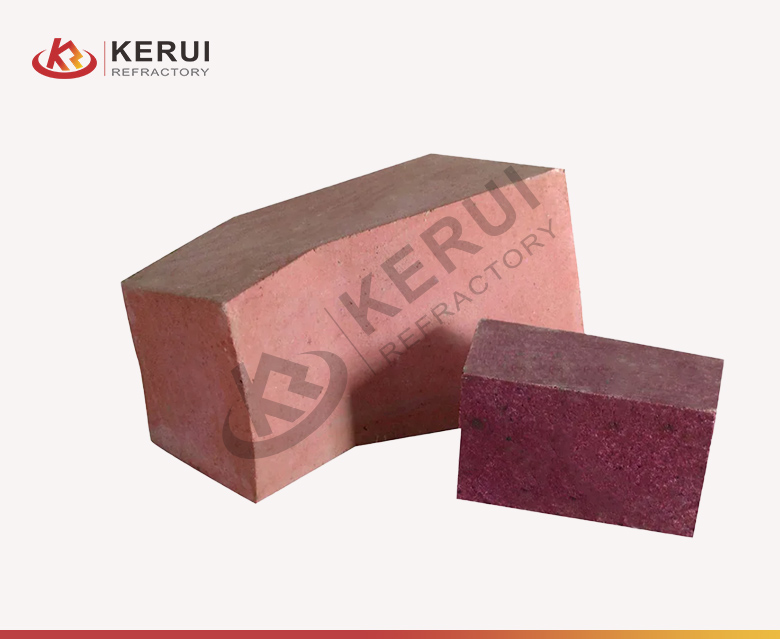 Unburnt Magnesia Chrome Brick
Unburnt magnesia chrome bricks are mixed with magnesite, chrome ore and proper chemical binders. This brick is also called unfired magnesia chrome bricks or chemical bonded magnesia chrome bricks. With the physical and chemical reaction, it forms dense structure in magnesium brick. Some customers may require unburnt magnesia chrome bricks wrapped with iron. The iron sheet of the magnesite chrome bricks react chemically with magnesia, which strengthens the integrity and structural strength of the kiln body. Iron-wrapped magnesia chrome bricks can also be directly welded into a whole to facilitate use, reduce cracking and save production costs.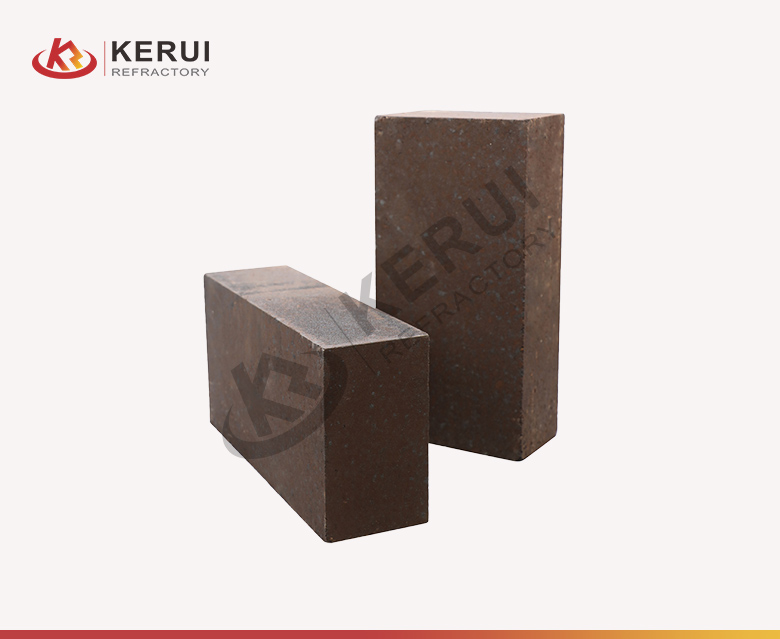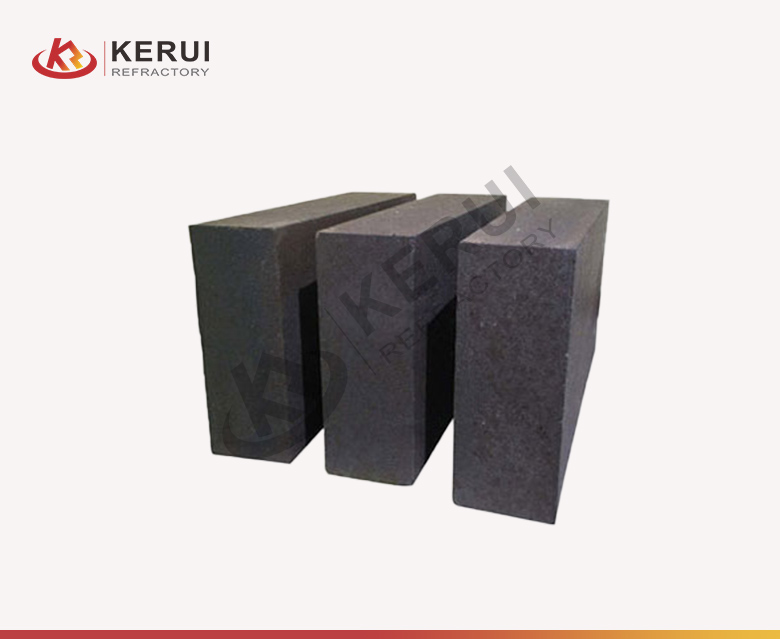 Advantages of Kerui Magnesia Chrome Brick for Sale
| | | |
| --- | --- | --- |
| High Refractoriness ≥2000℃ | High Load Softening Temperature ≥1550℃ | Strong Chemical Corrosion Resistance – Acid |
The chrome brick has a high refractoriness level, with a temperature resistance of at least 2000℃ (3632℉). This makes it suitable for applications where extreme heat is involved, such as in furnaces, kilns, and other high-temperature environments.
The
fire brick online
exhibits a high load softening temperature of at least 1550℃ (2822℉). This means that even under heavy loads and high temperatures, the brick maintains its structural integrity and mechanical strength, making it ideal for use in areas with demanding thermal conditions.
The magnesia chrome bricks have excellent resistance to chemical corrosion, particularly from acidic substances. It can withstand the erosive effects of acids, such as sulfuric acid, hydrochloric acid, and other corrosive agents, making it suitable for applications where exposure to acidic environments is prevalent.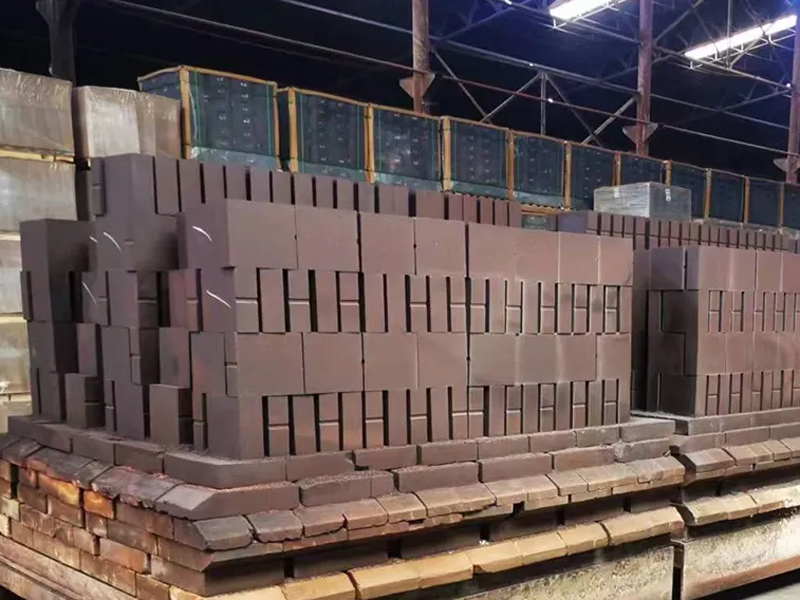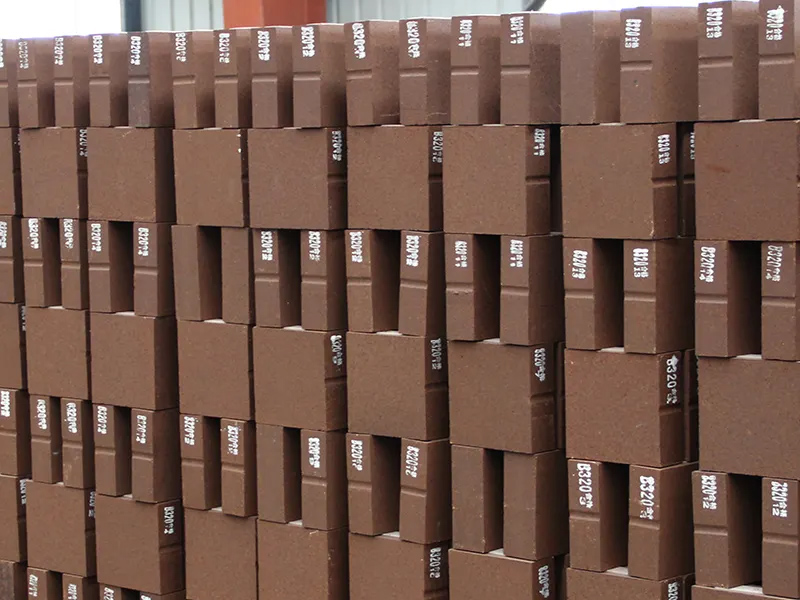 Applications of Magnesia Chrome Brick
Apply Magnesia Chrome Brick in Non-ferrous Industry
The Cr2O3 in the magnesia chrome bricks can be continuously spread. After a series of chemical reactions, a dense brick layer will be formed on the inner wall of the metal kiln. In the non-ferrous metal smelting industry, there is also a need for magnesia chrome bricks in building open hearth furnace roofs, electric furnace roofs, electric furnace walls, and external refining furnaces.
Apply Magnesia Chrome Brick in Cement Industry
When customers use this brick in the cement kiln, the continuous washing and cooling of the cement will form a protective layer on the surface of the magnesia bricks to cover the original brick surface, which can effectively slow down the wear and corrosion of the wall. The central part and both sides of the cement precalcining kiln, the discharge port, etc., the firing zone of the rotary kiln, the transition zone, firing zone and cooling zone of the new cement kiln, etc.
Apply Magnesia Chrome Brick in Other Industries
Due to the excellent performance, Kerui chrome magnesite bricks can be applied in EAF, VOD, AOD, RH, glass kiln regenerator, steel-making furnace lining, refining ladle permanent layer, mixed iron furnace lining, lime kiln and other linings of high temperature furnaces.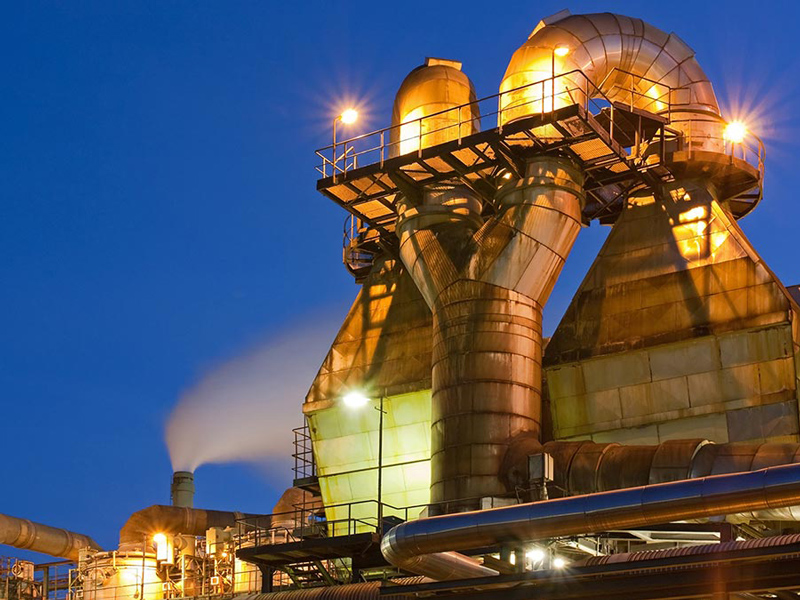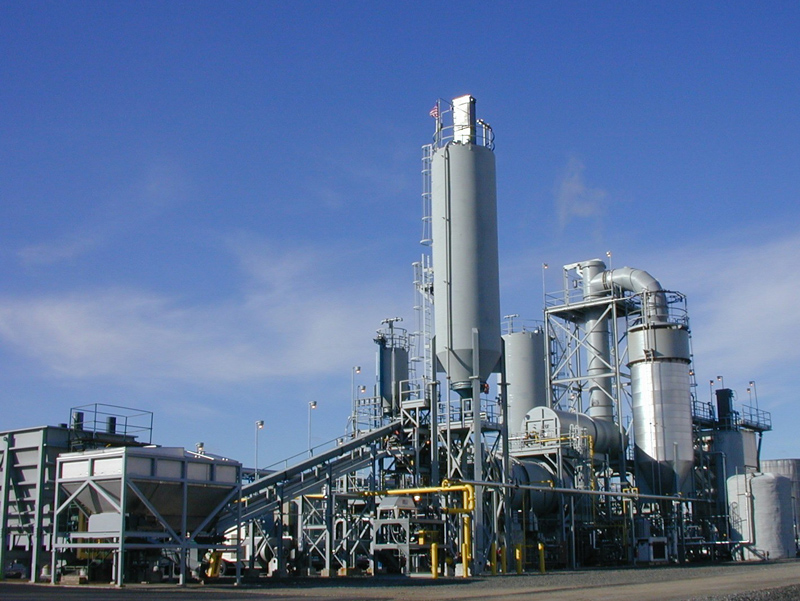 How Much Does Magnesia Chrome Brick Cost?
Many customers are concerned about the cost of magnesia chrome bricks. It is worth noting that the cost may vary due to different chemical compositions, manufacturing processes, dimensions and other factors. Kerui can guarantee to provide customers with reasonable cost of magnesia chrome bricks.
If you're interested in a detailed quote about Kerui magnesia chrome bricks right now, please tell us your specific needs here!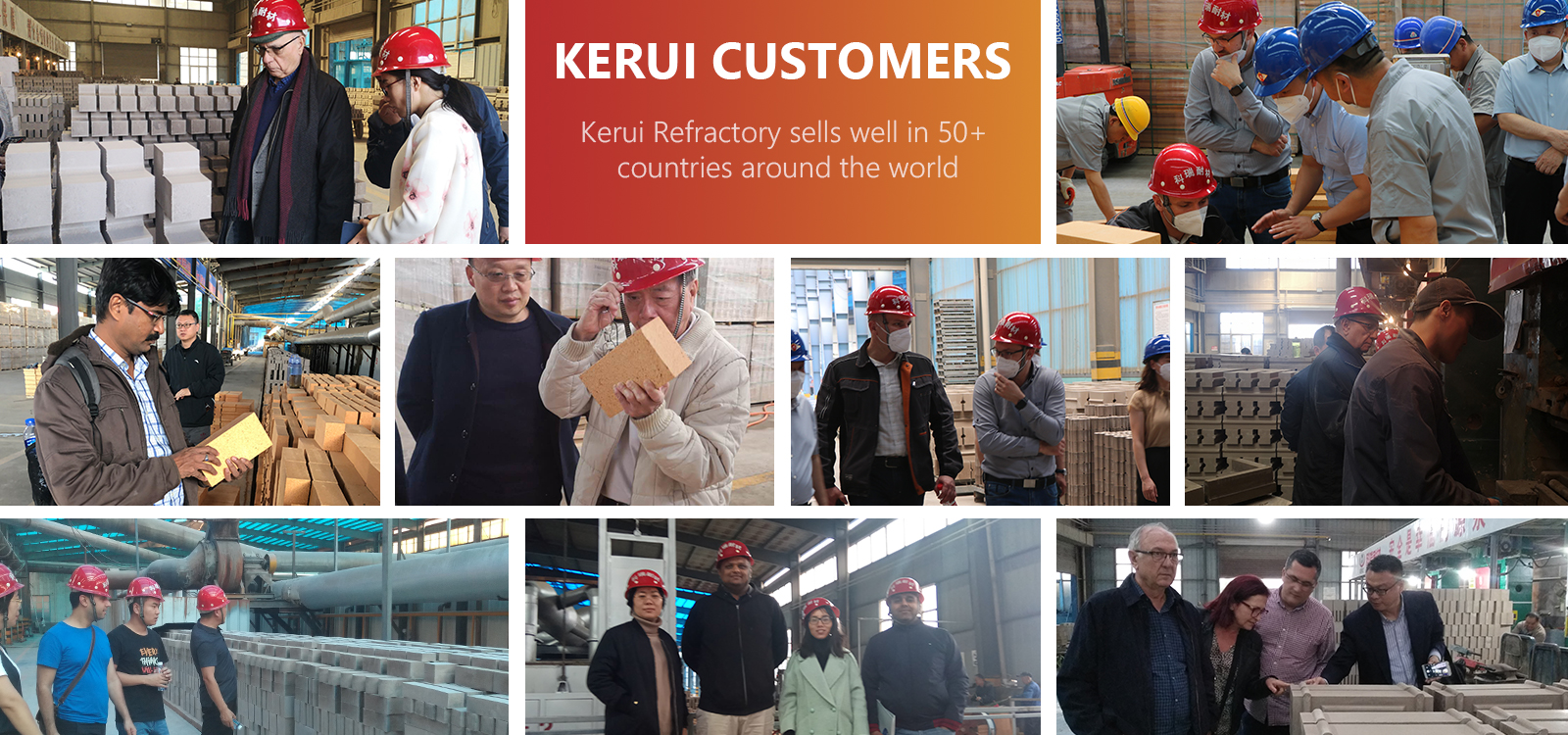 Reliable Magnesia Chrome Brick Manufacturer in China – Kerui Refractory
Kerui Refractory is one of the top three refractory brick suppliers in China. Our factory is located in the largest refractory industry zone: Xinmi City, Henan Province. With 20 years of development, Kerui maters core production technology and wins great achievements in the refractory industry.
Advanced Production Equipment
Kerui's efficient production is inseparable from advanced production equipment. From the two steps of batching and firing, Kerui adopts a fully automatic batching system and a firing workshop controlled by PLC, which reduces human intervention and maintains the consistent quality of mag chrome bricks.
Certificates
Kerui magnesia chrome bricks and production process are certified by international well-known organizations such as ISO and SGS. Kerui adheres to strict quality standards and strives to exceed industry standards. Certificates from authorities give customers the confidence to buy chrome bricks from Kerui Refractory.
Considerate Customer Service
There is a professional and experienced team in Kerui Refractory Group. They provide considerate service including pre-sales consultation, one-to-one service, after-sales service, technical support and kiln masonry training, etc. Besides, Kerui supports customized services to ensure the solution can meet customers' specific needs.
Rich Global Cases
During the past decades, Kerui cooperates with customers from more than 30 countries and 5 continents. They cover different industries. More importantly, many partners of Kerui Refractory come from well-known companies in the industry and even Fortune 500 companies. With superior quality and service, Kerui accumulates good reputation.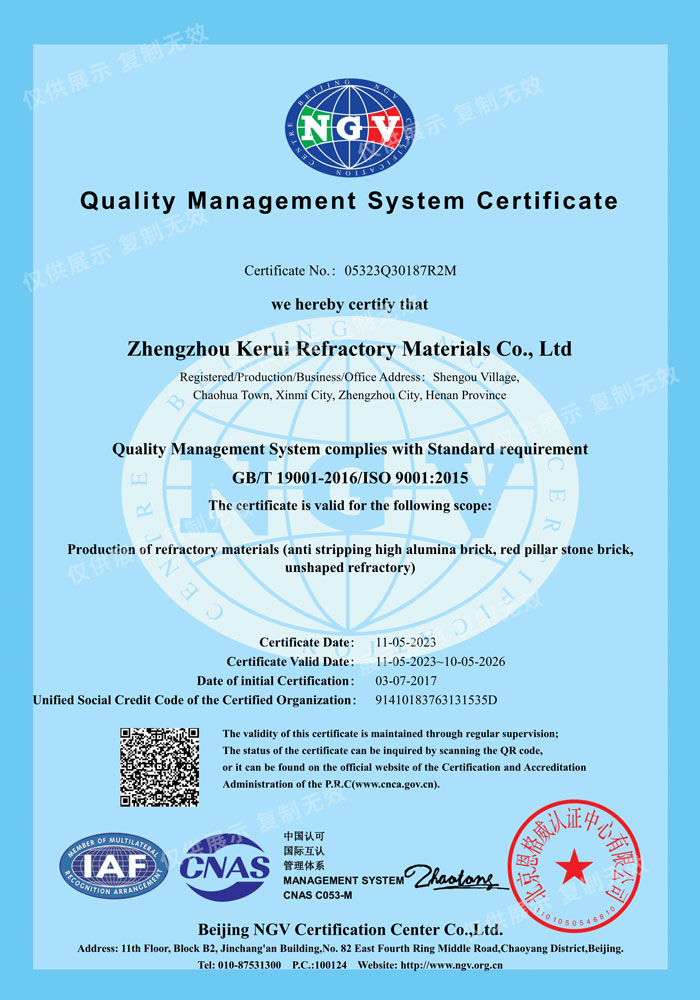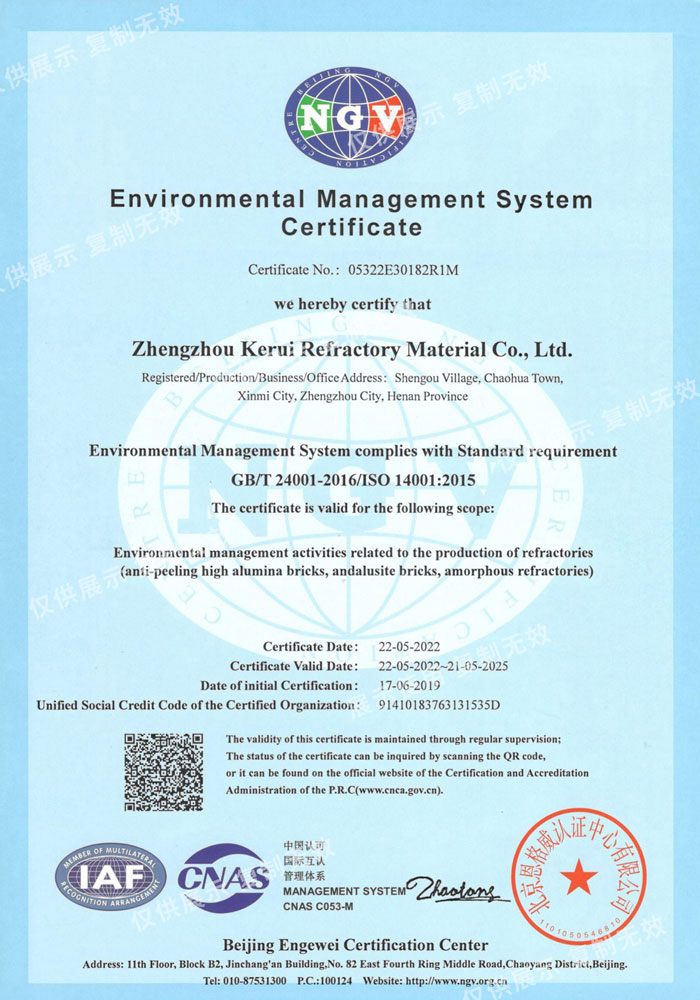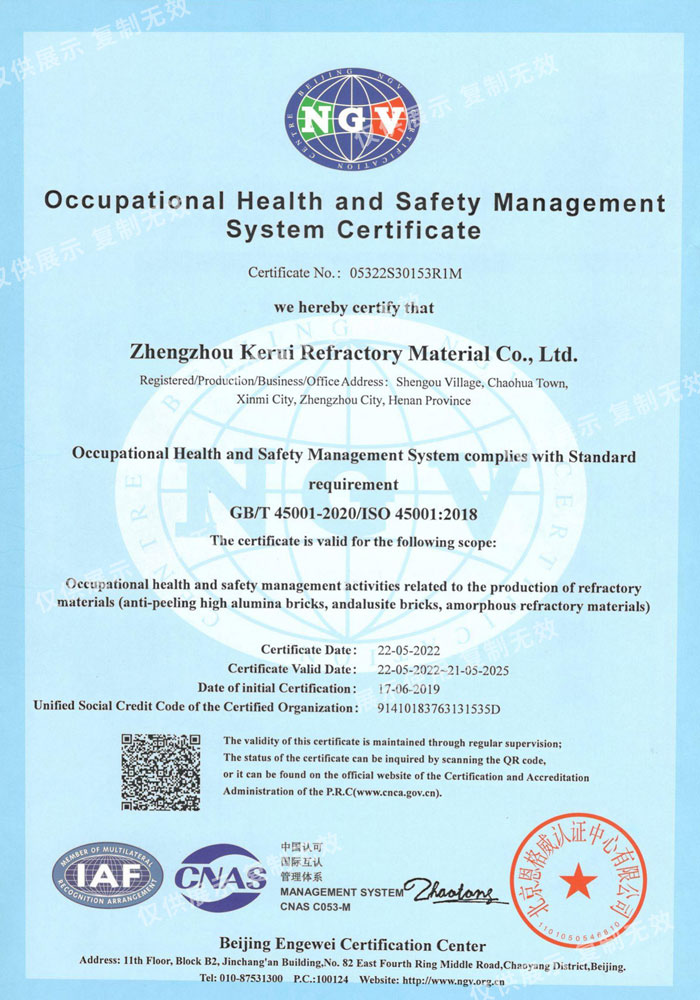 Are you magnesia chrome brick buyers? Do you need high-quality and affordable magnesia chrome bricks for sale? Are you looking for reliable magnesia chrome brick suppliers? If yes, please contact Kerui now to get satisfied product and service!