High Alumina Fire Brick
Commonly, fire brick with more than 48% Al2O3 is high alumina fire brick. This brick is essential in high temperature applications. Because high alumina brick has excellent characteristics as well as competitive price. Especially buy high alumina bricks from Kerui Refractory.
48-80

Al2O3% (≥)

35-70

Cold Crushing Strength (MPa) (MPa)

19-26

Apparent Porosity (%)

1420-1530

Refractoriness Underload (℃)
Introduction of Kerui High Alumina Fire Brick
The high alumina brick contains proper Al2O3. Since Kerui uses high-quality minerals as raw materials for the production of high alumina bricks, its performance is also better. Besides, we all know that high-alumina bricks can be used in most high-temperature kilns, except for strong acid and strong alkali. This is also the reason why this kind of brick is very popular in the market.
As a source refractory brick producer, Kerui has a strong advantage in producing high alumina refractory bricks. Kerui has nearly 20 years of production experience. Therefore, we can accurately and efficiently customize high alumina bricks according to customer needs.
Technical Data of Kerui High Alumina Fire Brick
There are a few different grades of high alumina bricks. Please refer to this table to find suitable high alumina bricks for your business. Certainly, you can just tell your needs to Kerui, we'll choose proper bricks.

Item/Grade
LZ-80
LZ-75
LZ-70
LZ-65
LZ-55
LZ-48
LZ-75G
LZ-65G
LZ-55G

ω (Al

2

O

3

)/%

μ

0

≥

80
75
70
65
55
48
75
65
55
σ
1.5
Apparent Porosity/%

μ

0

≤

21 (23)
24 (26)
24 (26)
24 (26)
22 (24)
22 (24)
19
19
19
σ
1.5
Cold Crushing Strength/MPa
μ0 ≥
70 (60)
60 (50)
55 (45)
50 (40)
45 (40)
40 (35)
65
60
50

X

min
60 (50)
50 (40)
45 (35)
40 (30)
35 (30)
30 (35)
55
50
40
σ
15
0.2MPa Refractoriness Underload/℃

μ

0

≥

1530
1520
1510
1500
1450
1420
1520
1500
1470
σ
13
Permanent Linear Change/%

X

min
Xmax
1500℃*2h
-0.4~0.2
1450℃*2h
-0.4~0.1
1500℃*2h
-0.2~0.1
1450℃*2h
-0.2~0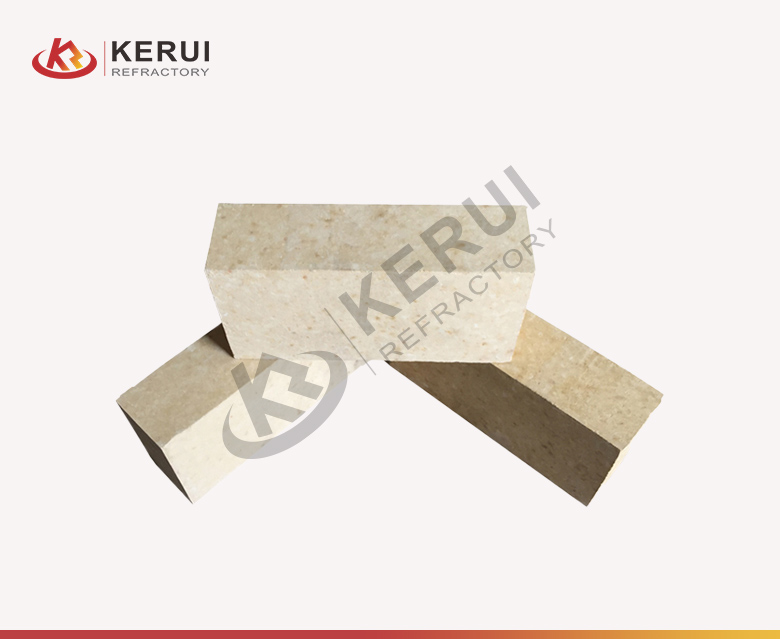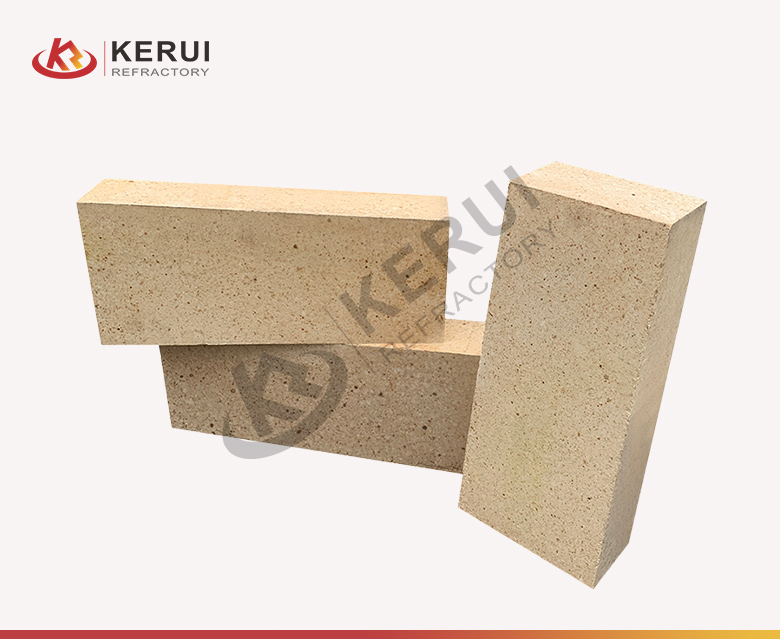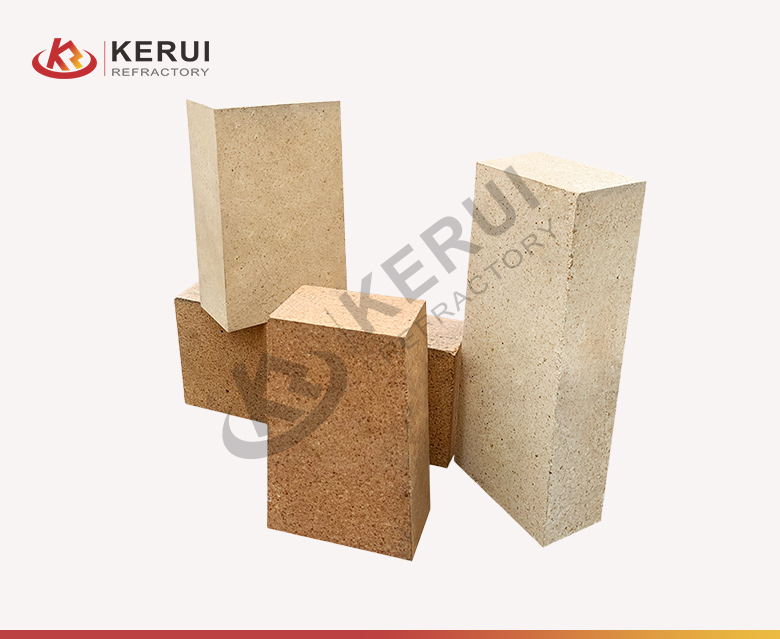 Important Properties of High Alumina Fire Brick
Refractoriness
The high alumina fire brick has high refractoriness at 1750-1790℃(3182-3254℉). It belongs to a kind of high-grade refractory product. Moreover, the refractoriness of high alumina brick is better than other kinds of alumina silica bricks.
Refractoriness Under Load
It's worth noting that high alumina firebrick for sale contains Al2O3 with high purity. Therefore, It forms less glass in use and has a higher softening temperature under load. This also means that high alumina fire bricks have wider applications.
Slag Resistance
As a kind of neutral refractory product, high alumina brick has excellent resistance to acid and alkaline slag. Additionally, this brick contains a slight amount of SiO2. This brick comes with better stability in corrosion environment.
Thermal Shock Stability
In high temperature applications, Kerui high alumina fire bricks can maintain their stability. Moreover, this property for firebrick as well as high alumina insulation brick is important for the safe operation of high temperature kilns and furnaces.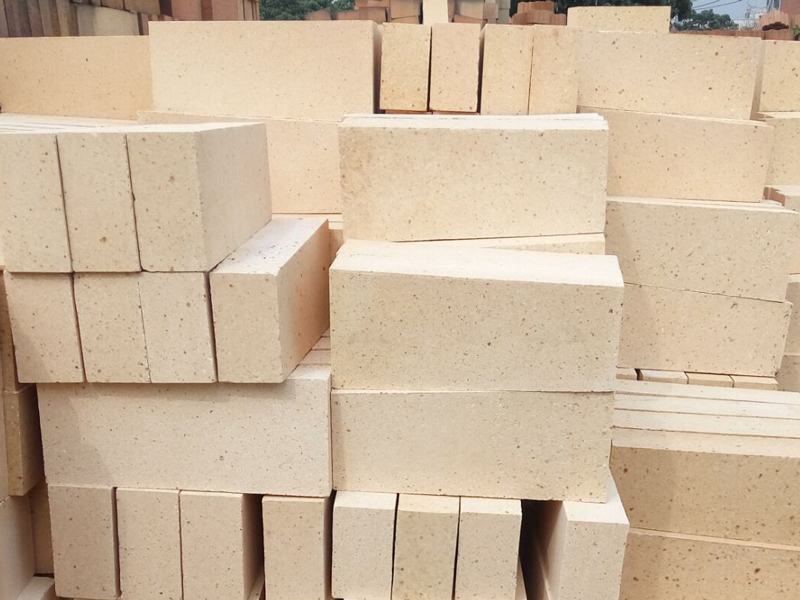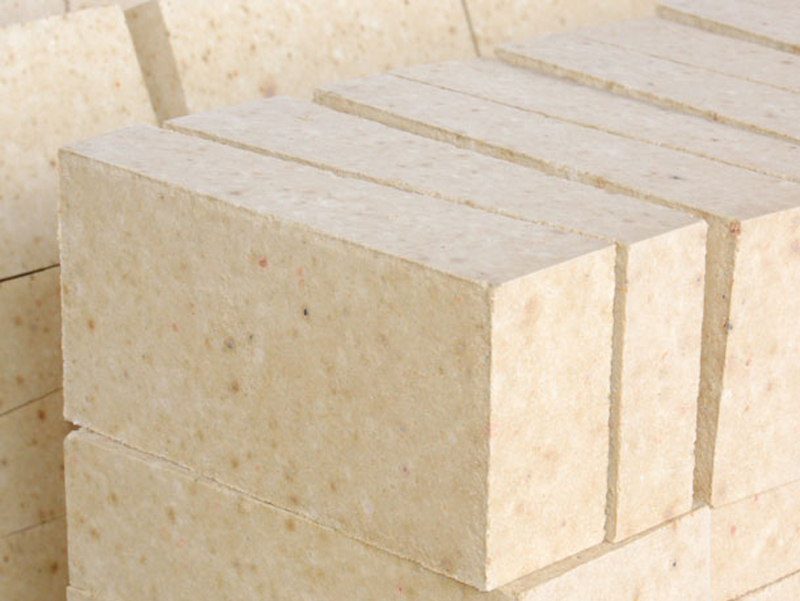 4 Types of Kerui High Alumina Fire Brick
1. Ordinary High Alumina Fire Brick
The main mineral components of refractory bricks are dolomite, corundum and glass phase. As the aluminum content in the product increases, mullite and corundum also increase. Besides, the refractoriness and high-temperature performance of high alumina bricks has huge improvement. Ordinary high alumina bricks have a range of better fire resistance properties than clay bricks. It is a material that works well in high temperature applications. Customers often use it widely in various hot kilns. Compared with clay bricks, it can effectively extend the service life of the kiln. Get high-quality alumina fire bricks in stock now!

2. High Load Soft High Alumina Brick
Compared with ordinary high-alumina bricks, high-load soft high-alumina bricks are different in the matrix part and the binder part. In addition to adding concentrate, this high alumina brick will also reasonably introduce mullite combustion into the matrix part according to its chemical composition. Common high aluminum additive materials include corundum powder, high-aluminum corundum powder, etc. Moreover, high-quality ball clay is used as the binding agent. Different clay composite binders or mullite binders are selected according to the variety. Through the above method, the load softening temperature can be increased by about 50~70℃.

3. Low Creep High Alumina Fire Brick
Manufacturers have improved the creep resistance of high alumina bricks by using an unbalanced reaction. That is, according to the operating temperature of the kiln, three-stone minerals, activated alumina, etc. are added to the matrix so that the composition of the matrix is close to or composed of mullite. The excellent mechanical and thermal properties of mullite are conducive to improving the high-temperature performance of the material. Low creep high alumina bricks are widely used in thermal kilns such as hot blast furnaces and blast furnaces.
4. Phosphate Bonded High Alumina Fire Brick
Phosphate bonded high alumina bricks are chemically bonded refractory bricks made of dense special grade or first-grade high alumina bauxite clinker as the main raw material, phosphate solution or aluminum phosphate solution as the binding agent, and semi-dry machine pressing and heat treatment. This kind of brick is an unfired brick. It has better resistance to spalling than ceramic bond fired high alumina bricks. Phosphate bonded high alumina bricks are widely used in cement rotary kilns, electric furnace roofs and other kiln parts.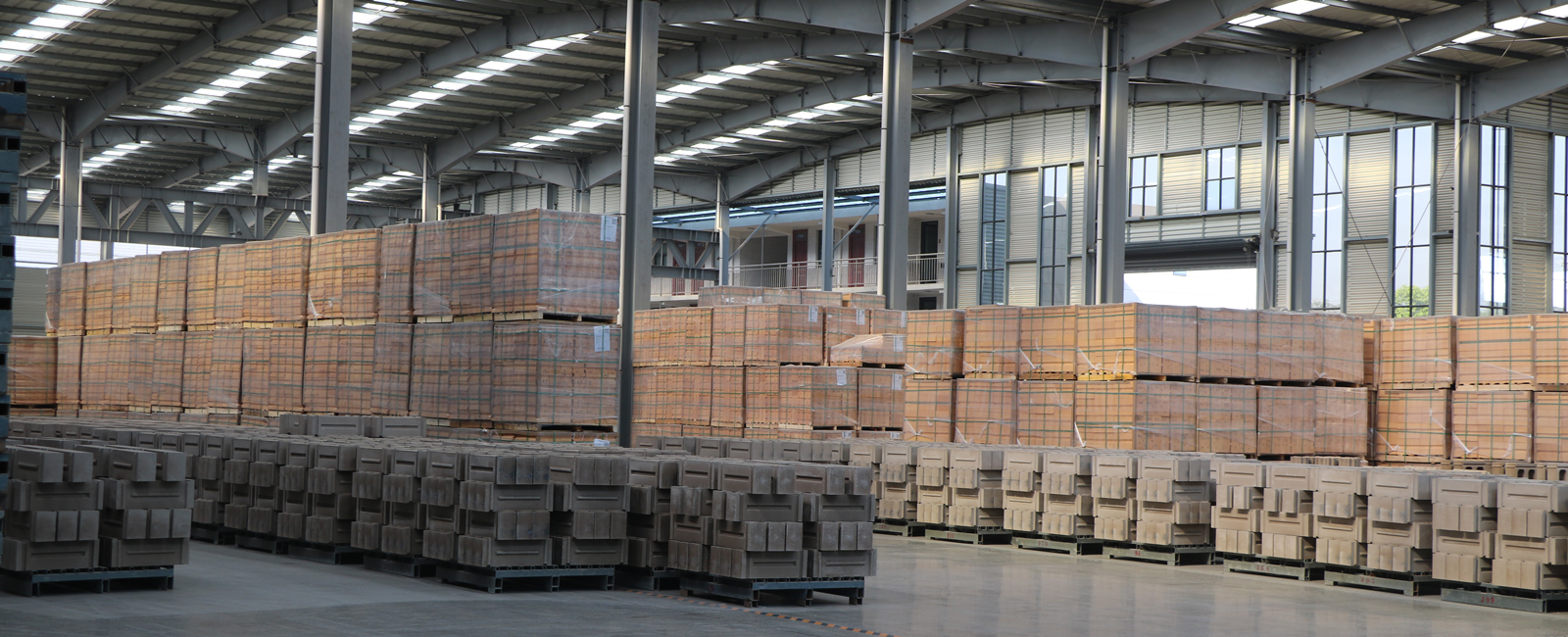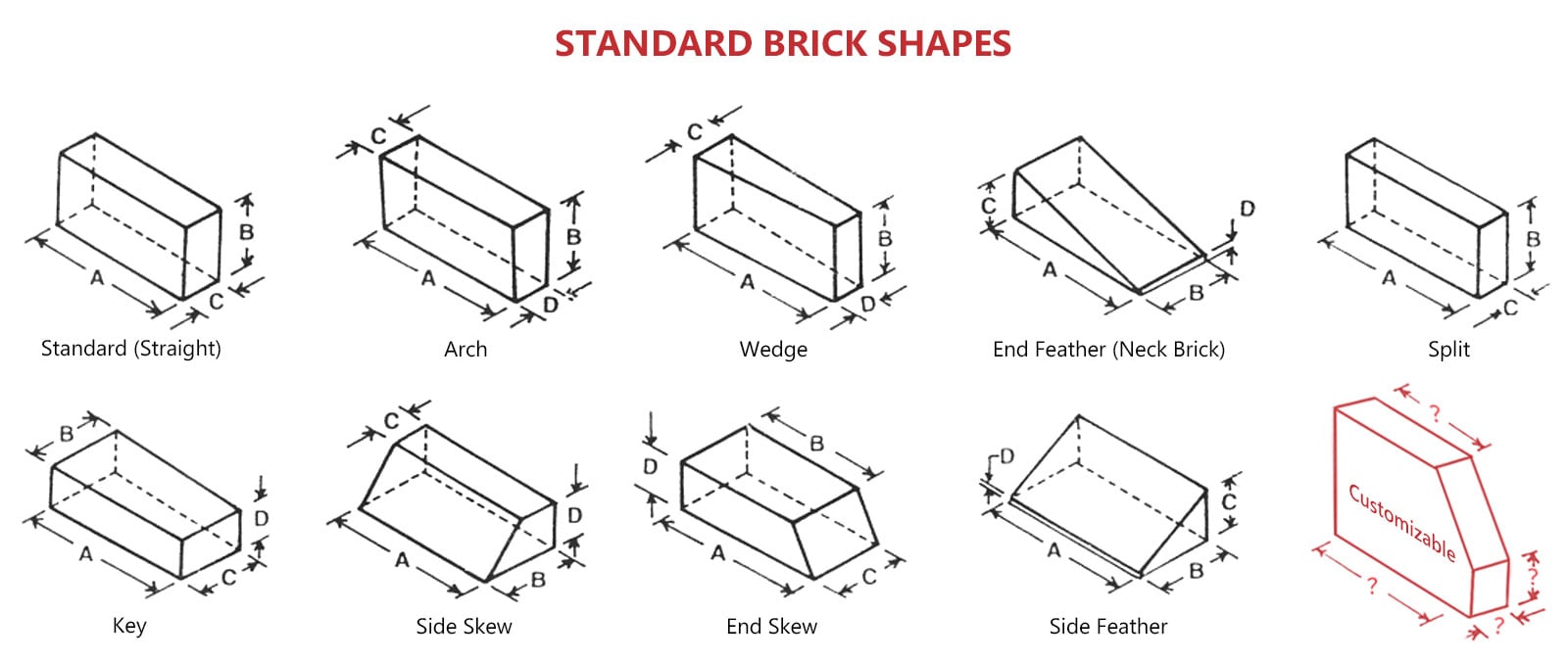 Applications of Kerui High Alumina Fire Brick
There is a large amount of corundum phase and mullite phase in the chemical composition of high alumina bricks. Consequently, it is the key to determining its high temperature performance. In the use of various large-scale high-temperature kilns, customers can achieve good stability and anti-stripping performance by building high-alumina bricks. Therefore, the service life of the kiln will be greatly increased. We know that different kilns and different application parts have different requirements for high alumina bricks.
Commonly, the application fields of high alumina firebricks include different parts of kilns in steel and iron making industry, cement industry, glass industry, ceramic industry, power industry, nonferrous industry (metallurgical industry) and so on. By using Kerui high quality alumina bricks or more advanced corundum brick, you can also improve the working efficiency of your kilns.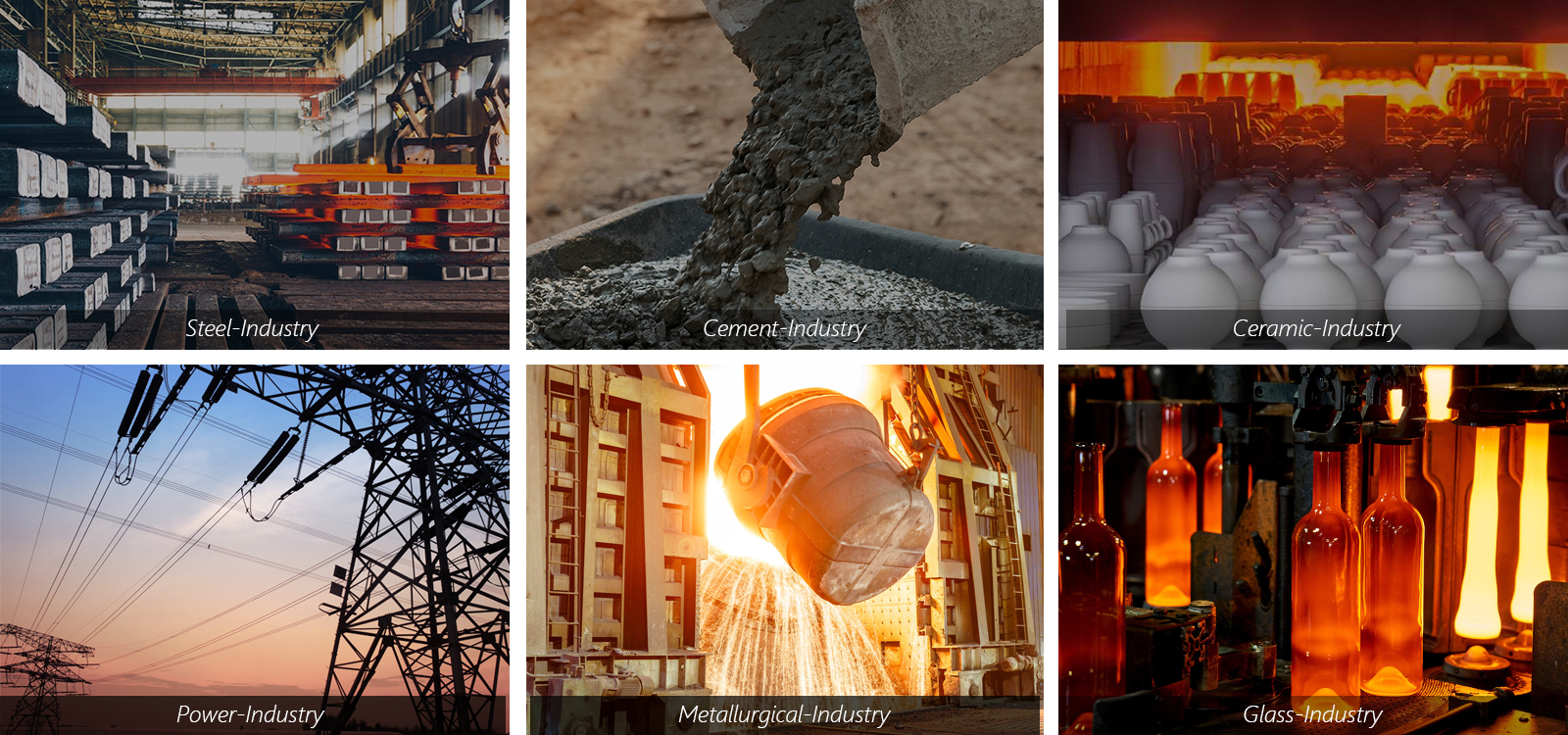 Manufacturing Process of Kerui High Alumina Fire Brick
Step1
Raw Material
Kerui controls the quality of high alumina bricks from the selection of raw materials. Moreover, there is a strict quality control system on the physical as well as chemical inspection of materials. After strict inspection, Kerui workers will store these materials in partitions to make sure the following production. Besides, we'll check the raw material regularly.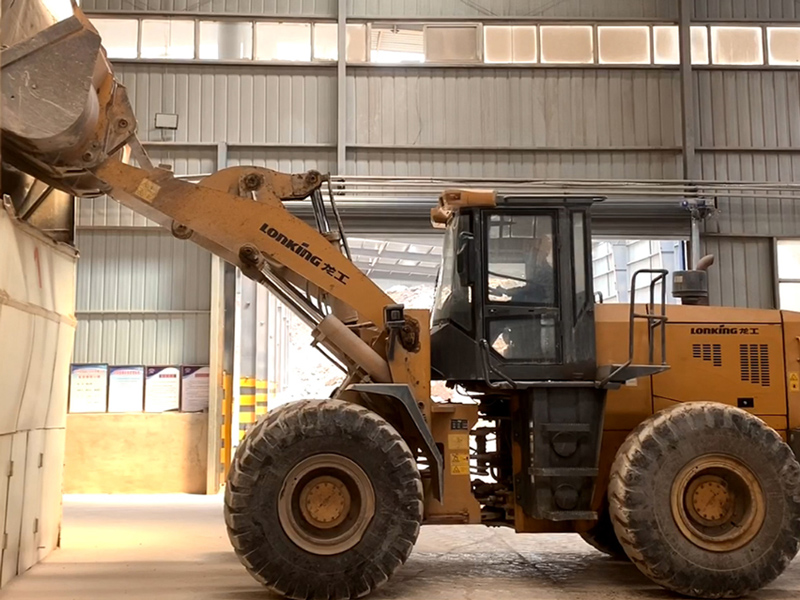 Step2
Batching
There is a necessary step to subdivide the raw material into various particle sizes. The largest particle is about 2.3mm. Additionally, Kerui adopts a fully automatic batching system to make a certain ratio of high alumina bricks or refractory clay bricks. At this step, you can customized the product ratio.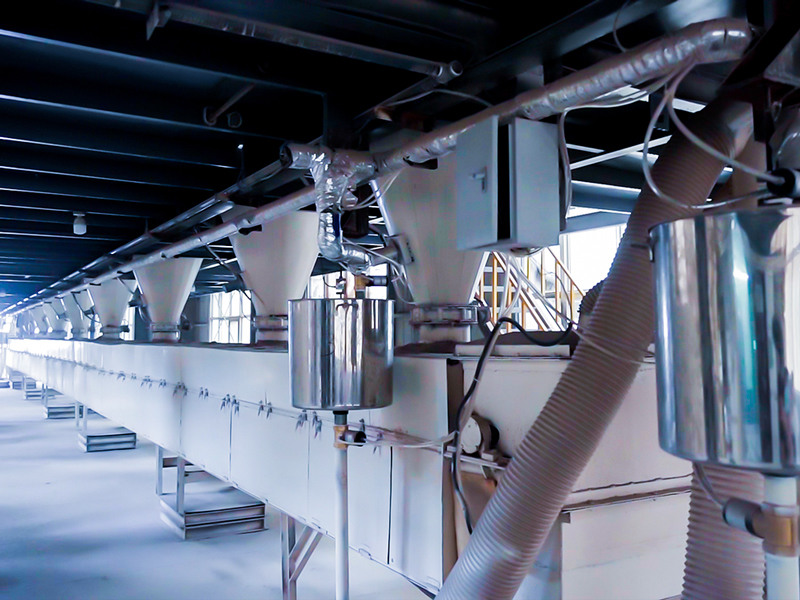 Step3
Molding
You can see that there are more than 20 sets of high tonne press machines in Kerui factory. Therefore, we'll produce and mold the superior high alumina fire brick efficiently. At this step, the customized shaped high alumina firebricks also will be molded. Consequently, the molding process in Kerui Refractory is quick and precise.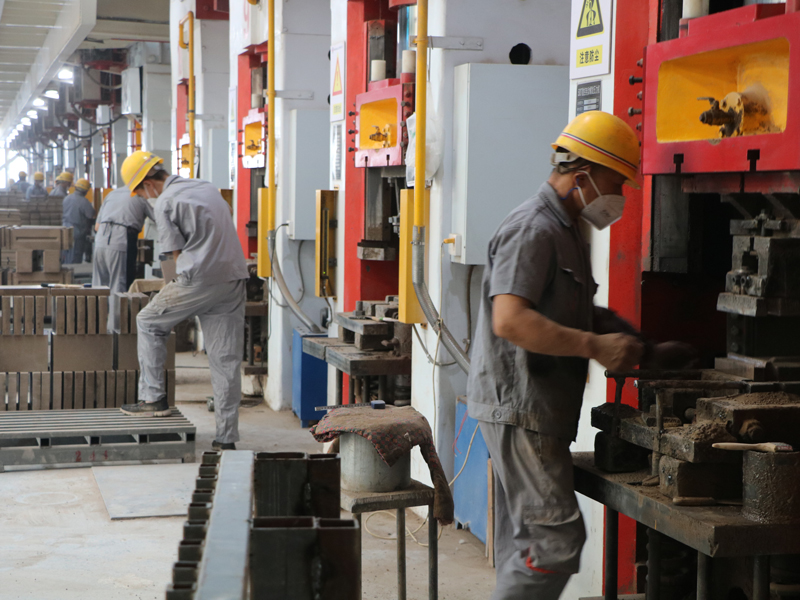 Step4
Drying
In order to prevent cracking, Kerui will be dried at low temperature first. At this stage, the chemical properties of the high alumina brick will not change. While part of the excess water will be evaporated to facilitate the subsequent formation of a denser structure. This step is essential for the quality of high alumina brick.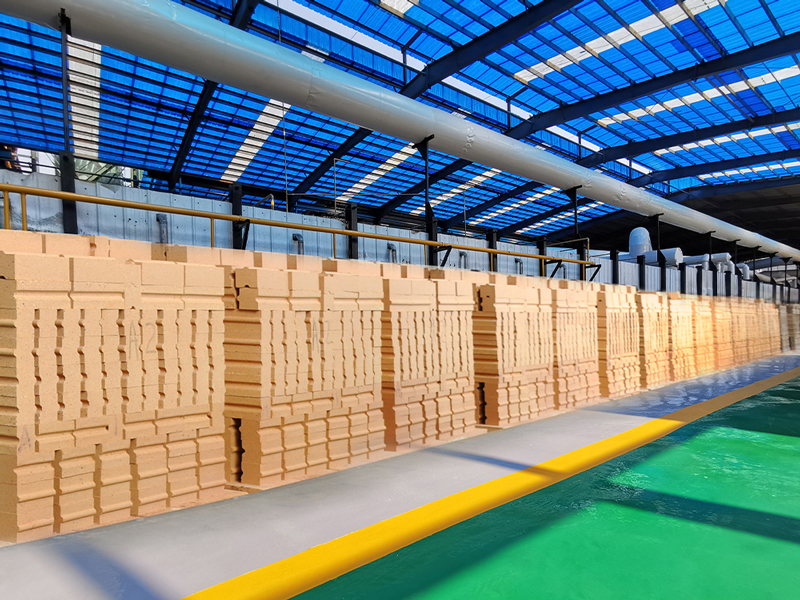 Step5
Sintering
After drying, the high alumina firebrick enters sintering kiln to improve density. Therefore, it can improve mechanical strength as well as refractoriness. Besides, this step is crucial to prevent crack. The PLC system controls accurate position and temperature of each high alumina bricks. Besides, the smart display screen intuitively controls the firing status.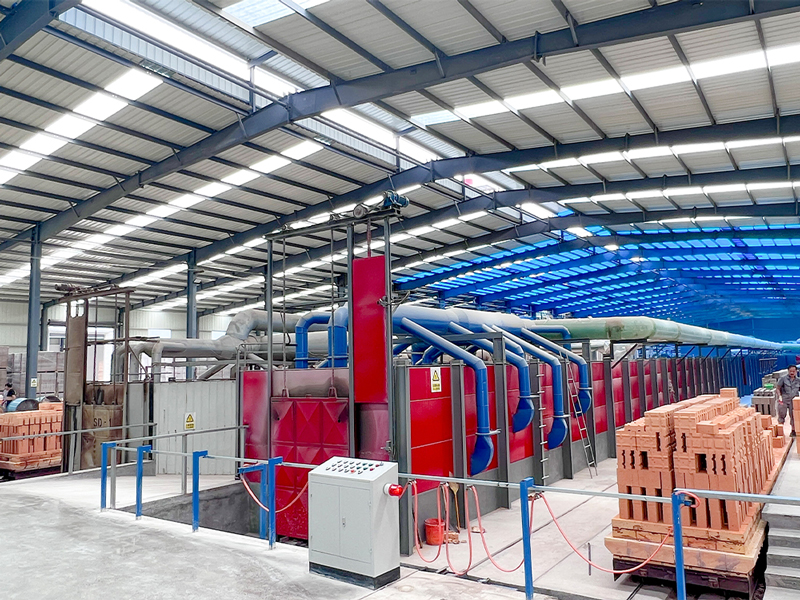 Step6
Package
After production, the quality inspection system will check the indicators of high alumina bricks again. Besides, only qualified high alumina bricks will be packed. In addition, Kerui has at least three layers of protection for the alumina silica refractory bricks to avoid accidents during transportation.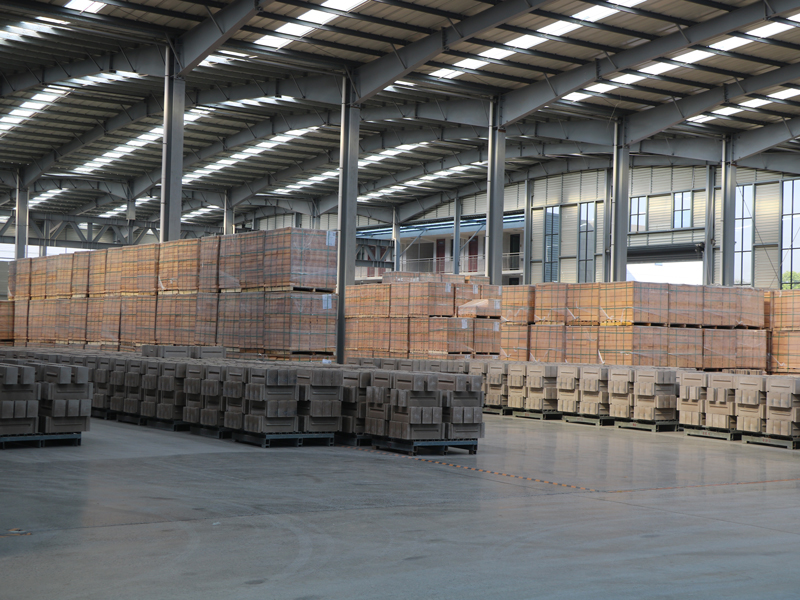 Kerui High Alumina Fire Brick Price
Kerui high alumina brick price is highly competitive on the market. While one of the most important factors is that Kerui provides ex-factory price of this brick. As an experienced high alumina brick supplier in China, Kerui masters rich raw materials as well as advanced production technology. Therefore, Kerui is able to control the production cost of fire brick from affordable materials and large scale production. Moreover, the product quality of original high alumina brick manufacturer is better. It's available and more convenient to require customized high alumina fire bricks.
Generally, if you're looking for affordable and high-quality high alumina bricks, Kerui Refractory should be your destination.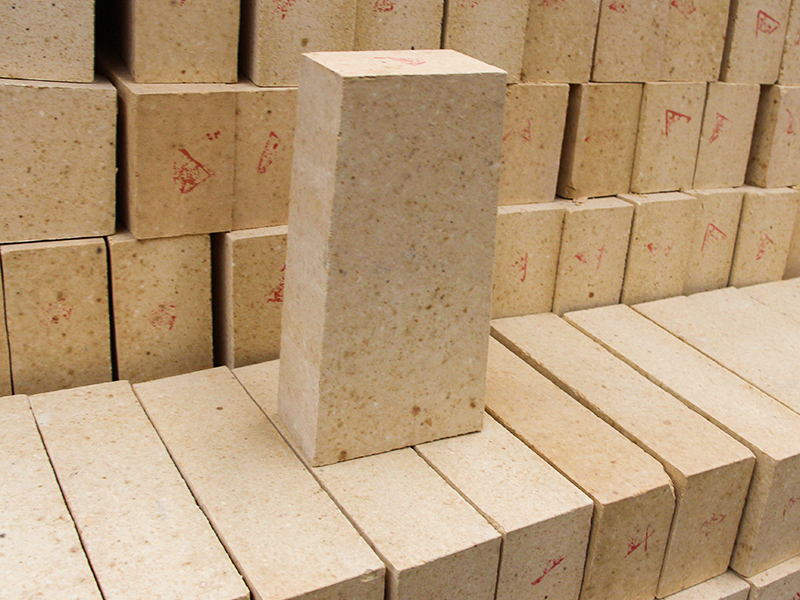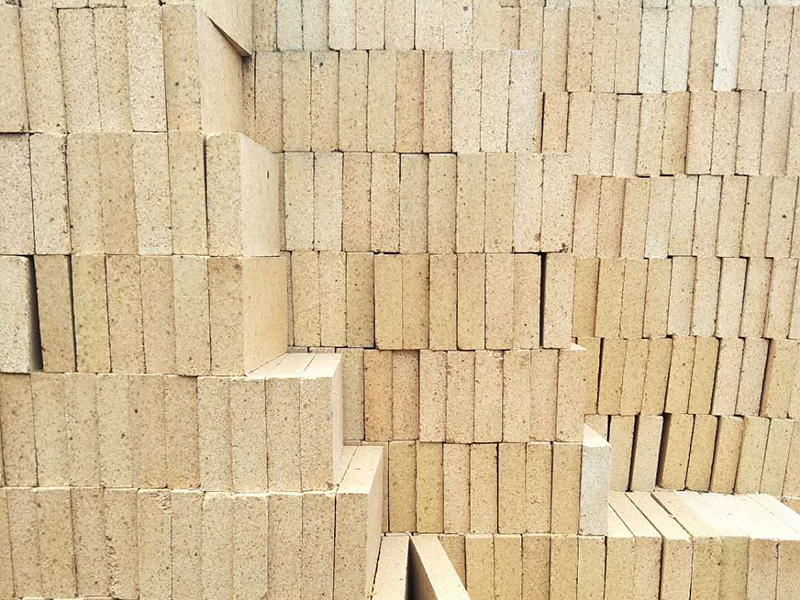 Timely Delivery of Kerui High Alumina Fire Brick
For Standard High Alumina Fire Brick
The standard size of high alumina firebrick is 230×114×65mm. As long as there is stock in the factory, direct shipment can be realized. The standard high alumina brick has the advantage of strong practicability. Certainly, you can contact Kerui now to check if there is enough stock of high alumina bricks.
For Customized High Alumina Fire Brick
Kerui has the advantage of customized high alumina fire bricks. Therefore, no matter you'd like to customize the shape, size, chemical compositions and other aspects, Kerui is confident to meet your demands. The delivery is available in 5-7 working days. Because we have experienced engineers to produce the special-shaped high heat fire bricks.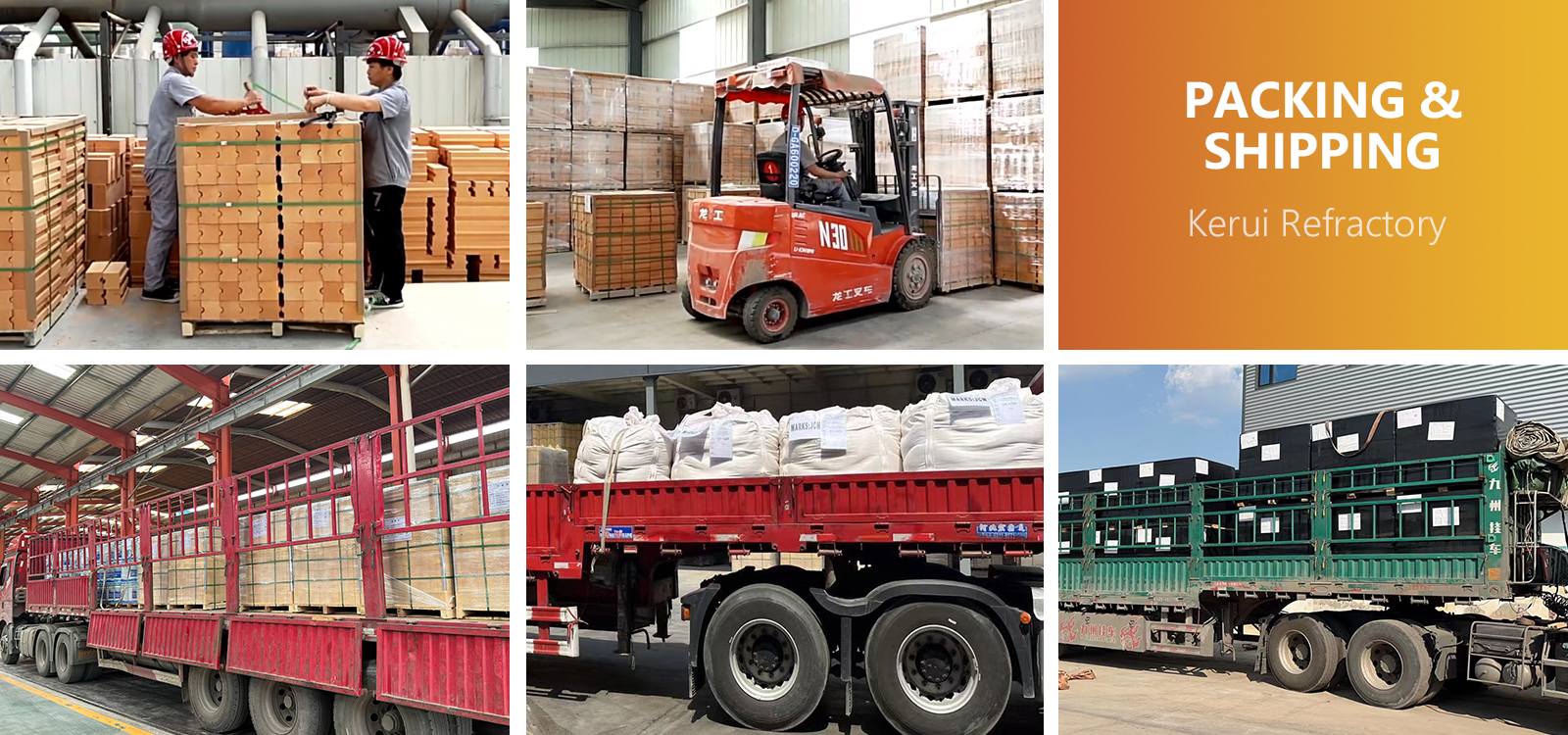 Buy High Alumina Fire Brick from Reliable Manufacturer – Kerui Refractory
Quality Assurance
First of all, Kerui has a strict quality inspection system to ensure the quality of high alumina fire brick. Moreover, Kerui high alumina firebricks have international certificates like ISO/CE/SGS. Due to high standards on products, Kerui also owns many honors from industry as well as local government. Therefore, customers can buy Kerui high alumina fire bricks with confidence.

Professional Solution
Many customers choose to buy high alumina firebricks from Kerui Refractory because we provide a complete and professional solution. Besides, the business manager provides one-to-one service and helps you find the suitable kind of high alumina bricks. Correspondingly, Kerui engineers offer a complete solution for your kilns. They have rich project experience.

Rich Experience
Kerui has rich experience on the production, customization, exporting and construction of high alumina fire bricks. Additionally, there are rich cases about high alumina bricks in home and abroad. Kerui has received a lot of god feedback of our products as well as service. Correspondingly, Kerui is able to provide a perfect solution with superior products and rich experience.

Wide Product Range
Except for high alumina fire bricks, Kerui also provides fire bricks with other chemical compositions. For example, silica bricks, magnesia bricks, composite bricks and so on. Additionally, there are insulation bricks, unshaped refractory materials, ceramic fiber textile insulation products and other refractory materials for sale. Kerui strong factory offers a stable supply for you.